Entertainment
Emeraude Toubia Still Dating Her Singer Boyfriend Prince Royce? What Is Her Relationship Status?
Relationships are delicate, and it is something that must be handled with care. Sometimes it is best to keep the relationships out of the limelight. But, when a celebrity fiercely guards the personal life and prefers privacy, then the fans are left to just conjecture about their romantic life. 
Sharing a similar story is actress Emeraude Toubia, who maintains a tight guard over her personal life. She was previously dating Prince Royce, but because of her secretive nature, fans often ask, is she still dating Prince? Or have they already split? Well, if you're wondering about the same, you've hit the right place.
Is Emeraude Toubia Dating Prince Royce?
The news of Emeraude Toubia dating Prince Royce circulated over the media in August 2011, and the couple made their fans question "are they dating or not?" for years before acknowledging the relationship in April 2016.
During an interview back in April 2016, Emeraude Toubia admitted her relationship with her singer and songwriter boyfriend, Prince Royce. She said,
"He's a guy that I admire so much. He's someone that fights for his dreams, and that keeps fighting,"
Moreover, she added,
"I like to surround myself with people that have dreams and that fight for them everyday. I think he's a big role model for young girls and young guys. I think his career has been impeccable and I love his music. He's a guy that I've known for so long and I really care about him and appreciate what he's done."
Emeraude also opened up about their first meeting.
"We met at a restaurant with other friends a long time ago,"
She quickly added,
"He wanted to meet another girl, but I got there first! And that is the story,"
When you are a public figure, your personal life creates headlines, be it willingly or unwillingly. But Emeraude confessed her desire to keep her personal life private. She expressed,
"As an artist, as a public figure, it is good to have your life personal, in everything,"
Moreover, she pointed out the constant conjectures and rumors regarding the relationship, and she stated that she does not give importance to those rumors, and further expressed her concern for privacy. As per Emeraude,
"I feel like sometimes we hear rumors, are they dating, did they break up…and to us it has always been important to keep everything private."
On June 3, 2016, Emeraude was spotted with her boyfriend, Prince Royce in Miami Fashion Week held at Ice Palace, Miami, Fla. For the fashion show, she chose to wear a colorful dress, and she enjoyed the fashion show, sitting in the front row with Prince.
The occasion brought joy to their fans as they witnessed the beautifully growing relationship of Emeraude and Prince.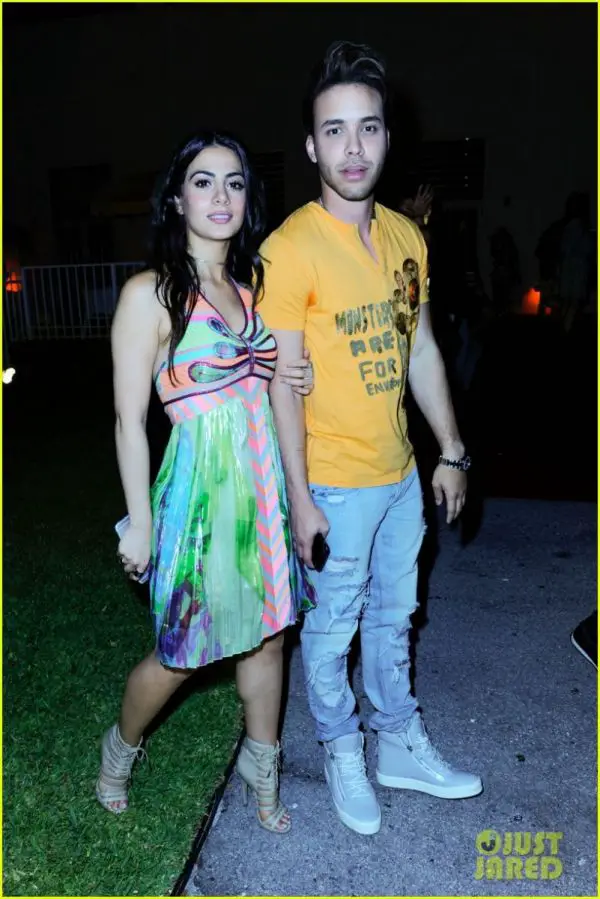 Emeraude Toubia and her boyfriend Prince Royce at Miami Fashion Week on June 3, 2016 (Photo: justjaredjr.com)
Emeraude has also appeared in a music video with her boyfriend, Prince Royce in his singles "Culpa al Corazón," released back in January 2016.
As Emeraude prefers privacy in her life, although she is not vocal about her relationship with Prince, it's safe to say that she still in a relationship with her boyfriend, Prince Royce, only keeping their relationship out of the limelight.
Enagement Ring, Married?
Fiercely private about her dating life, Emeraude acknowledged her relationship of more than eight years only in 2016. It was indeed a surprise when she confirmed her engagement with beau Prince by appearing in public with a massive rock on her ring finger June 2017.
Emeraude's Co-star:- Harry Shum Jr. Baby, Wife, Married
After enjoying their time as an engaged couple, the TV actor and her beau tied the wedding knots in March 2019 in Mexico. Emeraude and her beau both posted wedding picture on their own Instagram handles.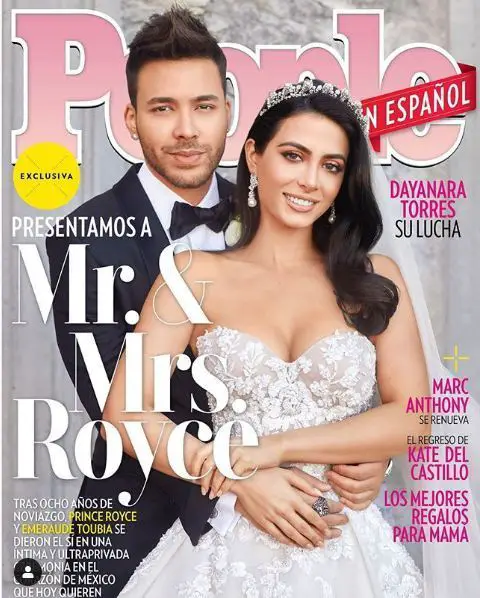 Emeraude Toubia poses with her newlywed husband Prince Royce on 30th March 2019 (Photo: Emeraude Toubia's Instagram)
The super-secret plus intimate wedding ceremony was officiated in the home country of the bride's mother.
The happy ceremony came after Emeraude's husband, the Latin Grammy nominee became the first-ever tropical artist. He performed at the Houston Livestock Show and Rodeo concert at the NRG Stadium on 26th February 2019.
Emeraude Toubia Bio
Emeraude was born on 1 March 1989, in Vancouver, British Columbia, Canada and was raised in Brownsville, Texas, United States. As parents, she has a Mexican mother Mirta Sonia and a Lebanese father, but she is an American by nationality. Emeraude takes the utmost pride in being an American and feels that America is a melting pot of different people.
Explore:- Alan van Sprang Bio: From Married Status To Adorable Chemistry With Son
Emeraude went to Homer Hanna High School in Brownsville. She is a trained dancer in classical ballet, belly dance, flamenco, lyrical dance and belly dance.
Emeraude, who stands tall at the height of 5 feet and four inches, has participated in pageants like Model Latina season second and Miss Texas USA in 2010. She served as a presenter for NBC Universo's entertainment and music shows and has co-hosted red carpet of Billboard Latin Music Awards in 2013.
She made her acting debut in 2013 with the role of Elizabeth in "11-11: En Mi Cuadra Nada Cuadra". In 2015 she landed the role of Isabelle Lightwood in the series Shadowhunter. Alike her character on the show, she is super close to her family and loves spending quality time with them.
Moreover, her television credit includes Cosita Linda (2014), "Voltea Pa' que Te enamores"(2015), Tattoed Love (2015), and Shadowhunters(2016-2017).