Entertainment
Emily Andre, 28, Swooning In Married Life! Fairy Tale Wedding Ever Growing
Emily Andre, 28, Swooning In Married Life! Fairy Tale Wedding Ever Growing. Emily Andre, a doctor by profession and the famous wife of British singer-songwriter, Peter Andre, is enjoying every bit of her ever-growing marital life with her husband and two children.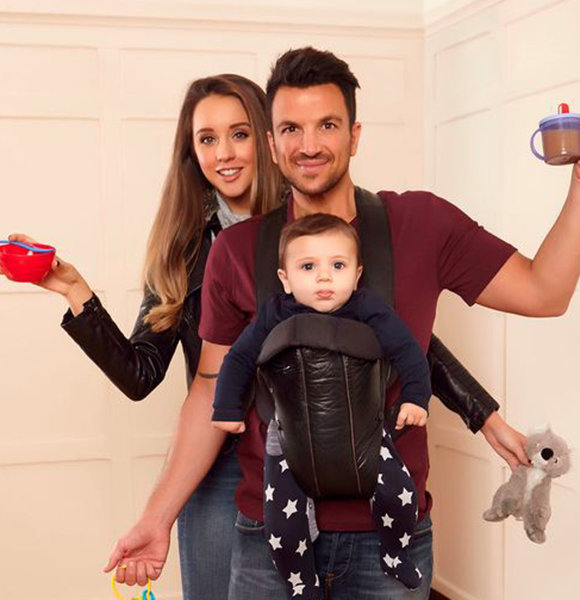 Emily Andre, 29, a doctor by profession and the famous wife of British singer-songwriter, Peter Andre, is enjoying every bit of her ever-growing marital life with her husband and two children. 
Today, let's take a glance at their burgeoning married life for the details that previously missed the spotlight!
Emily Andre's Ever Blossoming Life With Husband
The reality TV star of the ITV morning show, Emily Andre is married to the British singer-songwriter, Peter Andre. Emily Andre, with the real name Emily Macdonagh, tied the knot with Peter on 11 July 2015, seven months after getting engaged.
The beautiful wedding ceremony was held at Exeter's Mamhead House and Castle. 
Talking about their stunning wedding, Peter explained, 
"It's been the most fantastic day of our lives – we've loved every moment. I couldn't have wished for a better day. I've married the love of my life and I couldn't be happier."
Emily was initially mocked for getting married to a man 17 years older than her. Some even called her a gold digger for trying to gain money and fame from marrying the British singer. However, in the long run, she proved that in love, age is not an essential factor to consider.
Together Despite Huge Age Gap:- Victoria Justice Fashionably Dating Singer Boyfriend Despite The Age Gap
Emily first met Peter through her father, Ruaraidh MacDonagh, who as well, is a doctor by profession. Emily's father happened to be the doctor of the hospital, where Peter was rushed for treatment due to his excruciating pain.
Peter was due to appear at the Plymouth Pavilions and was suffering from kidney stones at the time. Emily's father treated Peter, and later they became close to each other.
Further, when Peter returned to perform at the venue, his consultant urologist, Ruariadh introduced Emily to Peter. Emily was a 21 years old medical student while Peter was 37 in age at the time. After their first meeting, the pair remained friends for some time and started dating later.
Peter divorced his then-wife, Katie Price, with whom he shares two children; Princess and Junior and asked Emily's father for the permission to ask her out on a date.
Later in 2012, the duo opened their relationship to the public at a Magic Mike premiere. Both Emily and Peter walked the red carpet together and were spotted on a few more dates.
Children With Hubby
After one year of dating, the pair made the big announcement of Emily expecting their first child together. The baby was Peter's third child, as he already was the father of two children from his previous marriage. 
The couple got engaged on 2013's New Year's Eve after Peter proposed to Emily in their baby nursery. Just a few days later, on 7 January 2013, the couple welcomed their first child, a daughter named Amelia at Musgrove Park Hospital. 
Romantic Proposal:- Sara Shookman Wedding Vows Intact With Husband Who Proposed On Yacht?
Talking about his daughter's birth, Peter wrote on his site, 
"Now that I have had the opportunity to tell Junior and Pringles, we are very happy to announce the safe arrival of our beautiful baby girl. We are extremely thrilled and mum and bubba are doing fine. We are looking forward to a nice quiet couple of weeks getting to know our baby. Thanks to everyone at Musgrove Park Hospital."
Further, in May 2016, Emily announced her family of three is adding one more member, as she was expecting her second child. Emily's husband was the one to break the news by uploading an Instagram image on 26 May 2016 with the beautiful caption that read:
"OMG dad to be AGAIN :))) Brilliant. So so happy."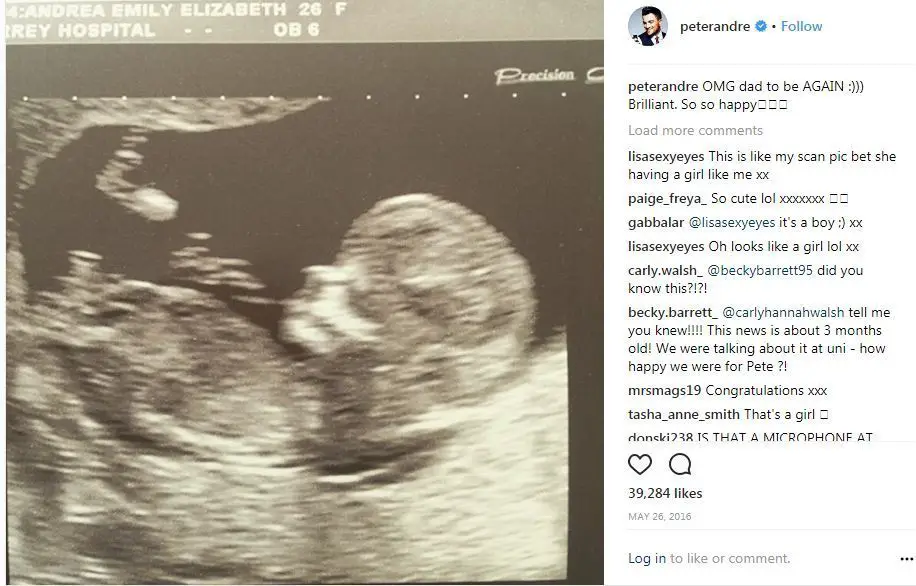 Emily Andre's second child's scan picture (Photo: Peter Andre 's Instagram)
The couple welcomed their second child, a baby boy named Theodore James, on 22 November 2016. At the moment, the couple rejoices their family of four, but they may also have a plan for another.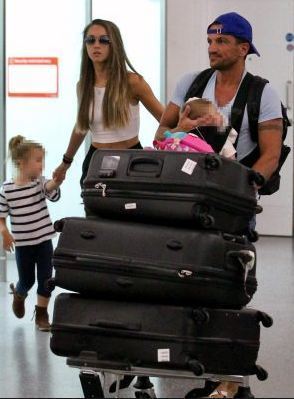 Emily Andre alongside her husband and children arrive in London from a vacation in 2017 (Photo: OKMaganize)
In 2018, Peter explained his will to become a father for the fifth time. However, he mentioned that he didn't want to wait long as Peter had no interest in changing diapers when he was 50.
Large Family:- Paige Butcher Age 39 Gives Birth To Baby No.10 For Eddie Murphy
Emily agreed to her husband's wish and said she wanted to have a third child. But, she maintained that the couple might have to wait for a few years before thinking about having another baby. 
Emily stated that she would be ready to have a third child once their youngest kid Theo will start attending school.
Apart from her married life, Emily Andre joined the cast member of the TV show, Lorraine filling in for Dr. Hilary Jones. Emily, who has walked into her father's footsteps of being a doctor, is yet to reveal her net worth in figures but, she enjoys her husband's net worth of over $11.5 million. Further, she is also expected to earn a salary averaging $211k per year.
Keep visiting for the emerging updates on the life of Emily Andre!