Entertainment
Sara Shookman Wedding Vows Intact With Husband Who Proposed On Yacht?
WKYC anchor Sara Shookman is happily married. She shares the marital bond with her husband...the couple first met back in...but back then they were only in...terms...about...years Sara's now-husband finally asked Sara out during their friend's wedding which led to the lifelong romance between the two. After dating for...the pair got engaged on...leading to their wedding on...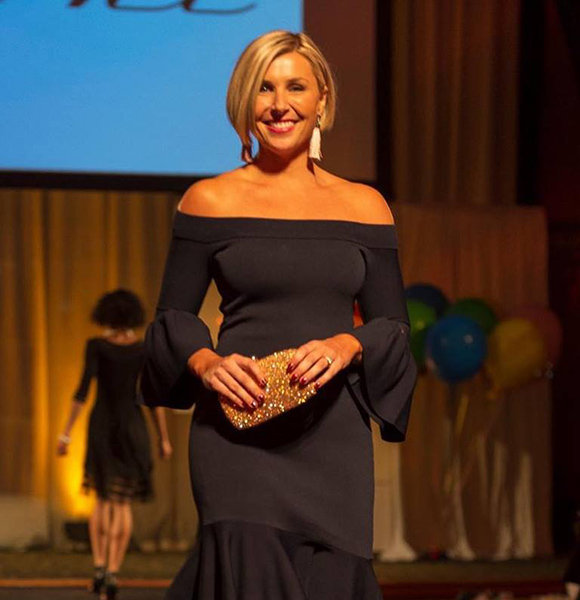 If love is meant to be, a simple gesture of 'hello' is enough to mark the relationship of a lifetime. While WKYC anchor Sara Shookman was only on greeting terms with her now-husband back in the days, they fell in love as the time passed by.
And what brought next was the courageous step of the couple in love, tying the knot in a dreamy wedding together with her boyfriend-turned-husband. But, Sara's now-husband stole the chance during a friends wedding, which makes it even more special!
Wondering about all the pieces of WKYC anchor's romance?
Well, here is what Sara's bio reveals about her relationship with her partner for life! 
Love Story Behind The Scenes; Friends Wedding Leads To Own Wedding 
Sara Shookman, the Emmy and Murrow award-winning television journalist, shares next level of blessing when it comes to love. She shares the romance with her now-husband Angelo DiFranco, a Project Manager at Paragon Consulting. 
Sara and Angelo have been together for a while now sharing an interesting behind the scene story of the beginning of their romance. Turns out, they knew each other for a long time before the romance sparked between the two. 
Fellow WKYC Anchor Story: WKYC's Betsy Kling's Strongly Hold Wedding Vows With Husband, Lifelong!
Sara first met Angelo back in 2005 when both of them were students at Ohio. Angelo attended high school with one of Sara's friend which further led them to cross each other's path. 
Back then, the relationship between the two was only limited to "Hi, how are you?" As they both were living in Cleaveland, they saw each other a couple of times at the apartment of the same friend. 
After ten years of knowing each other, Angelo finally made his move during the friend's wedding back in 2015. While Angelo was giving a speech roasting the groom on his big day, he took the chance of asking his friend for a fix up with Sara. 
Even though most of the guests thought he ruined every chance he had with Sara, she agreed for a dinner date with Angelo. A month later, they went on a dinner at Bourbon Street Barrel Room in Tremont. Their few dates soon turned into a serious relationship.
After dating seriously for a year, Angelo presented Sara with a ring asking her to marry him. Angelo chartered a romantic Lake Erie sunset cruise and proposed his girlfriend on a yacht. That day Sara and Angelo were reliving their first date together and by the end of the day, they were engaged. 
Recommended: WKYC's Hollie Strano Age 46 Married Life Ends, Divorced? Truth Revealed
Sara took it to Instagram to announce the happy news to her followers. She posted a picture showing off her engagement ring while cherishing the love she shares with Angelo.
Wedding Details, Relationship With Boyfriend-Turned- Husband
Almost a year later, in 2nd September 2017, Sara tied the wedding knot with Angelo. The couple exchanged the wedding vows at the Historic Coast Guard station on Whiskey Island.
The bride and groom were accompanied by their 250 invited guests including Sara's ten bridesmaids. Sara opted for a laced white gown for her big day complemented by a veil and glittery heels. As for Angelo, he wore cream checked suit with a bow tie.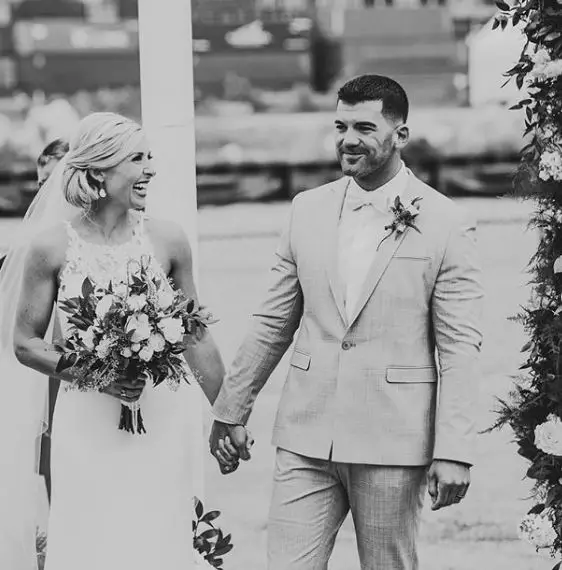 Sara Shookman with her husband Angelo DiFranco on their wedding day. (Photo: Sara Shookman's Instagram)
After being pronounced husband and wife, Angelo and Sara jetted off to their European honeymoon. With their newly formed bond, the pair made sure to cherish every moment together.
Don't Miss:WSVN's Lynn Martinez Family: Who Is Her Husband? Get All The Details
This year, Sara and Angelo celebrated their first anniversary as a married couple. Sara, who has an estimated salary of $55K, marked the day by posting pictures from their wedding day along with a long caption revealing her love for Angelo while cherishing his presence in her life.
Since their wedding, the couple has been enjoying moments together and are set to spend their life together.