Entertainment
Does Emily Browning Have A Husband Or Still Dating Boyfriend?
Emily Browning is one of the best Australian actresses...has not married yet, and does not have a husband yet...is dating a boyfriend as of December 2019...has 30 acting credits as of now...has worked in many movies and TV shows...her net worth and age figures are given below...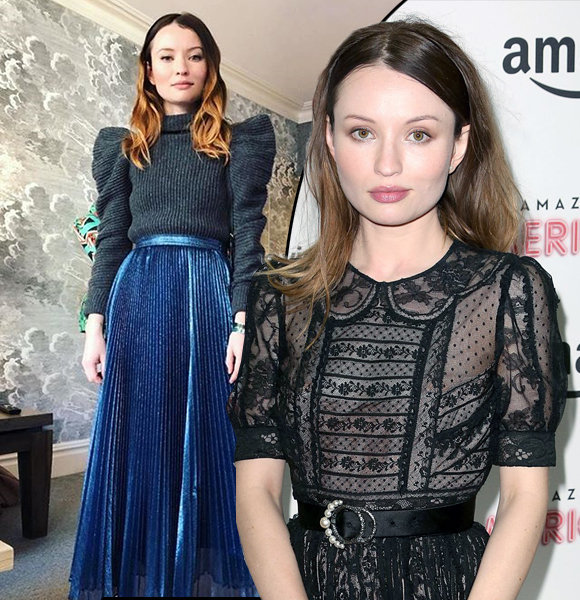 Most known for her role as Lucy in the 2011 movie Sleeping Beauty, Emily Browning is one of the most talented actresses to come out of Australia. She has been active in the entertainment industry for a long time and has worked in various significant projects alongside big stars such as Jim Carrey and Ian McShane.
Emily made her acting debut through the 1998 TV movie The Echo of Thunder and has gathered 30 acting credits to date. Over the years, she has worked in movies and TV shows such as American Gods (2017-2020), God Help the Girl (2014), Sucker Punch (2011), and Ghost Ship (2002).
Emily's Relationship Now
The actress is now in her fourth public relationship to date, and this one seems to be going quite well, not unlike her previous ones.
Emily is dating American film writer Eddie O'Keefe. It is not known from when exactly did the two started dating. However, they were friends before they started going out. The first picture of Eddie that Emily posted on her Instagram was on 16th March 2016.
Read More:-Lauren Holly Husband, Children, Surgery, Net Worth
It could be speculated that it was around this time that they started dating, although nothing is confirmed by the couple. As for now, Emily and Eddie feature quite frequently on each other's Instagram and are seen wishing each other on birthdays and other special occasions.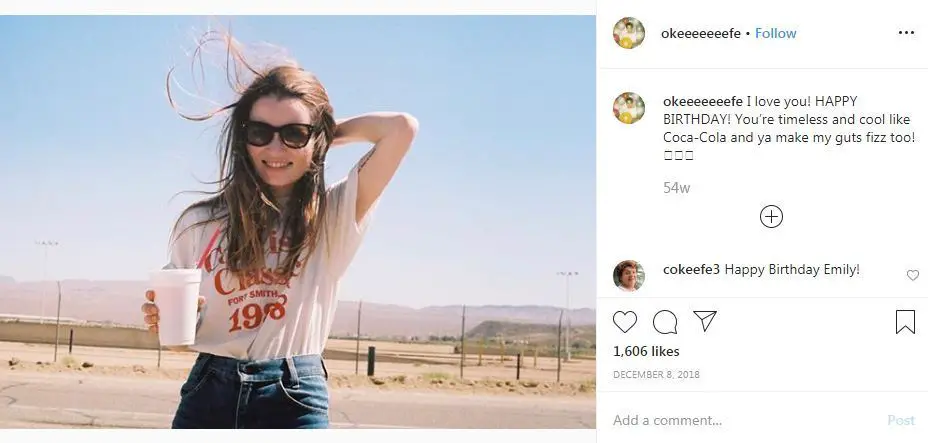 Eddie's post on his Instagram wishing Emily on her birthday (Photo: Eddie O'Keefe's Instagram)
There are no rumors about Emily planning to make Eddie her husband, but who knows what the pair are planning? Until they reveal something, all anyone can do is speculate.
Emily's Dating History
Emily has dated her share of guys in the past. She has been in three relationships to date, but none of them turned into anything serious.
The first person that Emily dated was an Australian model Max Turner. Reports suggest that Emily and Max dated for about three years from 2007 to January 2010. The reason for their breakup is not disclosed yet.
Emily moved on from Max Turner to date another Max. However, this time, it was an English-Irish actor Max. She went out with Max Irons (full name - Maximillian Paul Diarmuid Irons) from February 2011 to July 2012.
Recommended:- Renee Zellweger Husband, Married, Family, Net Worth
But similar to her previous relationship, the ex-couple broke off the relationship without any reason for the split.
Now comes her third boyfriend, and the longest-lasting relationship up to this point in her life. Emily was seen to be dating another Australian actor, Xavier Samuel, in 2012. Their first sighting together was in October 2012, and they went on to make quite a few public appearances, especially during red carpet events.
However, her third relationship, just like her previous ones, wasn't meant to last forever. Emily and Xavier split in June 2015 for reasons unknown.
Interesting Facts: Age, Height, Net Worth
Emily was born on 7th December 1988 in Melbourne, Australia. She has Australian ethnicity and nationality.
The Australian actress' full name is Emily Jane Browning.
Her parents are Andrew and Shelley Browning. She has two siblings - rothers Nicholas and Matthew.
The gorgeous woman stands 5 feet 1 inch (1.55 m) in height. She weighs around 112.5 lbs and has an impressive figure of 33-23-34 inches.
Emily boasts a net worth of around $8 million.