Entertainment
Ian McShane And His Spouse Is Still Going Strong For More Than Four-Decade
English actor Ian McShane isn't a legend for no reason. The American Gods star has been involved with show business for almost six decades. 
Amid his achievements, he has also been successful in finding his perfect spouse, who has been his biggest support from day one. He has changed a lot with the help of his spouse. 
Let's find out who is the lucky woman. 
Ian McShane's Spouse
Ian McShane is married to actress Gwen Humble. Ian met his spouse on the set of Lovejoy, a British television series. After knowing each other for some time, they tied the knot on August 30, 1980. The couple's love hasn't faded despite being together for more than four decades.
But this is not his first marriage. 
Ian has married three times in his life. He got married to his first spouse Suzan Farmer in 1964. After being together for four years, they filed for divorce and parted ways in 1968. Even though they have parted ways, Ian still praised his first spouse in the interview with Express. He said:
"My first wife was delightful. She was the queen of the Hammer Horror movies, but I never saw her for two years. It was the Sixties…"
After his divorce, he married model Ruth V. Post the same year and welcomed their two children: his daughter, Kate McShane, born in 1971, and his son Morgan McShane, born in 1975.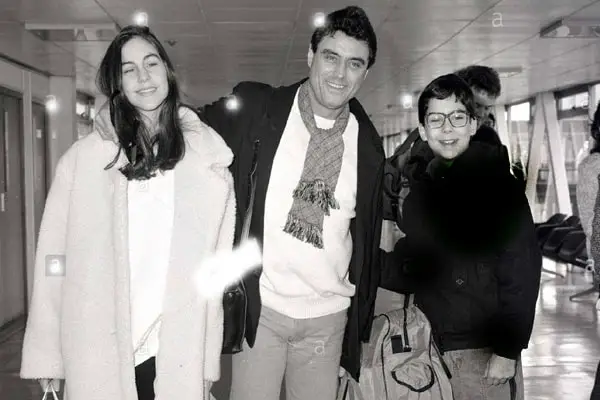 Actor Ian McShane with children Morgan And Kate at the Heathrow Airport in March 1986 (Photo: Alamy)
Despite spending more than five years together, his second spouse and he were unable to make it to the end.  They did not disclose the exact reason for their split, but in the interview with Express, he shared how his second marriage was a nightmare. He said, 
"My second marriage was to a girl I met in Manchester, kept a long-distance relationship going for two years, then we got married... disaster."
As the saying goes, "third times the charm," after failing in two marriages, Ian found his third spouse, Gwen Humble, with whom he could settle down for the rest of his life. 
Another third time's the charm: Nettie Stanley Bio, Wiki
Ian has also shared about having a drinking problem that he overcame after meeting his third wife. Even though Ian and Gwen have been married for more than four-decade, they don't share any children together.
However, The Game Of Thrones actor became a grandfather through his daughter, Kate. 
Although he found the love of his life after being unsuccessful, things were different in his professional life.
Ian McShane's Career
Born in Blackburn, Lancashire, England, Ian grew up in Manchester with his father, Harry McShane, and his mother, Irene McShane. His deceased father was a football player for Manchester United. 
The 5 feet 8 inches in height actor currently lives in the Venice beach area of Los Angeles with his family.
At the age of 79, the actor is still pushing strong, which is no mere luck. Ian takes care of his body and health. He even gave up drinking in 1988 and later quit smoking in 2011.
Ian started his acting career young, joining the Royal Academy of Dramatic Arts in 1962. His first acting role was in The Wild and the Willing as Harry Brown. He made his TV debut with Spanner in the Grass Works, playing Frank Barnes.
Since then, Ian has made numerous appearances in tv shows such as Wuthering Heights, If It's Tuesday, This Must Be Belgium, Jesus of Nazareth, and Disraeli. From 2004 to 2006, he played the role of Al Swearengen in Deadwood. In 2010, Ian starred in The Pillars of the Earth as Bishop Waleran Bigod.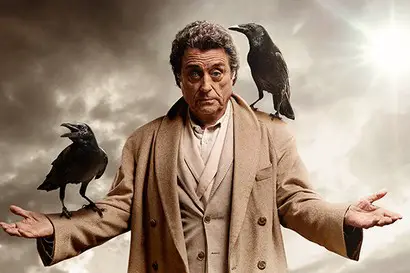 Ian McShane As Mr. Wednesday On American Gods. (Source: Ian McShane's fan page)
From a fierce, foul-mouthed saloon owner in "Deadwood" to a tough gangster in "Sexy Beast," Ian McShane has practically made playing rogues, villains, and badasses his forte.
Another American God Actor: Crispin Glover Not Gay
Ian won the Best Actor in a Television Drama for his performance in Deadwood at the 2005 Golden Globe Awards. The role also got him nominated for the 2005 Emmy Awards and Screen Actors Guild Awards.
With over five decades under his belt as an actor, director, producer, and voice-over artist, Ian has amassed enormous fame and respect in the industry. Alongside his career, Ian has accumulated a net worth of $10 million.
Ian is not active in social media; however, currently, he is working in Jhon Wick; Chapter 4 as Winston, which is scheduled to be released in 2023.  
We will surely update you guys more on Ian McShane in the coming days. Till then, stay tuned.