Entertainment
Erica Dixon's Mother- Daughter Time: New Information About Her Ex-Boyfriend Scrappy
Erica Dixon has not been heard from for a specific period now ever since she has called it quits from her show 'Love & Hip-Hop: Atlanta.' Lately, she was seen enjoying some mother-daughter time. She has recently broken her silence to give us a little information about her ex-fiancée. What does Erica say about her ex-boyfriend?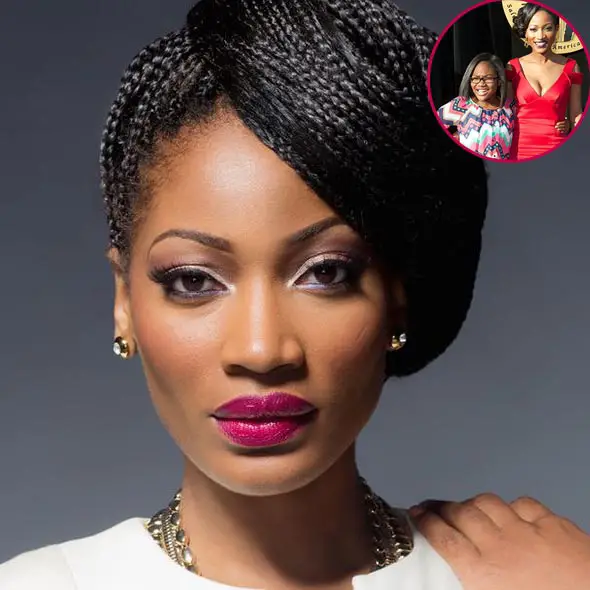 Erica Dixon came to the limelight ever since she called it quits from her show 'Love & Hip-Hop: Atlanta.' Also, ever since she broke her relationship with her ex-fiance.
Now, What does she have to say about her ex-boyfriend? Find it out along with the details of her pregnancy! With two boyfriends after the break-up and two more children set to arrive soon, Erica has finally moved on from her former relationship!
Engagement Of Ex-Boyfriend:
You may not have heard from Erica but her former lover, Lil Scrappy created quite a buzz when he got engaged to his girlfriend, Bambi. Lil Scrappy was has been a long term boyfriend to Bambi, and they have been dating for a long time since he broke up with Erica. 
Lil Scrappy with fiancee, Bambi, and daughter Emani Richardson (Photo: Lil Scrappy 's Instagram)
So, what does Erica have to say about her former flame and the father of her daughter moving on with his life? While she started off with sweet responses like how she was "Actually happy" and not "so into Bambi", she later dropped the truth bombshell about Scrappy.
Reunited With Ex-Lover:- Rita Ora, Relationship With Ex-Boyfriend Again? She Just Split With One
She revealed how Scrappy tried to get back together with her on multiple occasions. He had called her mother at least 21 times on this matter.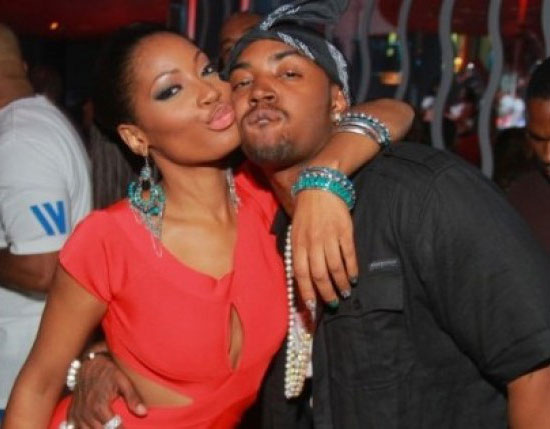 Erica Dixon with Lil Scrappy (Source: wordpress.com)
Further, Erica went to Scrappy and his mother, Momma Dee for accusing her of filing a restraining order on false accounts. You remember the time Momma Dee went on air through the Periscope radio show,' PB-n-Tea' to explain the reason behind Erica leaving the show? She had claimed that Erica was fired for refusing to drop the restraining order on Scrappy because it appeared to be filed on false reports.
Momma Dee talks about what happened to Erica Dixon as per an interview by 'PB-n-Tea' on 7th July (Source: centrictv.com)
When she was asked about the whereabouts of Erica, Momma dee simply made a statement on centrictv.com she gave on 2016 where she said; 
""I don't know where she is, all I know is she went against the grain."
And she further added;
"For those that bite the hands that feed it, they should follow the same way."
Erica didn't let the matter go as she took to Instagram to prove Momma Dee wrong. She posted a picture on Instagram of her contract for the fifth season of 'LHHATL' proving that she was not fired at all.
Erica sure knows how to pull a fast one. Do you remember the pregnant prank she did? Well, she posted a photo of her belly on Instagram in April 2014 which caused a lot of people to be fooled. She later posted another photo revealing it as an April Fools prank.
Spends Time With Daughter:
So, what is Erica doing nowadays? Looking at her Instagram posts, she is spending quite some time with her daughter, Emani Richardson. They are having a lot of fun together and spending some quality time.
But that's not all the deal!
After her split from Scrappy, Erica went on to date other two men namely O'Shea and William Gay. Then, she started dating a third man but kept the romance a secret. The affair resulted in Erica getting pregnant with twin daughters, which she announced earlier in February 2018.
Kid On The Way:- Carlos PenaVega & Wife Pregnant With Second Baby! Another Kid En Route
With a YouTube video and a tweet, Erica revealed her pregnancy mentioning that her twin baby girls are on the way. She also thanked her friends and family for not leaking out in public before she and her alleged boyfriend were ready to share the news.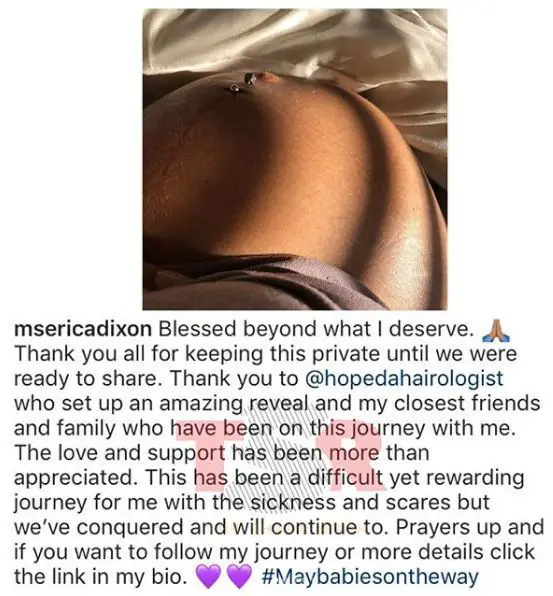 Erica Dixon reveals the news of her pregnancy in February 2019 (Photo: TheShadeRoom's Instagram)
The due date of Erica's delivery is presumed to be in May 2019, but she is yet to disclose the identity of the baby's father. However, with the arrival of her children, Erica could break the ice and identify her partner publicly.
Erica Dixon Short Bio:
Erica Dixon was born on 12 October 1983, in Atlanta, GA, USA. She starred in 'LHHATL' since the show's inception in 2012. Before becoming a reality TV star, she used to be a medical biller and coder. Erica net worth is an estimated amount of approximately 300 thousand dollars. Her comment above about Scrappy's engagement on August 8 was the most recent update related to her.