Entertainment
ESPN Sportscaster Jenn Brown is Pregnant Again! Welcoming Another Baby Boy, What About Married Life and Husband?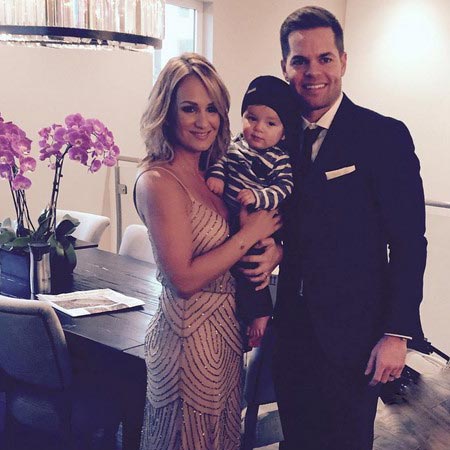 ESPN Sportscaster Jenn Brown is Pregnant Again! Welcoming Another Baby Boy, What About Married Life and Husband?
Entertainment
Struggle leads to the path of success, if you work hard on the something with a passion, then, you will be favored by the positive results. Let me introduce one person who was grant with two-time Emmy award & well known as a sports broadcaster, Jenn Brown. Beauty with success, we have exciting stories about her life activities.
Jenn Brown is the first female correspondent for 'inside the NFL' & can be seen hosting UFC and boxing. She is a female sportscaster/sideline reporter, like Samantha Ponder, Charissa Thompson, Erin Andrews and Heidi Watney.
Being a passionate lady since childhood on sports, she never got fired from her job due to her remarkable work dedication. Apart, her personal life is also going so well.
Jenn Brown's Happy Married Life:
Brown was dating Wes Chatham since 2007 and later got married in April 2012. Her husband has played many games but famously known for the role of an actor in Chatham, Hunger Games: Mocking Jay Part 2. Their life went so well, as both couples are busy with their professional career, they have never been into any affairs that lead to question their relation. In Overall, these couples married life gone very well.
They have created a sweet family after welcoming their first child, John Nash, back on 2014. Well on 2015, Jenn was pregnant again. She said celebritybabies.people.com that
"I'm hearing such wonderful stories about siblings that are as close in age as ours will be, and we look forward to the challenges, too! We can't wait to find out if it's a boy or girl."

- celebritybabies.people.com
Jenn is active in social networking profiles, and she loves to express and share her daily activities. We have found some of the stories that are very exciting for you.
Jenn at her 2nd Pregnancy:
 On June 2016 they have welcomed their second baby boy.
The beautiful photos were out of social media and these couples looked jubilant.
Jenn is feeling blessed:
Jenn tweeted about her 2nd baby:
Welcome, 2nd baby boy. oh! just a healthy baby.
Jenn's Husband, Mr. Chathman was so proud of her:
Cute 'Rhett Jameson Chatham':
Caption: Jenn sharing her sons' stories 
Caption: The two jewels of Jenn Brown
Jenn Brown and her husband reside in Los Angeles.
Born and raised in Orlando, and attended the University of Florida. Jenn Brown was always passionate about the sports from her small. She worked at NFL network as reporter and host for two years, NBC as a co-host on collegiate nationals  & ESPN for at least three years as a sideline reporter, LA reporter for interviews.
Jenn had also worked for As a sports broadcaster, she won a two Emmy Award and recently on 2009, she sidelined the megahit show 'American Ninja Warrior'. On 2013, she was ranked as Top 4 hottest female's sports anchor by mensxp.com. At this mom age, she knew herself and managed to look sexy and beautiful.