Entertainment
YouTuber Eva Gutowski Family Background & Dating Status
Eva Gutowski is a famous YouTuber known for running the channel, "Mylifeaseva." She initially started by posting videos related to beauty but later transitioned to a much broader category and does comedy sketches, web series, and DIY videos. As of February 2020, she has over 10.9 million subscribers.
Boyfriend, Dating
Eva is often linked romantically to Brent Rivera, a fellow YouTuber. The two have known each other for a long time and frequently collaborated since 2015.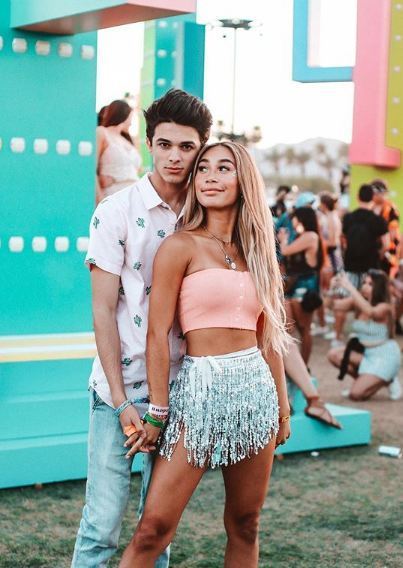 Eva Gutowski with Brent Rivera at the 2019 Coachella Valley Music and Arts Festival (Photo: Eva Gutowski's Instagram)
The beauty guru revealed in a video of hers that they started as best friends, but she developed feelings for him. She also accused Brent of leading her on despite not having feelings for her.
Another YouTuber:- Who Is YouTuber iluvsarahii Boyfriend? Dating Life Details
Brent too started falling for her, and the two decided to try dating. However, not long after, Eva went on a trip, and the two decided to stop dating. Brent opened up about their relationship and the incident. In his own words:
Things were going great. I actually started really falling a little bit for Eva. Things were actually happening between us. But then, she went on this trip and she stayed at this guys house. It was just her friend and now I understand what happened but she was posting a bunch of stories and pictures with these guys and I felt like I had opened up lately, so when I saw that, I was getting jealous.

I said things I shouldn't have said. I can see now that I was overreacting. After that I kind of put up a wall and she put up a wall. We talked but we didn't continue that relationship that we had before.

I thought we would have everything figured out by now. I honestly have no idea what we are. Right now, we're not dating but we're more than friends.
While the couple themselves have labeled themselves as not a couple, their fans are convinced that they definitely are one.
About Brent Rivera
Best known for running his YouTube channel, MrBrent98, Brent has over 11 million subscribers. He also had a huge following on Vine and had over 8 million followers there. 
About Brent Rivera:- Brent Rivera Bio: From Age and Birthday to Gay Rumors!
He was born on 9th January 1998 in Huntington Beach, California. He has three siblings, brothers Brice and Blake, and sister Lexi.
Eva Gutowski's Age, Ethnicity
Eva Marisol Gutowski was born on 29th July 1994 in Brea, California. Her father was born to Polish immigrants devoted his life to civil rights and minorities. Eva also has a sister named Maya Gutowski.
The popular vlogger said that she was of Puerto Rican, black, and Polish ethnicity in an interview with Hot 97.
Education
She attended California State University at Fullerton, where she majored in Broadcast Journalism.
Coming Out As Bisexual
The YouTube megastar came out as bisexual on 31st August 2016. She took to Twitter to open up about her sexuality. She shared a series of five tweets addressing the issue, with one of them being:
I am ready for myself to fall in love with someone, no matter who they end up being, and have been since I was 12. Boy or girl.