Entertainment
Eva Marcille Set To Turn Boyfriend Into Husband! When Is The Wedding?
Eva Marcille Set To Turn Boyfriend Into Husband! When was the Wedding? One of your favorite celebrity, Eva Marcille, who is model and actress by profession, is on the focus, bringing the surreal feelings of love commemorating with a sweet marriage ceremony...Love has already taken the model, Eva Marcille has gone from "dating to engaged to married," but what's was the date when Eva walked down the aisle?...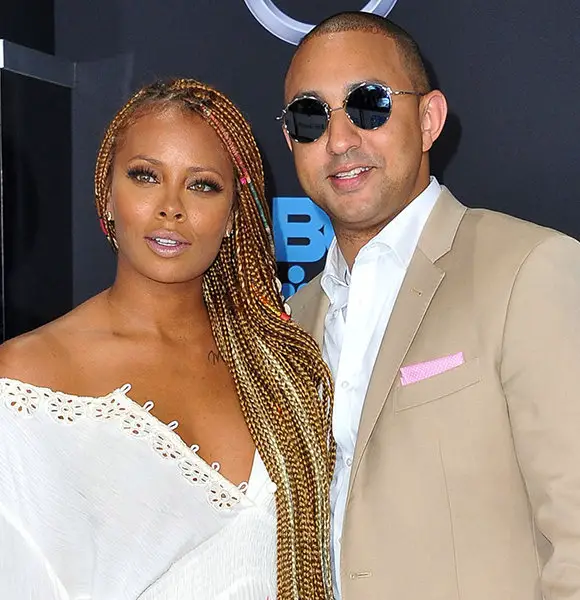 Eva Marcille, who is model and actress by profession, is on the focus, bringing the surreal feelings of love commemorating with a sweet engagement session.
Love has already taken the model, Eva Marcille to the halfway of "dating to engaged," but what's the date when Eva will finally walk down the aisle? Did their relationship hold up? Let's find out.
Extra Special Christmas 2017 
Christmas itself is a special occasion and for Eva Marcille 2017's Christmas, the festive time kept getting better and better! 
Former America's Next Top Model, Eva Marcille got engaged to her lawyer boyfriend, Mike Sterling after he proposed her with a beautiful ring to which she said "yes."
Eva Marcille, to whom the beautiful ring was popped, gave the Christmas gift for her fans too! She took to Instagram to sparkle her brand new engagement ring with the caption "I said yes!!!!", adding the ring emoji for good measure.
However, New bride-to-be Eva, who shared the sparkly selfie with her engagement ring, didn't reveal her wedding details.
Engaged & Married:- Marzia Bisognin & PewDiePie Married, Wedding, Engagement
Eva was the one who first revealed the duo's romance back in 2016 sharing a video snap on Instagram. It was a debut for both Eva and Sterling in BET Awards, and Eva shared their moments of the occasion with the revelation of her boyfriend, Sterling.
Not only that, Eva gave a treat for fans earlier, when she announced that she was expecting her first child with the baby father, Mike Sterling on November 2017.
Earlier in July 2017, Marcille was seen supporting her boyfriend, Sterling for his campaign in Atlanta, Georgia. Michael Sterling, who is the former head of the Atlanta Workforce Development Agency, is the recent candidate for the mayor of Atlanta, Georgia.
He is also the one who shared the duo's image during the campaign on Instagram on 7th July 2017, with the caption that read,
"Putting in some sweat equity together - walking door to door, talking to residents about their concerns, and working to earn votes. We are challenging the status quo. #thenextmayorofatlanta #thenextfirstladyofatlanta#newleadershipnewdirection #sterling2017 #michaelforatlanta #startathome"
Also, her partner is no stranger to spotlight to some degree. He is an established attorney with his own boutique firm titled Sterling Dreyer.
Interestingly, he represented Asante McGee, the women who accused singer R.Kelly of sexual misconduct and abuse claims.
Marriage, Pregnancy & Baby 
It was bound to happen sooner or later, and her marriage came sooner than expected. Engaged in 2017, Eva Marcille was a happy woman in all entirety, and her happiness got a huge boost when she and her fiance Michael Sterling wedded in 2018.
The couple welcomed a baby boy named Michael Todd Sterling Jr. on 13th April 2018. Further, Eva has a daughter named Marley Rae with her ex-boyfriend, Kevin McCall.
At the end of 2018, the pair tied the knot in a gorgeous Atlanta wedding that took place on 7th October 2018. Their wedding took place in the company of friends and family with $20 thousand worth of roses and orchids.
The couple enjoyed married life in each others company and is soon going to add a new member to the family. The model is pregnant with her third child (second with husband Michael). She made the happy announcement on 24 June 2019 at BET Awards via showing off her baby bump.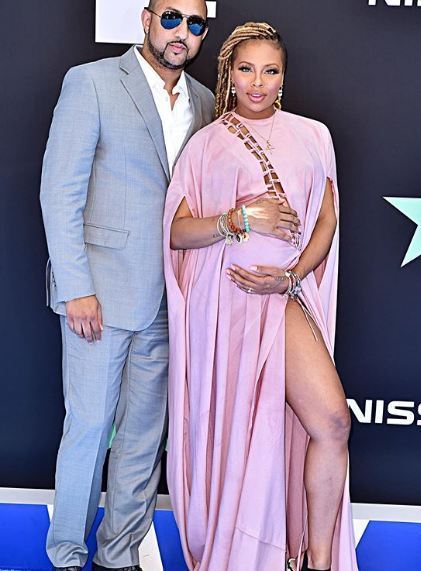 Eva Marcille with husband Michael Sterling on 24 June at 2019 BET Awards (Photo: Eva Marcille's Instagram)
She and her hubby couldn't contain their happiness. According to Eva,
"Michael and I couldn't be more excited to announce baby No. 3 is on board! Looks like little Michael Jr. is going from the baby to the middle child, and Marley will be the boss of them all!"
Eva even hinted at the name of the baby. In an Instagram post during her baby shower, she tagged her soon to be born child's name.
Baby On Board:- Christina Anstead Husband, Pregnant, Kids, Net Worth
It was evident that baby Marley and Michael were soon going to be elder sister and brothers to the new member brother, Maverick Sterling.
Likewise, on 20th September 2019, she went through a professional photo shoot with a floral and yellow color themed featuring her baby bump. And, it turned out to become the last shot featuring her third baby bump as shortly, her third child stepped into her world.
On 27th September 2019, her baby boy Maverick was born. Neither the TV star nor her partner shared the picture of their newborn. However, her child delivery went as they had desired at Northside Hospital Labor and Delivery Ward.
For now, fans are more than eager to see the sight of their adorable child.