FaZe Rain, real name, Nordan Shat is the gaming heavyweight in YouTube! Millionaire due to his subscribers, Faze's start in the social media giant is unique.
But, success and prosperity was not the thing he was born with. Coming from a troubled home, he was depressed due to the toxic environment. The situation turned so worse that he even got addicted to Advil to escape the pain.
Only after seeking medication, he got his way out. His therapist advised him to find a new hobby, and an 11-year-old FaZe started a Youtube channel. Since then, he connected with his audience and built a social media empire.
Girlfriend Details
FaZe was in a relationship with a girl named Taylor since 2014. Things were going well for the couple; he even featured his partner in his YouTube channel via the video MEET, MY GIRLFRIEND!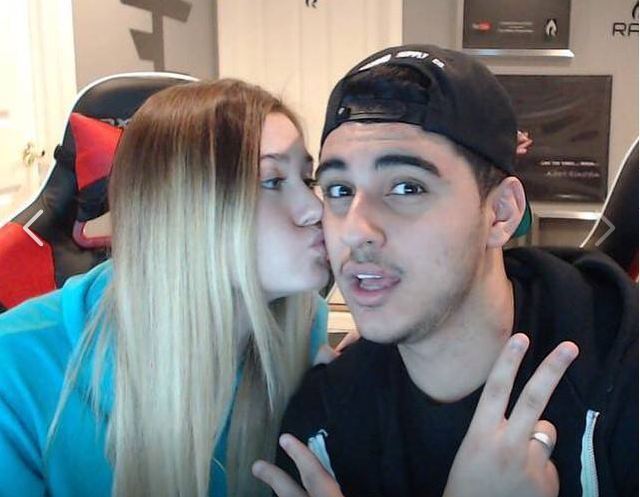 FaZe Rain gets a kiss from his girlfriend Taylor on 15th February 2015 (Photo: FaZe Rain's Facebook)
The pair's cute relationship was evident via the Canadian star's constant tweets about his lover.
Moreover, FaZe's girlfriend was very close with his family; especially his mother. On 14th October, the YouTuber shared a hilarious tweet about his mom and girlfriend uniting force to get him a pedicure. He joked about officially turning gay due to beauty treatment.
Read About Another Canadian YouTuber:- Ricky Berwick Wiki, Age, Mom, Disability, Facts
But, the love and affection didn't last long; the pair split in early 2016.
FaZe explained about the breakup to his subscribers on 2nd February 2016 via a video titled I have something to say. Apparently, with so much going on in his professional life, he couldn't manage time for a relationship. He dealt with a lot of stress in the affair and had to let go of his lover.
Although broken up, FaZe did mention that he still loved Taylor, but couldn't stay together due to circumstances. Since the departure of his former girlfriend, he has shied away from revealing about his personal life to the public.
FaZe's Net Worth
The YouTuber is indeed an inspiring story of success.
He is the owner of FaZe Clan, a group of a Call of Duty sniping clan. Due to his massive following on his main YouTube channel entitled FaZe Rain, he reportedly earns $6.2K - $99.9K per year.
Most Hated YouTuber:- Rebecca Black Boyfriend, Net Worth, Parents
With more than a million subscribers in his channel named after his real name, Nordan Shat, he earns an additional sum of $601 - $9.6K per year. Also, he boasts a line of merchandise that adds to his net worth.
FaZe's successful career can also be judged from his lavish lifestyle of luxury cars. The expensive automobile, namely Tesla Model X and Audi R8 in his name, reflects the YouTuber's success.
Age, Height & Tattoo
The Canadian YouTuber is 22 years old according to his date of birth; 29th May 1996. He boasts a height of 5 feet 11 inches (1.8 m). Beside his gaming skill, fans admire his personality and his looks that includes his hairstyle plus a killer tattoo in his hands.
FaZe shares a close-knit bond with his family, including his mother, stepdad, and step-siblings. He bought a ZO6 for his step-father in 2016.