Ricky Berwick is a massive name in social media.
The talented YouTuber makes funny videos for a living though he has a physical disability that limits his movements. Despite such adversities, he hasn't let his condition define him. Instead, he used his differently able attributes and made a career out of it.
Ricky's Wiki
Ricky, age 26, was born in Canada. Growing up with the physical condition, he dealt with problems in carrying out day to day life activities, but his supportive mom was by his side all the time. 
In 2007, teenager Ricky tried his best to create content on YouTube. To his dismay, the material didn't work; thus he stopped making videos altogether. The Canadian was going on with his life, while the presence of social media grew tremendously.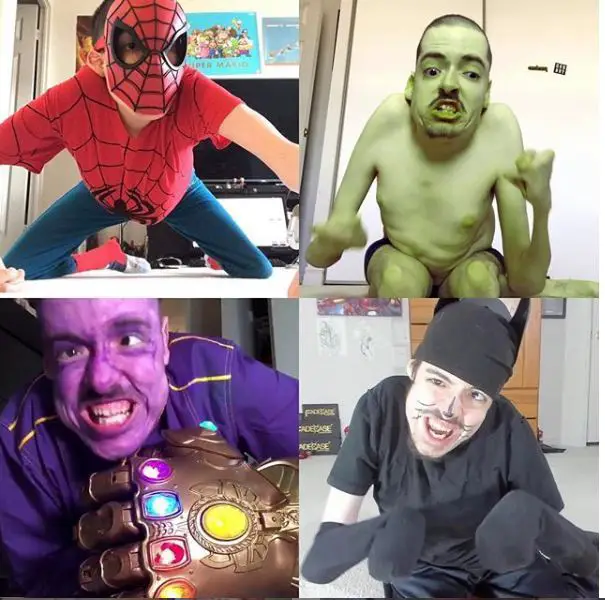 Ricky Berwick dressed up as various Avengers characters on 3rd April 2019 (Photo: Ricky Berwick's Instagram)
One beautiful day in summer of 2016, he posted a video of himself shouting and eating McDonald's french fries on Twitter. The content which was somewhat appreciated on the platform exploded on Facebook. 
YouTuber With Physical Disabilities:- Evan Eckenrode Age, Net Worth, Parents
Someone posted the video without his permission on Facebook, but the act turned out to be the turning point in the social media star's career. Encouraged by the millions of videos, Ricky started posting content on Twitter regularly for months then eventually moved to YouTube.
In three years, the talented YouTuber managed to amass a huge following on his social media. As of early 2019, Ricky has one and half million subscribers on YouTube. Although yet to be verified his Instagram handle boasts 419K followers. 
Well, the large following on social media has established him as the heavy weight of the Internet. Fans thank him for making them laugh through tough times. 
However, Ricky, who helps to elevate fans' mood via his antics, doesn't reveal his sadness on social media. He refrains from disclosing any personal facts about himself. When asked about details like his disability and height, he makes a joke out of it. 
The YouTuber is famous for his trademark rolling on the floor and sticking out his tongue.
When Is His Birthday? Plans To Come To US
Ricky celebrates his birthday on 23rd April. 
Well, YouTubers outside the US, who gain massive fame, tend to move to the land of dream eventually. The migration is called for after all loads of content creators events tend to take place in Trump's country. 
But, fans won't be seeing Ricky attending any videocon in the US any time soon. Well, the YouTuber's mom won't let him travel alone outside his country, and he joked about not wanting to tag along with her on Twitter. 
In spite of not moving to Los Angeles, the Canadian is doing quite well. He earns around salary of $50.3K - $805.2K per year. His earning comes from his social media as well as Mcdonalds.