The year 2011 changed everything for Rebecca Black, age 21. A mere 13-year-old, she couldn't have fanthom the amount of hate she got when her first single Friday dropped on YouTube. Termed one of the worst songs by the fans and critics alike, she got everything from death threats to rumors that she was pregnant.
Consequences of her song didn't end there; she had to leave her Anaheim Hills, California School due to excessive bullying. She did start attending a public school, but since the bullying didn't stop, she finally was homeschooled by her mother.
After the harrowing chapter in her life, Rebecca thought she wouldn't make it and be dead, but the courageous young lady found strength in herself and moved on with her family's support.
Besides her family is there any particular person in her life now? Let's dive in!
Dating Life Of Rebecca
Rumors were rife that Rebbecca was dating YouTuber Caspar Lee. Fans went berserk when he mentioned her in a video of roast yourself challenge in 2016. But neither party confirmed those rumors.
Explore:- Evan Eckenrode Age, Net Worth, Parents
Furthermore, Rebecca did a boyfriend tag in her YouTube channel in 2013, but she featured a friend Andrew instead of her actual beau. Still, in her early 20s, the talented singer has all the time in the world to find the perfect partner.
Net Worth
After the debut single debacle, Rebecca picked herself up and focused on her music. It helped that she started a YouTube channel to put her talent out there. The channel helped people connect with the girl beyond the infamous single Friday.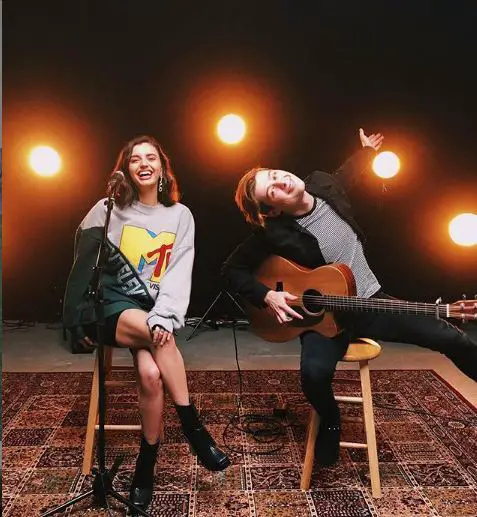 Rebecca Black smiles while playing tunes on 5th April 2019 at Idobi Productions (Photo: Rebecca Black's Instagram)
Now, the pretty brunette boasts more than a million subscribers in her YouTube channel. Courtesy of her ultra-famous endeavor, she earns a salary at an average of $3K - $47.6K per year.
Besides the social media career, Rebecca released singles like My Moment, Person of Interest, Sing it and In Your Words which were appreciated by the audiences. Due to all her creative outings, the singer has managed to accumulate a net worth of $1.5 million.
Inside Rebecca's Family
Born to veterinary physician parents; father John Jeffery Black and Georgina Marquez Kelly, the YouTuber was the firstborn of the duo.
Rebecca is one of the two siblings; she has a younger brother named Chase Black ( born 25th August 1999). Both the siblings share mixed ethnicity, Mexican from their mother's side and English, Polish, Italian form their father's side.
Unfortunately, the multi-ethnic family split up when John and Georgina divorced back in 2013. But, Rebecca, height five feet and five inches (1.65 m), is extremly close to both her parents. She keeps posting cute snaps of both of them in her Instagram handle.