Entertainment
Beautiful Film Actress Monica Calhoun Reveals her Son's and Brother's Illness!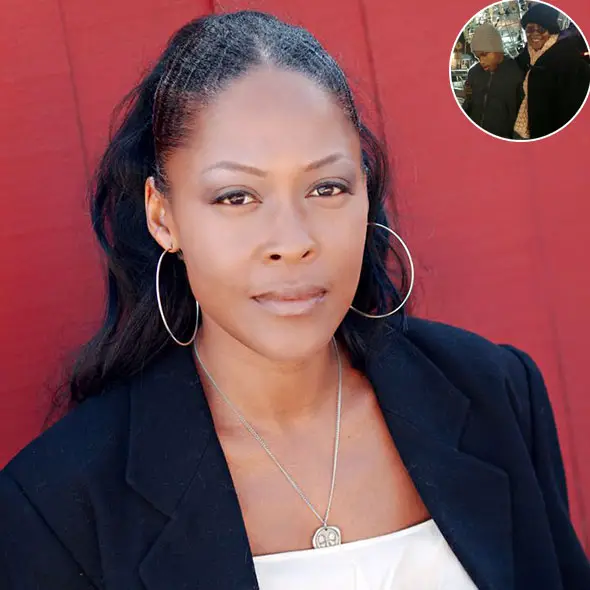 Quick Information
Son/s

1

Lesbian

No

Eye Color

Black

Hair Color

Black

Hair

Long

Height/ How Tall? 5' 1" (1.55 m)
High School

Los Angeles County High School for the Arts

Net Worth

$5 million

Relationship Status

Not Disclosed

Date of Birth Jul 29, 1971
Brother/s

Eric Calhoun

Mother

Lorraine W. Calhoun

Ethnicity/Race

Black

Religion

Christianity

Zodiac Sign

Leo

Birth Name

Monica Patrice Calhoun

Profession

Actress

Nationality

American
No doubt actors can portray their on-screen character very well. We usually see what they present to us. Most often, we are allowed to read only a few chapters of their life. Though many celebrities are very open in their movies and plays, their personal life is always behind the curtains. Similarly, there are some celebrities who share only a few aspects of their personal life.
"Diary of a Single Mom" actress Monica Calhoun is one of them who has revealed her son's and brother illness, however, she hasn't revealed anything about her son's biological father. Let us help you to find what exactly she has revealed.
Secretive When Comes To Romantic Life; A Single Mother
Monica, who is in her mid-forties, has always managed to maintain her love life private. However, she was once romantically linked to Miguel A. Nunez, an American actor, and comedian. Monica is neither married nor is involved in any affair. But does she have a secret husband? Well, the answer to this question has always been in the dark.
See Also: Dawn-Lyen Gardner Is Married With Husband, But Not Where Everyone Expects
Recently Monica posted a picture of a ring which led to her fans thinking that she might have got engaged. Her followers were quick to pass the congratulations for her but to her follower's surprise, Monica posted two more pictures with a ring on the ring finger.
As she has always been cryptic, her followers were confused if she is actually about to get married. Eventually, he fans concluded that the post might just be because of her love for the rings.
Monica who makes a net worth of $5 million is a single mom in her real life. There is no any information about her son's biological father. No matter how successful Monica is in her profession, she puts her son, who is blind, before her career as he needs special care.
She introduced her son to all of us on the red carpet at the premiere of "The Best Man Holiday".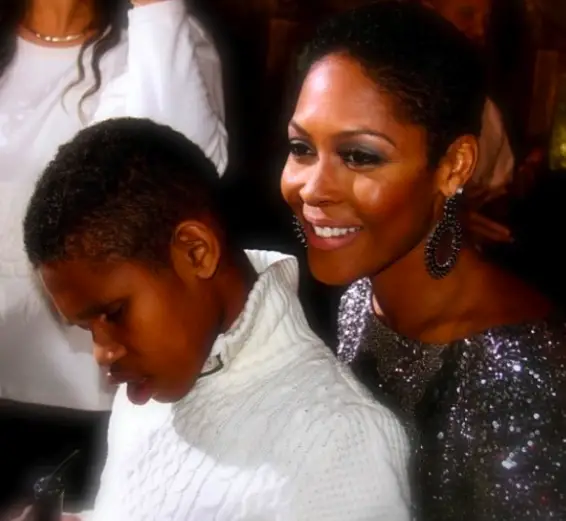 Monica Calhoun with her son with special needs on the red carpet at the premiere of "The Best Man Holiday." (Photo: naturallymoi.com)
Since then, Monica has been totally open towards her fan about her relationship with her son. She often posts pictures with her baby boy on Instagram appreciating his presence in her life. 
You May Also Like: Luisana Lopilato & Husband Michael Bublé Welcomes Baby No. 3 'Daughter Vida', Shares Sweetest Moment!
She even posted a video in which she taught her son to swim. Indeed, she sure is the ultimate support for her son. 
Reveals About Her Son And Brother's Illness
When Monica appeared on the red carpet at the premiere of "The Best Man Holiday" with her son's arm in arm, her son seemed to be a child with special needs.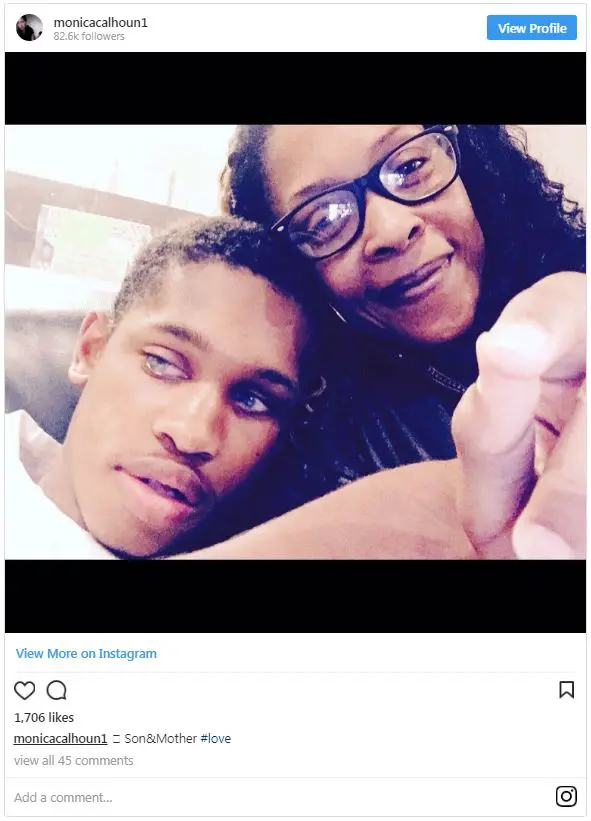 Monica with her son on the red carpet at the premiere of "The Best Man Holiday." (Photo: Monica Calhoun's Instagram)
Her son is suffering from blindness like her younger brother Eric. She said that growing up with her brother who is suffering from blindness has taught her more about life. She said to Iloveoldschoolmusic.com on August 2016,
"The way I grew up is just a little bit different than everybody else, because my brother was born blind. So my perception on the world and things is just a little bit different."
She even says that spending time with them has taught her to experience life on a different level. 
"My compassion and my sensitivity are heightened because of my brother's blindness…and spending a lot of time with him. And you know, teaching him things that I've learned…and then vice versa somewhat. Me spending time with him at his programs…like 'The Braille Institute'…just different little things. So I got a chance to experience life on a different level. Patience in watching these people that volunteer to work with children that have some sort of impairment.."
Well, she sure learned more about life through her brother's struggle with blindness. 
Adding to it, she also opened up in an interview admitting that having her brother and son beside her and caring for them has helped her to stay on the ground. They have been her anchor in today's oftentimes superficial world of Hollywood.
Moreover, Monica even cautioned the past and the upcoming generations of Hollywood stars to not lose their soul while in the process of achieving their dreams. She advised them to stay true to their soul and be far gone to an extent where even their own mother would fail to recognize them. 
Don't Miss: James Marsden Dating Again After Divorce With Wife; Girlfriend Is Rare Gem
Well, she sure has been able to hold on to herself and now is looking forward to the release of her upcoming movie Everything But a Man which is on its post-production. Her another movie Anna Lucasta is on its pre-production while she also been announced for her another movie I Am Black and I Am Proud.