Entertainment
Know about CNN's Erin Burnett Being Gay, Married Life and Children.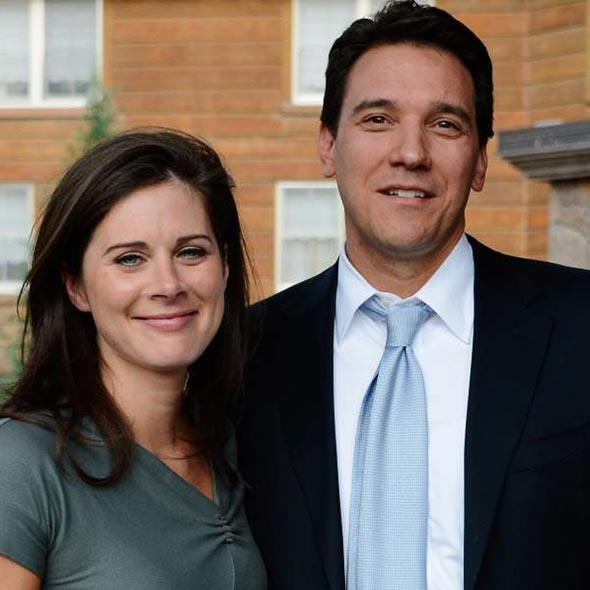 Quick Information
Zodiac Sign

Cancer

Lesbian

No

Body Measurements

36-25-36 Inches

Eye Color

Hazel

Hair Color

Blonde

Hair

Long

Feet (Shoe) Size

8 (US)

Weight

60 kg (132 lbs)

Height/ How Tall? 5' 6" (1.68 m)
College

Williams College

High School

St Andrew's School

Career

2003–present

Net Worth

$12 Million (Estimated)

Ethnicity/Race

Mixed

Date of Birth Jul 02, 1976
Profession

News Anchor

Dating/Affair

No

Wedding Date

December 21, 2012

Divorce/Split

Not Yet

Husband/Spouse

David Rubulotta (m. 2012)

Relationship Status

Married

Daughter/s

Colby Isabelle Burnett Rubulotta

Son/s

Nyle Thomas Burnett Rubulotta, Owen Thomas Burnett Rubulotta

Mother

Esther Margaret Burnett

Father

Kenneth King Burnett

Nick Name

The Street Sweetie

Birth Name

Erin Isabelle Burnett

Nationality

American
We have found another of your favorite journalists who has not kept her personal life very low profile. It's none other than s Erin Burnett.
Erin Burnett is famous for anchoring Erin Burnett OutFront on CNN. She is one of the top media people, and being that popular comes with many rumors. One of the most asked questions is- Is Erin Burnett Gay?
Let's find out about her sexuality. 
Is Erin Burnett Gay?
Erin Burnett is an American news anchor who is currently serving as an anchor for her show on CNN called 'Erin Burnett OutFront.' She was a co-anchor on CNBC's "Squawk on the Street program" before that.
Even if she is a journalist, she is very popular as a celebrity. Unfortunately, a popular journalist can also not get away from rumors. We don't have solid information on how the rumors of Erin being gay started.
Don't Miss:- Don Lemon's Most Handsome Boyfriend/ Partner! Gay Love - Serious Goals
But we are sure that she is not gay. Erin being gay is just mere speculation of the public. There is no proof of her having a lesbian companion to prove her gay.
Though Erin has not clarified her sexuality, there is no reason for people to wonder about her being gay as she is happily married to her husband and living her best life with her family. 
Erin Burnett's Family
Erin Burnett is married to David Rubulotta. Her husband is not as famous as her, but he has a good reputation and is known widely in his field of work. David Rubulotta is a managing director at Citigroup.
The couple got engaged in September of 2011 and later got married on December 21, 2012.
In an exclusive interview about their wedding with PEOPLE, she said they met on a blind date, and when she entered the restaurant and saw him, she thought, "I hope that's him."
That was quite a start for their relationship, but anyway, later on, in June of 2013, she announced that she was expecting a baby. She said,
"We've always wanted this and we're very lucky," she said at the time. 
On November 29, 2013, Erin and David welcomed their first child, a little boy. She said to PEOPLE,
"Dave and I welcomed a healthy, happy baby boy at 9:47 p.m. Friday November 29th, He weighed in at 8 lbs., 10 oz."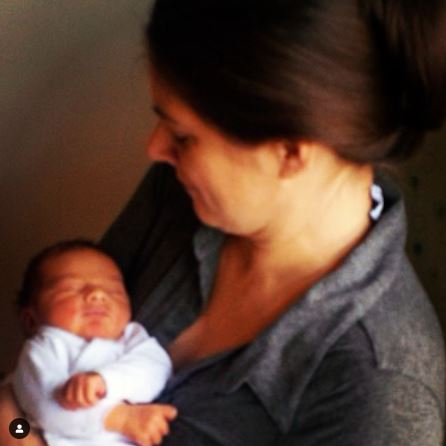 Erin welcomes his first baby boy. (Source: Instagram)
Holding the baby, overwhelmed with joy, Erin said,
"Seeing him for the first time was the most awe-inspiring, joyful moment of our lives."
She later revealed that her son's name was Nyle through her Twitter post.

In February 2015, Erin confirmed that TVNewser was pregnant with her second baby. She said,
"We can't wait for the new baby to arrive, and for our little boy to be a big brother,"
Months after her announcement, on July 18, 2015, she welcomed her second baby, and this time, she had a girl.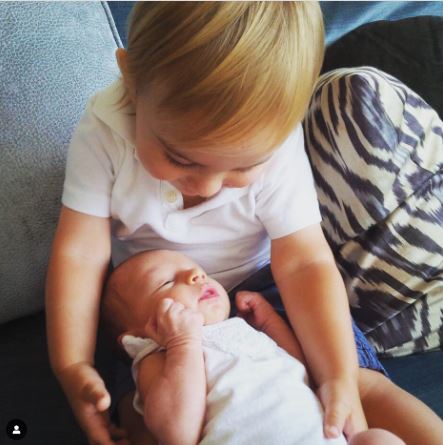 Erin's son, Nyle meets his baby sister. (Source: Instagram)
Erin named her daughter Colby Isabelle Burnett Rubulotta. 
Again in 2018, Erin welcomed her third child. Erin's agent confirmed the news to PEOPLE mentioning the arrival of a baby boy named Owen Thomas Burnett Rubulotta.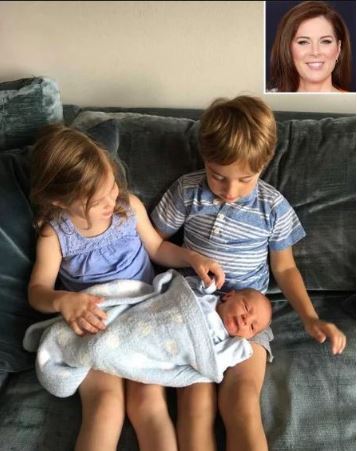 Erin's three kids: Colby Isabelle, Nyle Thomas, and Owen (Photo: Erin Burnett; Taylor Hill/FilmMagic)
From a photo shared by Erin, it looks like he is already getting comfortable with his siblings.
Erin and her husband were excited by adding another member to their family. After the delivery of Owen, the pair came forward to talk about the joy of having a third child.
"We are all in awe of our baby boy — who is already bringing joy (despite a lot less sleep) to our home."
Apart from her pregnancy, she had to deal with different illnesses as well, which concerned her fans. In 2017, she suffered from a severe eye problem where her right eye was swollen. Her fans were really concerned and thought she was suffering from serious health issues. But later, Erin explained that she had a cold and the swelling was because of it. She assured her fans that it was not a major illness, and she was fine. 
After that, she was also rumored to have a serious disease because of her weight loss. However, a woman gains weight when she is pregnant, and it is obvious that they will lose weight after the delivery. Maybe the same thing happened to Erin. She was not overweight before her pregnancy, and losing some weight might be her choice of being healthy which caused a stir. However, she is completely fine and healthy. 
Similar Article:- 'Parenthood' Star Erika Christensen Welcomes Baby Girl, Husband Helped In Delivery!
Erin's decision is well respected by her family and we are sure they were there when she was dealing with the rumors.
Erin and her husband have been living happily for almost a decade with their three children. Even though Erin shares about her pregnancy and welcoming her children, she does not share her daily activities on social media. So it is hard to find what her family does together. 
Apart from being the best mother and wife, she has balanced her personal and professional life. 
Erin Burnett's Career
Born on July 2, 1976, Erin Burnett attended Williams College and studied political science and economics, later graduating with a Bachelor of Arts degree in political economy. With popularity, she has also attracted controversies too. Her controversies were as follows,
In 2009, she used the term 'serial killer' while discussing with her co-anchor Jim Cramer about the report where the Australian Prime Minister decided on spending millions of dollars on aerial shooting to cull Australian feral camels in the outback.
Explore: CNN's Natalie Allen And Her Husband Frederick Wright no More in the News For Their Married Life!
Later in 2010, she attracted attention through her report on giant chemical Transammonia doing business in Iran.
In 2011, when she recently joined CNN, Burnett did a segment on the Occupy Wall Street protests titled "Seriously?" in which she mocked the protesters. In response to the criticism that her part provoked, CNN issued a statement saying,
"We support Erin and the OutFront team, and we respect that there will be a range of opinions on any given story."
Erin is a fearless female journalist who isn't afraid to do anything. Recently, she has been in Ukraine during the war to cover what is going on between Ukraine and Russia. With her bravery and enthusiasm in her career, she has accumulated a net worth of $20 million.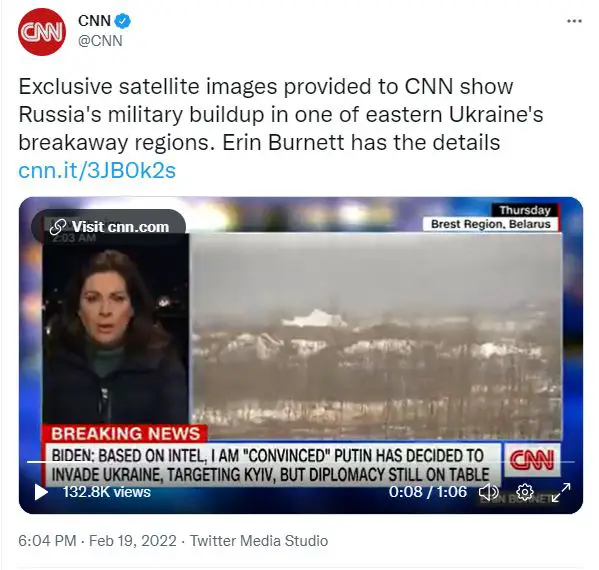 Erin visited Ukraine to know better about the war between Russia and Ukraine. (Source: Twitter)
She is an inspiration to everyone. We hope she finds more happiness and success in the future. 
Stay tuned with us to get more updates on Erin Burnett.