Entertainment
Five Facts About Peyton Elizabeth Lee You Should Know: Her Age, Family, Parents And More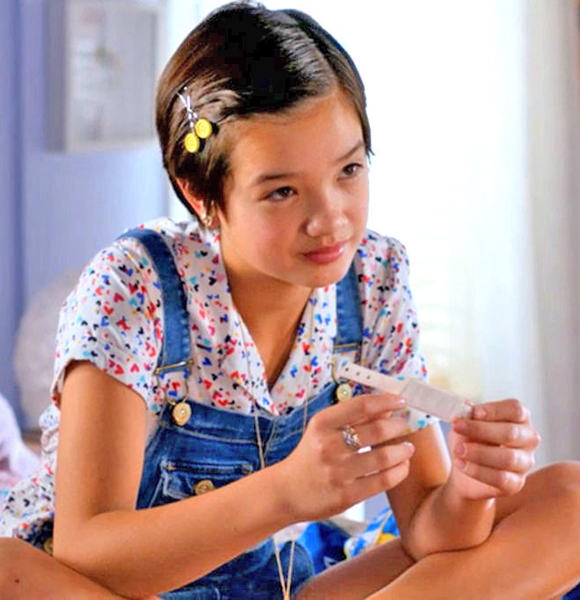 "Andi Mack" actress Peyton Elizabeth Lee is an adorable and loved actress, who has been making a good name and identity for her since the moment she stepped her foot in the industry.
She has got an adorable face, and that is not the only thing people love about her, as she is an equally talented actress as well. But people are still unaware of many things about her and if you fall in the same category, worry not, as we take a stroll on the life of this young and talented actress. 
Let's take a look at five key facts about this child faced assassin.
1. Peyton Elizabeth Lee Is Just 13 In Age:
Yes, you heard it right!
Peyton Elizabeth Lee is only 13 years in age. She was born on May 22, 2004, in New York City, NY. She is the daughter of "Hyenas" actor Andrew T. Lee, who was born in St.Lucia, but later moved to the United States of America. 
The relationship and the love between Peyton and her father have always been gushed over Instagram.
On her father's birthday on May 31, 2017, Peyton wrote beautiful words in honor for her father and even revealed that her father is the reason for pursuing and living her dreams. [image_deleted_from_Instagram]
She is also the youngest acting student ever accepted in Playhouse West.
Similarly, she opened up about the story of her family in an interview published on May 4, 2017.
Caption: Peyton Elizabeth Lee Talks About Her Family Heritage: Asian Pacific American Heritage Month. (Video Published on May 4, 2017.)
2. Peyton Trained As An Actress In Some Studios In LA:
Peyton Elizabeth Lee has trained as an actress at a couple of studios based in Los Angeles, California in 2014 and that shows that she knows the tricks of the trade well.
She was featured in commercials for some reputed companies like Carnival Cruises, Sprint, JC Penny, and Petco. Moreover, Peyton has also performed as a dancer in The Oscars Concert and Hot Chocolate Nutcracker.
3. Peyton Has Strong Bonding With Her Co-Stars And Terms Them As Her Family:
Peyton is someone who does have lots of value and importance for her cast members and co-stars, and she even calls them a part of her family. It is often seen on social medias that she is good with her co-stars and also, she has often said that working with them has made them like her family off-screen, as per the official Twitter account of Disney Channel PR.
4. Lilan Bowden Played The Role Of Her Mother on Andi Mack:
"Andi Mack" is a coming-of-age and contemporary story about a girl who is looking and trying to determine- if she fits in and the various amazing ways through which she can enjoy and live her life. And the role of her mother was played by none other than Lilan Bowden, who is best known for her role in "Rise of the Zombies."
They are seen to have a great mother-daughter relationship on the project. Following that, Disney Chanel PR tweeted about the same on the occasion of Mother's Day 2017.
Moreover, in the very project, Lilan's character Bex turns out to be her mother, after being known for being Andi's free-spirited sister, just when people were expecting Peyton's character to come out as a trans child. Surprise! Surprise!
5. She Is Secretive About Her Personal Life:
Peyton is someone who does not reveal much about her personal life, and thus, she has not revealed, if she is dating anyone and a boyfriend in her life. Maybe, she wants to keep her love front private from the fans and media, or perhaps, she just is too focused on her budding career.
She also has not revealed any details about the other half of her parents, her mother and that keeps the fans even more excited to know about this young talent.
Moreover, she is yet to reveal if she has any siblings, but she has often gushed about one of her friends, Asher Dov Angel to be like her brother.
Regardless of her will to keep things private, she surely has touched great height in her career which has also helped her finances a great deal. However, the information about her official net worth has not been disclosed by the young sensation. 
Stay tuned with us and know more about Peyton Elizabeth Lee!