Entertainment
Flavor Flav Is Getting The Sweet Taste Out Of Married Life; It's A Chill Life With Wife and Kid
Flavor Flav Is Getting The Sweet Taste Out Of Married Life; It's A Chill Life With Wife and Kid Similarly, rapper Flavor Flav's relationship with his wife hit a rocky road but their relationship was strong enough to withstand the troubles, and today the couple enjoys thirteen years long relationship. So, let's take a stroll in his life as he enjoys a laid back life with wife and kid while we address the trouble of their relationship. So, without further ado let's dig in.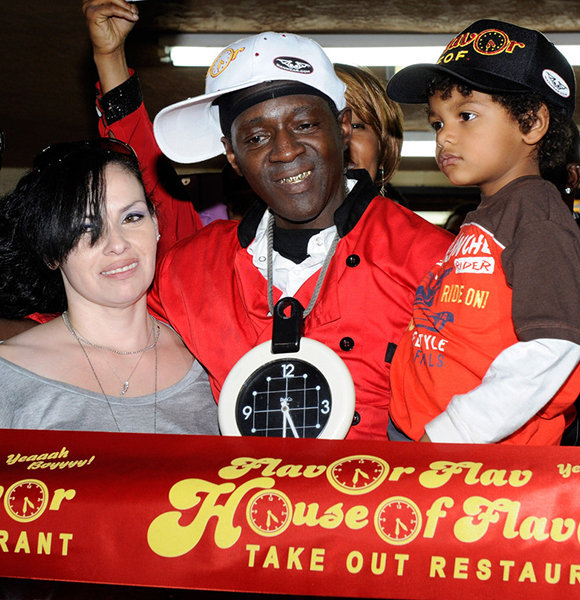 Quick Information
Son/s

Karma Drayton, Shaniq Drayton, William Drayton

Weight

67 Kg (149 lbs)

Height/ How Tall? 5 Feet 7 Inches (1.7 m)
College

Adelphi University

Career

1982–Present

Net Worth

$3 Million

Gay

No

Ex-Wife

Karen Ross, Angie Parker

Ex-Girlfriend

Brigitte Nielsen (2005)

Divorce/Split

Yes (Twice)

Wife/Spouse

Liz Trujillo

Relationship Status

Married

Daughter/s

Dazyna Drayton, Quanah Drayton, Kayla Drayton, Jasmine Drayton

Date of Birth Mar 16, 1959
Sister/s

Jean Delores Madison

Brother/s

Steven Drayton

Mother

Anna Drayton

Father

William Sr.

Ethnicity/Race

Afro-American

Zodiac Sign

Pisces

Nick Name

Flavor Flav

Birth Name

William Jonathan Drayton Jr.

Profession

Rapper

Birth Place

Roosevelt, Long Island, New York

Nationality

American
The strength of a relationship is examined at the time of difficulty, but only a few emerge stronger, while others hit the dust!
Famous rapper Flavor Flav can explain that to you better, as his relationship with his wife hit a rocky road too, but their relationship was strong enough to withstand the troubles, and today the couple enjoys thirteen years long relationship.
Let's take a stroll in his life, as he enjoys a laid back life with wife and kid while we address the past troubles of their relationship.
Flavor Flav's Married Life
Flavor got engaged to Liz Trujillo back in 2008. The Roosevelt, New York native kept his personal life away from the media in past few years, shared few details of his married life when he appeared in the Steve Harvey's talk show back in May 2016.
While Flavor has maintained a low-key life, fans were uncertain about his relationship with his wife, Liz Trujillo. Thus, he shared that he and his wife are still together and gave an insight into his married life as well.
In an interview in May 2016, Flavor revealed the information saying, 
"My son Karma, he's nine years old right now, you know what I'm saying? And my girl, she's at home, she's just chilling. But yes, we're still together after twelve years. You know what I'm saying? So I'm not mad."
Flavor and Liz enjoy the marital bliss, but in the past, the couple went through a rough patch. The couple appeared on the VH1's show, Couple's Therapy back in 2013 when they were still engaged.
In the show, Liz confessed that the lowest point in their relationship was the incident when she discovered that Flav had signed the contract of a dating show without his girlfriend's knowledge.
Find Out About Female Rapper's Life:- Azealia Banks Boyfriend, Dating, Gay, Net Worth
In an interview in June 2013, Flavor's then-wife revealed how she found out Flavor's new show stating, 
"We were already together for eight months in a committed relationship, and we're in a deli and the guy is like 'Congratulations Flav, on your new show and finding true love and dating 25 beautiful women.' I looked at him and I was like 'A new show, what? Huh? Finding your true love? I don't understand."
In April 2013, Flavor Flav's fiancee, Liz Trujillo collapsed during the filming of VH1's show, Couples Therapy, and was hospitalized after ODing on painkillers. The incident was initially claimed to be an accidental overdose but Flavor's spokesperson denied by quoting "The claim of an overdose, or any involvement of drugs, could not be further from the truth."
Flavor Flav's Visit To Jail
Another dent occurred in the duo's relationship when Flavor chased his then-fiancee, Liz's son, Karma with a kitchen knife at Flavor's Las Vegas home back in October 2012. 
In 2000, he was living in the cramped Bronx apartment of his then-girlfriend, Beverly Johnson (along with her two kids from a previous relationship), in a rough area near Yankee Stadium
Flavor admitted that he threatened him, for which he would have been put behind bars for 12 years on the felony assault charges, but the court reduced it as misdemeanor offenses at the last minute as Flav reconciled with his family as per reports on April 2014.
He was sentenced to probation and four-months domestic violence counseling by the Clark County District Court.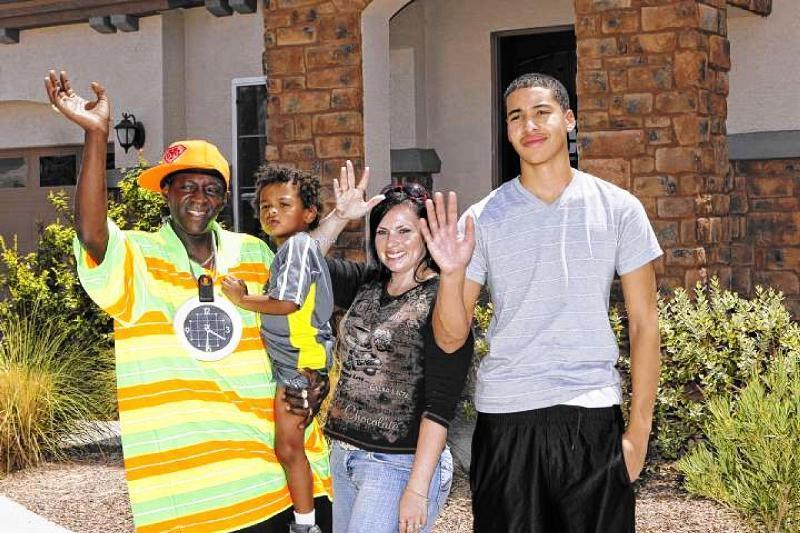 Flavor Flav with his wife Liz Trujillo, son Karma Drayton and Liz's son Gibran Trujillo (Photo: nydailynews.com)
Despite experiencing bitter incidents in the past, the couple has emerged victorious and are still going strong as a couple.
Flavor Flav's Past Married And Dating Affairs
Previously Flav was married to Karen Ross with whom he shares his first three children. Following the marriage, Flave got married to the second wife, Angie Parker.
Also Read:- Pooch Hall Arrested For DUI & Abuse; Drives Into Years Of Jail Sentence
From his two wives, Flaves shares six children; Shaniq Drayton, Quanah Drayton, Jasmine Drayton, Dazyna Drayton, and William Drayton. Further, he shares his youngest son Karma with his wife, Liz Trujillo making Flavor the father of seven kids. 
In 2000, Flavor also dated the American model, Beverly Johnson and lived with her and two kids from his previous relationship in the cramped Bronx apartment. The apartment was situated in a rough area near Yankee Stadium. 
Flavor Flav's 2017's Show And Shocking Incident
Apart from his marriage life, Rapper Flavor Flav hosted the Las Vegas-based variety show, Flavor Flav's Vegas in December 2017. 
In an interview in November 2017, he shared that he would interview the celebrities, jam with musical guest and indulge in comedy sketches as well.
"I always dreamed of being a variety show host, and I think it's about time. And Las Vegas needs a talk show. I want to be the one to bring Vegas its first real live talk show. It won't just be me interviewing guests, but also I'm going to have a variety of people coming through my show that are in movies, television, etc."
The show was directed by Leon Knowles and Grammy-winning Teddy Riley joined the team as its music director for the series. Further, he has joined the team of a Marvel Comics graphic novel, Master of the Sun - The Zombie Chronicles.
Public Enemy member got into another incident on 23 January 2018 as he was attacked at the South Point Casino in Las Vegas on 23 January by Ugandi Howard. Ugandi accused Flavor of disrespecting his mother which made him attack the rapper. The whole incident was recorded in casino surveillance video where Howard first punched Flavor and later started beating while he was on the ground.
Flavor's Encounter With Ex-Girlfriend
In his colorful dating life, Flavour had quite a number of girlfriends. While in a relationship, one shares a lot with his significant other but after split all the past memories become sour. Even, thinking about one's ex can give nightmares, imagine meeting your ex. Well, that can be a whole lot of awkward.
Flavour felt the same way when he had an encounter with his ex-fling. The ex-fling in question is Tiffany "New York" Pollard. She and Flavour had a fling during VH1 reality dating show Flavor of Love. But, he broke her heart when he chose Nicole "Hoopz" Alexander over Tiffany.
After six whole years from the heartbreaking moment, the exes reunited for an episode of Braxton Family Values in 2018.
Having moved on from each other, the pair didn't indulge in a fight. Instead, Flavour and his ex took part in an intimate conversation over a whiskey. It was a nice gesture on both of their parts as they didn't let their past tarnish the moment and enjoyed a friendly catching up.
Keep visiting to stay updated on the life of Flavor Flav!