It's hard to imagine that New York emcee Azealia Bank had such a promising start to her musical career. Her very first feature - a single titled 212 with Lazy Jay - and the debut mixtape Fantasea, released a year later in 2012, permanently placed her on the upper-echelon of rap music.
Seven years on, the Anna Wintour hitmaker's musical prowess has yet to live up to the initial hype. These days, her antics on Twitter seems to propel her into headlines, more so than the music itself.
The fact that she doesn't hold back while speaking her mind while online - or offline - doesn't help her cause. Take the January 2019 Aer Lingus fiasco, when she got left out of a boarding flight following her spat with a stewardess.
There's no denying that Azealia, age 27, has had her hands full with controversies -- be it getting subpoenaed in Elon Musk Tesla lawsuit in 2019 or receiving flack for her homophobic remarks. So a question begs: does she have time for dating?
Azealia Banks Dating Actor Boyfriend Still?; Counters Anti-Gay Label
Before delving into the question head-on, one has to read into her relationship with her only known boyfriend, Jesse Bradford, to date.
Following her breakout performance at the 2015 Coachella, she got pictured cozying with the Bring It On actor at the Nylon Midnight Garden party. The Broke With Expensive Taste rapper, for her part, didn't hide her then-boyfriend, often showing him off on social media.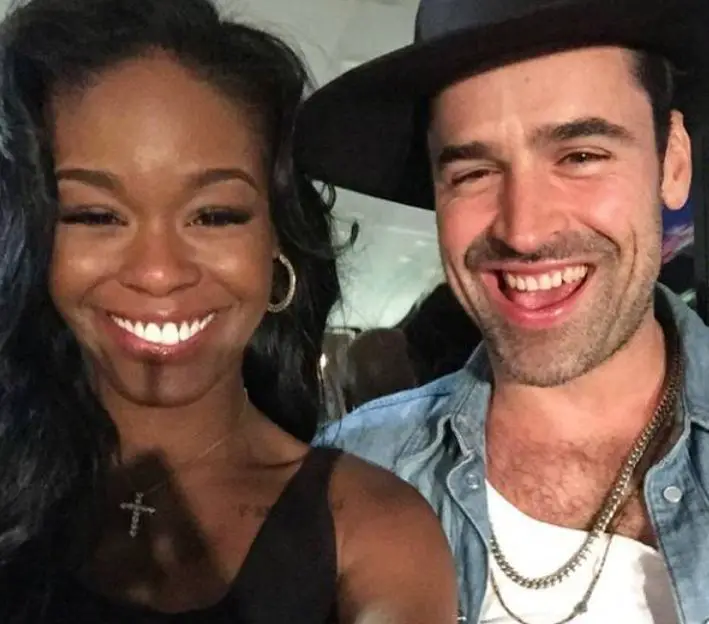 Azealia Banks poses for a selfie next to her then-boyfriend Jesse Bradford circa 2015 (Photo:- eonline.com)
With The Same Last Name:- Tonya Reneé Banks Age 53, Mother To Grown Daughter Needs Tall Husband
In the same sluggish manner that the former lovebirds' short-lived romance entered the public domain, it exited. To this date, neither Azealia nor her one-time lover Jesse has publically acknowledge their relationship.
A bisexual by her admission, the 27-year-old east coast rapper is into women as well. But, she doesn't want that to be her sole identity. Early on in her career, she asserted the sentiment by saying:-
"I'm not trying to be, like, the bisexual, lesbian rapper. I don't live on other people's terms."
Her sexual identity, however, count exonerate her of wild homophobic remarks, she made on Twitter. Instead of owning her mistakes, Azealia countered the anti-gay label placed on her by claiming that her whole life and friends had been gay.
One of the hair-raising defenses used by her was the fact that she had a transgender sibling.
Tumultuous Relationship With Parents & Siblings
Oddly enough, Azealia - who celebrates her birthday on 31 May every year - isn't in the nicest of terms with her siblings; she has two older sisters. Court documents from 2009 reveal that she faced assault charges for allegedly slashing her sister's neck, arm, and hand with a box cutter.
Discover:- Bryce Gheisar's Wiki: Everything From Age, Parents, Siblings To Net Worth
Her violent temperament could be something she inherited from her parents -- her mother, to be more specific. Growing up, she and her siblings dealt with physical abuse from their mom. The misdeed ranged from getting hit by baseball bats to seeing each other's head banged on the walls.
The abuse intensified after the death of her father, who died of pancreatic cancer when she was two. And when turned 14, Azealia - who stands five feet and two inches (160 cm) in height - fled her abuser, moved in with one of her sisters and never looked back.
Although controversial, the former XL Records signee is one of the most recognized faces in rap, with a reported net worth of $3 million.