Entertainment
How Flip Rodriguez, Age 29, Opens About Girlfriend Is Impressive!
David Rodriguez, who is popularly known as Flip Rodriguez, rose to a height of fame by competing in the show, American Ninja Warrior.
Aside from the competition, he is the man behind the breath-taking stunts in the movie which includes: Transformers: The Last Knight, Star Trek Beyond, Scouts Guide to the Zombie Apocalypse and Step Up: Revolution among others.
While he has journeyed to the successful stuntman, he seems to have time for his girlfriend and family too.
Actress Girlfriend; Social Media Reveals Dating Life
Flip Rodriguez, who competed in American Ninja Warrior from season 3 to 7, has accumulated more fans following since he has appeared on the show. And importantly, his female fans following is keen to know his about his girlfriend.
Well, he is dating the Babysitter's Black Book actress Angelina Appel since 2013. Though the couple has not talked anything about their romantic relationship, their social media activities speak more details about them.
See Also:- Hospitalized John Bernecker Is No More! The Walking Dead Stuntman Dead After Being Injured On-Set
The revelation about Flip's girlfriend aired as the counter-attack to his fan's question. Back in August 2013, a fan asked him on 7 August 2013 via Twitter if he is single. And the stuntman reluctantly replied to the queries on the twitter saying, "He has a girlfriend."

Flip Rodriguez confesses about having a girlfriend (Photo: Flip Rodriguez's Twitter)
He has revealed most of the information about his relationship with the social networking sites. He had also expressed his interest in singing. He tweeted back in December 2013 writing:
"Don't laugh! I want to audition for X Factor! Lol"
And one of his supporters came as a helping hand to the star. She wrote that she would help him though she has never heard him singing. And this time too, he came with the new revelation about his girlfriend skills. He replied that he could not sing but his girlfriend can while he raps.
Also, he also consoled his another commentator that he can rap and his girlfriend can sing very well.
Well, Flip, who was born on 4 May 1989, celebrated his 25th birthday with his family, friends, and girlfriend that he could not stop gushing about it. On the end of the day of his birthday, he took to Twitter with a message greeting everyone who wished him on his birthday. Also, he quoted:
"Thank you everyone for the birthday wishes! I had such a great day! My family my girlfriend friends and fans. Made today such a special day."
It was not just Flip who gushed about his relationship and girlfriend on his social media account, but his girlfriend Angeline also informed her followers about Flips's episode on the show Ninja Warrior.
She took to Twitter on 10 June 2015 with the adorable pictures with her friend and Flip writing:
"Just a few more days until @USANinjaWarrior airs #TeamFlip 's Episode who's gonna be watching?"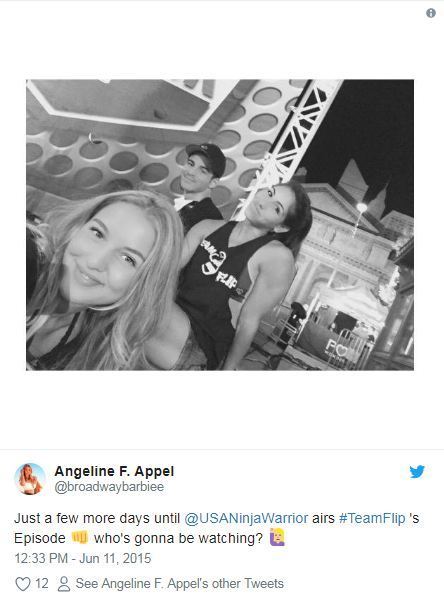 Angeline F. Appel promoting her boyfriend's episode (Photo: Angeline F. Appel's Twitter)
Well, the couple flaunted their romantic relationship until 2015, and after the year, none of the duos seemed to be actively sharing their love story. Probably, Flip and Angeline have already departed their way as Angeline reportedly is in a relationship with actor Noah Centineo since 2016.
Don't Miss:- Irene Cara: Divorced Her Stuntman Husband in 1991, What About Her Married Life and Children? Where is She Now?
Supportive Family; Opens "The Mask" Of Sexual Abuse
Born on 4 May 1989 in Miami, Florida, Flip has shadowed his family life amidst his highly accomplished career. Though he has kept the information about his parents low-key, he indeed identifies his beautiful mother on the social media.
He took to Instagram on May 2014, wishing his mother on the Mother's Day. He also called her "the greatest mom" in the world. He further quoted:
"Happy Mothers Day to the greatest mom in the world! Just want her to know how much I love her and miss her. Thank you for being such an amazing mom in my life. "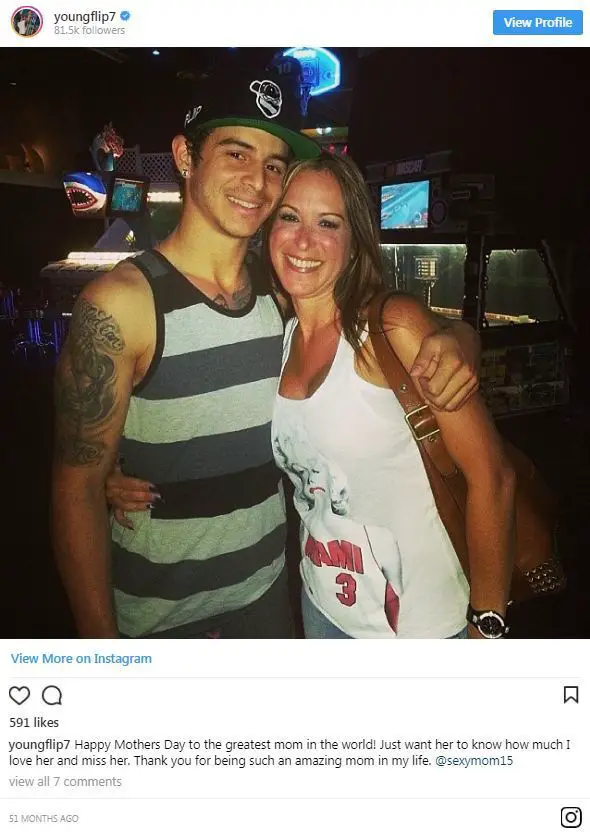 Flip Rodriguez wishes mother on Mother's Day (Photo: Flip Rodriguez's Instagram)
Similarly, aside from the pictures of his mother, he has not shared any detailed information about his family and parents. And his followers are all following his professional lifestyle which includes mostly his time with the American Ninja Warrior.
During his last time on the show, Flip, who always hides his emotions under a mask, came publicly with the emotions and shared his childhood experience with the followers.
See Also:- X-Pac 12360 pod-caster Sean Waltman's Sexual Abuse Story, Divorce With Wife Due To Drugs, Girlfriend Died, Married Again
Flip, who is mum about his net worth, revealed at the end of season 8 that he has worn the mask during the show was to hide his emotions of being sexually abused by his own father. He disclosed the painful experience in an interview with TooFab on June 2017:
"Growing up, one of the hardest things to talk about is sexual abuse and that's something I went through as a young kid by my father of all people…"
He also added,
"I took off the mask as a symbol of embracing who I am because I'm proud of who I've become. I wouldn't take what happened to me back because it made me who I am. I don't have to hide behind the mask anymore and other people shouldn't have to hide either. I'm going to have fun this season and hope for the best."
Since he opened up about his traumatic experience, he appears to have inspired the bunch of people and encourage them to take action against it.