Entertainment
Frankie Edgar MMA Stats, Main Event, Records & Net Worth Details
Frankie Edgar is making huge waves in the UFC industry, and here is why.
The UFC pro fighter is set to fight against striker Chan Sung Jung in the main event to be held at UFC Busan on 21st December 2019. The match is set to weight category of 145 pounds, and a five-round fight to the finish
Originally, Chan Sung Jung ' The Korean Zombie ' was scheduled to fight pro-Brian Ortega, but Brian was forced to withdraw from the bout due to a knee injury. When searching for an opponent worthy enough to stand on the same ring as Chan, the search ended with former world champion Frankie Edgar.
.Further, after his bout with The Korean Zombie, he is up for the next fight on 25 January 2020 against Cory Sandhagen.
Frankie's History & Net Worth
The pro fighter and Jiu-Jitsu specialist was born on 16 October 1981 in Tom's River, New Jersey.
From MMA Industry :-Katlyn Chookagian Career, Net Worth, Personal Life
From an early age, he had the marks of a fighter. He had been wrestling since his seventh grade at the Elite Wrestling NJ. He soon, however, spread his training to other fields as well.
Frankie first trained in the arts of mixed martial arts only a few weeks of training outside of his wrestling background. He was trained under Rob Guarino of Rhino Fight Team, but later became a part of the Gracie system. Working under Ricardo Almeida's part of the Gracie Barra team, he honed his skills even further.
Then, he entered the world of pro-MMA in the year 2007.
Frankie first fought veteran professional Spencer Fisher, winning the bout via unanimous decision. Since then, he went on to face many strong opponents like Sean Sherk, Hermes França, B.J. Penn, Urijah Faber as well as top featherweight contenders Cub Swanson and Chad Mendes, defeating each of them.
Nicknamed The Answer, to date, he has a record of 23 wins 7 KO/TKO, four Submissions, 12 Decisions, and only six losses.
Through his hard work and success, Frankie has amassed a fortune worth $2 million.
About Wife & Children
He got married to Renee Edgar on 12 April 2008. The pair first met each other when they were in kindergarten. Life long friends, their friendship soon blossomed into love and finally to marriage.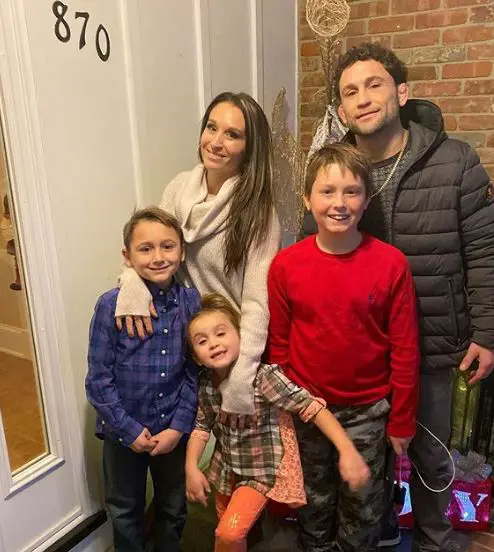 Frankie Edgar with wife Renee Edgar and their children's in November 2019 (Photo: Renee Edgar's Instagram)
Now, Frankie and Renee together are proud parents to three children, two sons: Santino James and Francesco Edgar, and one daughter named Valentina Edgar.