On her road to stardom in the MMA world, pro-fighter Katlyn Chookagian is making history in the UFC (Ultimate Fighting Championship). With a prolific 2-win streak in 2019, the fighter is on her way to prove herself as a complete athlete.
With a career spanning nearly five years, Katlyn has worked relentlessly to get to her position. Having a long layoff from 8 December 2018 to 9 June 2019, Katlyn is back into the arena to work her way further up into the industry.
In her bout against the formidable Jennifer Maia, in the three rounds of their struggle, Kaitlyn was announced as the unanimous victor against her opponent. So, what's next for the 30-year-old fighter.
Katlyn's Next Fight
Being a stronghold in the UFC, as with her success in the previous matches, Katlyn talked about her next fight quite openly. While the game is not yet fixed, according to her, the UFC is somewhat aware of what she wants.
Katlyn has shown her interest in fighting the flyweight queen, Valentina Shevchenko. Though the decision is yet to be made by the officials, Kaitlyn might have a chance to take the belt for herself.
Another Pro Athlete:- Usain Bolt Wife, Girlfriend, Net Worth, Family
The athlete also shared that she would keep taking down the girls on the top 5 until she received the opportunity to face Valentina. Now, that's some encouraging words from the athlete. With her splendid career record of 12 wins, two losses, and 0 draws, she may be dead serious.
With her career on the rise, Katlyn's net worth is sure to receive a substantial boost. As of now, she makes a hefty sum of $23,000, $18,000 to show and $5,000 per fight week incentive.
Katlyn's Personal Life
To the details of the fighter's personal life, the woman is married to her wrestling coach husband, Kyle Cerminara. From the Instagram posts of the two, Katlyn met her husband somewhere in the year 2016.
While the exact date of their first date is unknown, the duo is still together in 2019. The pair who have celebrated yearly milestones such as anniversaries and Valentine's day together got engaged on 18 December 2018. Only a year after and the lovebirds tied the knot on 8 September 2019.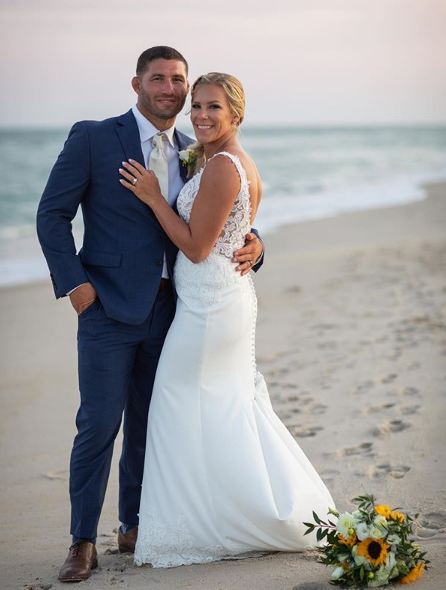 Katlyn Chookagian with husband Kyle Cerminara on 8th September 2019 (Photo: Kyle Cerminara's Instagram)
As of 2019, Katlyn and Kyle are yet to welcome a child. As for now, not much can be said about them upbringing a child as Katlyn is wholly dedicated to establishing a name in the UFC. For now, the duo is focusing more on their career, but after they achieve their goal, it's quite probable they would want to raise a family of their own.
Kaitlyn's Early Bio
Katlyn was born on 28 December 1998. A 5 feet 9 inches (1.75m) height and 56.7 kgs weight pro athlete now, she is the daughter of Frank Chookagian. Her parents owned a pub restaurant at Quakertown, Pennsylvania. It was there where she indulged herself in the realm of combat sports.
You May Like :- Daniel Theis Wife, Married, Family, College
At just the age of six, she was already beginning karate classes. Katlyn later graduated from Fairleigh Dickinson University with a degree in business management, bowing to give up fighting if nothing happened by the age of 25. At the age of 30, she is now brimming with a promising career and success that can't be compared in measurements.