Entertainment
From Simple Living Lifestyle to a Millionaire: Actor Rob Brown's Impressive Net Worth. Getting Married?
It is a happy story when you go from nothing to something big. Ask the 32-year-old actor, Rob Brown, who started his career as an actor more than a decade ago, with no acting experience, what so ever and turned into a Hollywood celebrity. Let us know about how much does he earn and a little about his personal and professional life as well.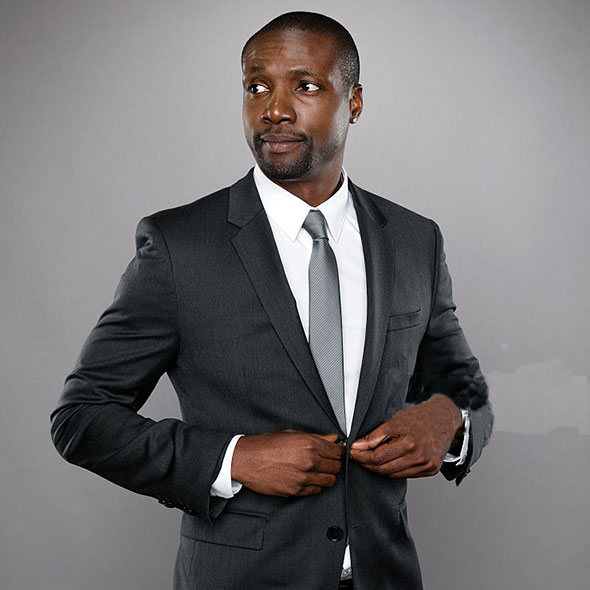 Only the man who has climbed to the pinnacle all the way from bottom knows the true essence of "happiness'. Ask the 32-year-old actor, Rob Brown, who started his career as an actor more than a decade ago with no acting experience at all and eventually transformed into a Hollywood celebrity. Let us know about how much he earns at the moment. Is it the story of "rags to riches"? Also, let's talk a little about his personal and professional life as well.
Rob Brown's Net Worth and Career Portfolio:
The New York native and heartthrob, Brown, started his career as a lead, starring alongside the former James Bond, Sean Connery, in the film Finding Forester in 2000. He took a break from acting to focus on his studies and made a comeback in 2005, starring opposite the likes of Samuel L. Jackson, Ashanti, and Channing Tatum in a film based on a true story, Coach Carter.
Being in the business for around 15 years now, we can say that his acting abilities have definitely flourished along with his paycheck. From being a regular high school student to becoming a professional actor, Rob has made a mark in Hollywood, with a net worth of $1.5 million.
His other contributions include Take the Lead (2006), The Express (2008), Treme (2010-13), The Dark Knight Rises (2012), The Blindspot (2015), etc.
He has also won numbers of awards, especially for his work in Finding Forester that includes Young Artist Award, Satellite Awards, Online Film, and Television Association Awards among others.
Is Rob Married? Who is His Wife?
Now, let's move on to something more interesting than work and films: Rob's personal life.
Being an actor, it's hard to avoid all the glitz and glams that fame has to offer. And when you're as hot as Rob Brown, avoiding seems an impossible task.The female fans of Rob are always willing to know whether he has a wife or a girlfriend, aren't they? Surprisingly, Rob is magnificent at keeping things low-profile.
He has never mentioned about his dating status. But we do know for sure that he is not married yet because if he were, that would've been the greatest event that he would've ever attended and not the Super Bowl.
Maybe he is still in search for his Mrs. Right. Good luck with that Rob.
Rob Brown's Social Media Involvement:
Judging from his social media feeds, we can say that he is very fond of his work and also his dog who apparently has his own Instagram account.
And his Twitter is filled with work and other feeds.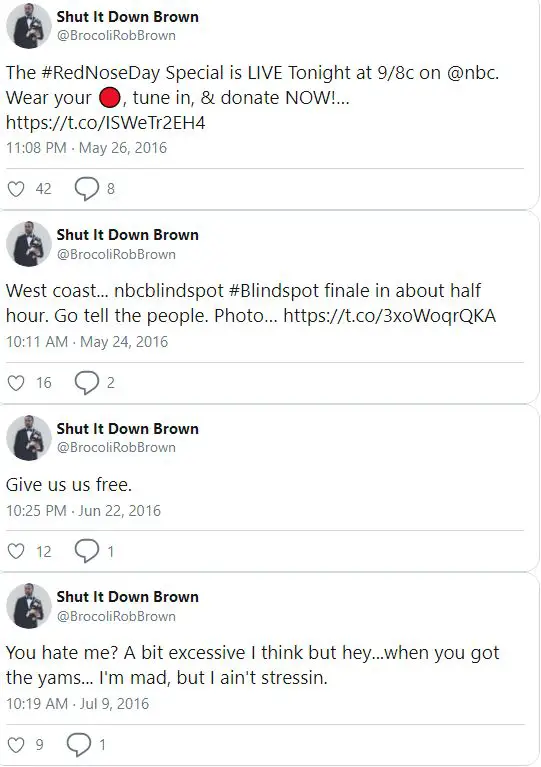 Rob Brown Sues Macy's For Humiliation and Racial Profiling:
Back in 2014, Rob Brown was paraded, humiliated and even arrested for 'committing credit card fraud.' Rob Brown insisted that he was racially profiled for this act and explained his situation saying,
"They cuff me, parade me around the store, all the while maintaining, 'we do this all the time; it's a fake card; you're going to go to jail,' " This happened right after a huge Racial profiling investigation on Macy's. The actor proceeded to file a lawsuit on behalf of him as well as other individuals who were racially targeted by Macy's. Swift action was taken, and the actor has come to settlement terms with Macy's.
Macy's Vice President of Media Relations Elina Kazan released a statement regarding the lawsuit as well as other lawsuits regarding Racial Profiling stating,
"The lawsuits by various plaintiffs who alleged racial profiling by Macy's have been settled in principle, Our company strictly prohibits discrimination of any kind and has zero tolerance for racial profiling. We value every customer who chooses to shop at Macy's, and we remain committed to ensuring that every individual who steps into our store feels welcome and appreciated."
While the lawsuit was settled, it is absurd to see that Racial Profiling and discrimination is still a thing, even in such business and even more so towards Celebrities.
Born on March 1, 1984, in Harlem, Rob was raised in Brooklyn, New York. He graduated from Poly Prep high school in 2002. He began his acting career in 2000 at the age of 16 with Finding Forester.