Entertainment
Gabby Barrett Age 18 Pitching For American Idol Title; Family & Fans Assured
The big fan of Carie Underwood is set to walk into her idol shoes,  claiming the title of "American Idol" on Monday on 21 May 2018. If she claims the title of American Idol, she gets a recording contract with Hollywood Records and a cash prize of $ 250,000.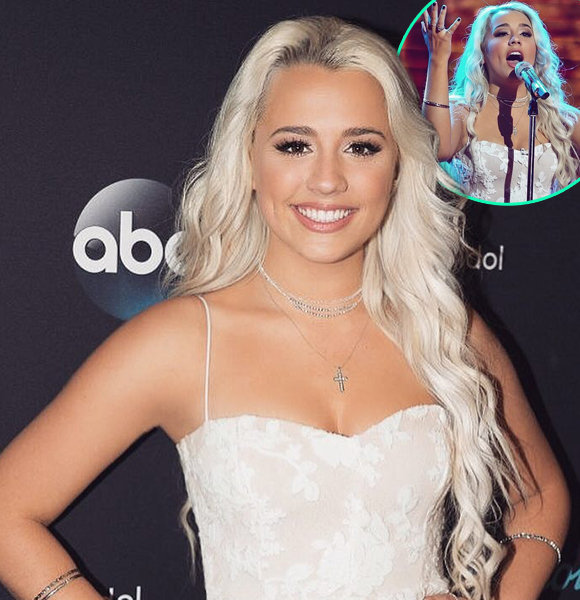 Gabby Barrett was one of the youngest competitors to reach the finals of a renowned singing show.
The 19-year-old's journey to the American Idol Finale was not been easy. She was close to claiming the title of American Idol, but unfortunately, had to settle for the third position.
Family Struggles: Supporting Father
Once, young Gabby had left a local Catholic high school after being bullied. Her father, Blaise Barrett, a maintenance man for Goodwill, had taken her to sing with a gospel church choir when she was young. She had started singing at the young age of nine. Her father had supported her singing even during hard-times, working part-time and long-hours.  
She was near to winning the grand competition. The Munhall native even made it to the top three of the famous show with the love and support she got from her parents, especially from her inspiring father, whom she pranked in one of the show's episodes after singing the song she used to sing during her church choirs. 
Dating Life
American Idol 2018 bounded the two competitors of the show, Gabby Barrett, 19, and Cade Foehner, 23, in a tale of romance. 
Winning the competition is what Gabby has ever wanted, but at one point during her American Idol journey, she even admitted that if she did not claim the title, she'd love to see her boyfriend win.
American Idol Contestant :- Adore Delano Age, Net Worth, Boyfriend
Post Cade's exit from the show on 13 May 2018, Gaby stood strong and emerged as one of the favorites among fans.
Previously, the judge of the show, Katy Perry had reacted to the unconfirmed rumors circulating around her American Idol crush, Cade Foehner. On April 2018, she talked with ET Online about Cade and her possible relationship:
"I've heard that he's taken interest in another contestant, and that's just fine, I'm gonna get over it,"
Well, the rumor had already filled the room, but the couple came up with their romance ultimately.
During the show's Disney Night in April 2018, Cade performed The Little Mermaid's Kiss the Girl, and when the host, Ryan Seacrest asked if he was thinking someone while singing the song, he blushingly answered "Possibly." After the love-filled answer, the camera turned to Gabby, whose expression resonated with Cade's.
Later, when Gabby was asked by Entertainment Tonight in May 2018 about her relationship with Cade, she did not comment on anything. But when the Texas singer, Foehner was asked, he confessed:
 "Honest to goodness, we're great friends. I adore her, but we are trying to build a career and we are focused, hardworking and we're not letting it get in the way."
Well, despite their refusal to come out publicly about their relationship,  the couple's chemistry started to become apparent on the show and in life too.
Engagement & Wedding
The couple chose to make not make any official conformation on their relation. But, by the looks of the events that followed in 2019, none was needed as the progress in the relation started becoming obvious.
In March 2019, the pair and their friends took a trip to Los Angeles and stayed at the same hotel they had first met during the filming of American Idol. Interestingly, while her friend was taking their pictures in the hotel room, her boyfriend took the opportunity to ask her hand for marriage.with his knees on the ground,
As expected, her response was a big Yes and stepped towards the new life. Moreover, the moment was captured by her friend in the picture.
While some icons take more than years to marry after an engagement, the duo had a different approach to it. As per Gabby,
"What's the point in waiting years and years if we already know we're going to be committed to each other forever?' So may forever start now,"
She stood by her words and on 5th October 2019, the singer walked down the aisle, with her life partner. Their wedding venue was Union Springs located in Garrison, Texas. About 100 guests attended the auspicious day including  Caleb Lee Hutchinson, a former contestant of American Idol.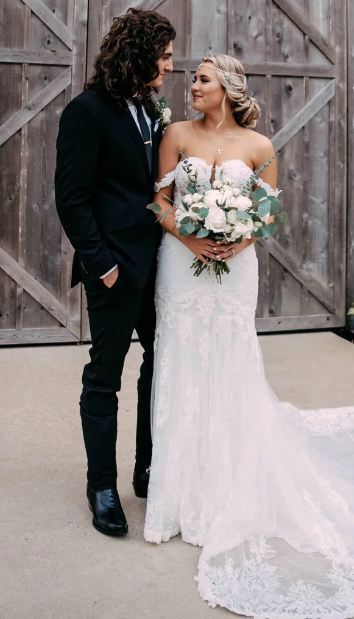 Newlywed couple Gabby Barrett and Cade Foehner as seen during their wedding on 5th October 2019 (Photo: people.com)
Interestingly, the newly-married pair danced together to the beautiful track Sleep Walk by Santo and Johnny Farina. With this romantic first dance together as a married couple, both of them are more than hopeful towards starting a new future together.
Journey To American Idol: Carol Underwood Changes Her Life
From her audition days, she was devoted to winning the trophy and even had confessed that "winning means a lot to her." She exclaimed:
"This is a chance to create a whole new future for my family."
Importantly, she met her idol, Carrie Underwood on the show. She explained her experiences in an interview:
"If you were to go back eight months to my audition and think, 'Oh, you're going to meet Carrie Underwood and sing with her,' I would never have expected that.
She further added,
"Everything about her I truly love, so getting to meet her and sing with her was a dream…. come …. true."
Gabby had auditioned for American Idol 2018 performing Carrie Underwood's Good Girl in Nashville in front of the judges; Katy Perry, Luke Bryan, and Lionel Richie.
Lionel Richie's Ex-Wife :- Diane Alexander Bio, Age, Net Worth, Married, Height
She had revealed on her audition round that she started to sing country songs because of her idol, Carrie Underwood, the 2004's American Idol winner. 
Visits Home In Private Jet After Awesome Idol Performances
One of the top three finalists, Gabby is already getting the star treatments. The network flew her home in a private jet to shoot a hometown visit. She said,
"My dad has sacrificed so much for me and my family, so for me to be getting the star treatment is insane."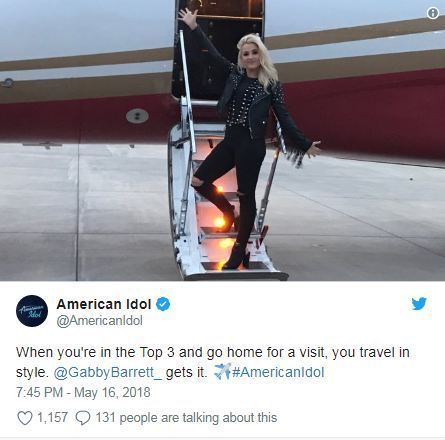 American Idol finalist Gabby Barrett travels to her hometown in a private jet (Photo: American Idol's Twitter)
When her journey was about to come to an end, she drastically improved her performance. She sang the cover of Miley Cyrus' The Climb in April 2018 and earned the standing ovation from the judges, Katy Perry, Luke Bryan, and Lionel Richie. 
Did Gabby Barett Win 2018 American Idol?
Her fate rested on the hand of American Idol fans. Also, her fans' reaction on social media hints that she could definitely kiss the trophy. One of her fans tweeted, "No one in the competition comes close to Gabby," while another tweeted,
"I was kind of skeptical with Gabby taking on 'The Climb' in the beginning. But she definitely proved she's one of the contestants to watch out this season."
With all the positive responses, the big fan of Carie Underwood was set to walk into her idol shoes,  claiming the title of "American Idol" on Monday on 21 May 2018.
But she couldn't claim the title of American Idol as Iowa native Maddie Poppe took home the title instead along with a recording contract with Hollywood Records plus a cash prize of $250,000.
However, according to goldderby.com, she was the likeliest champion with the odds of 6/5. Maddie Poppe was following her with the odds of 19/10 with Caleb Lee Hutchinson behind her with the odds of 11/1.