Entertainment
All Gabby Douglas Age 23 Facts: Untold Story, Boyfriend Name, Family
Everybody knows Gabby Douglas for her wins and learning to push her limits beyond to earn the gold medal for which she credits her family... But what they don't know about the gymnast is her personal life story and who she is currently dating...Find out her journey to success along with other details including net worth, height, facts and more...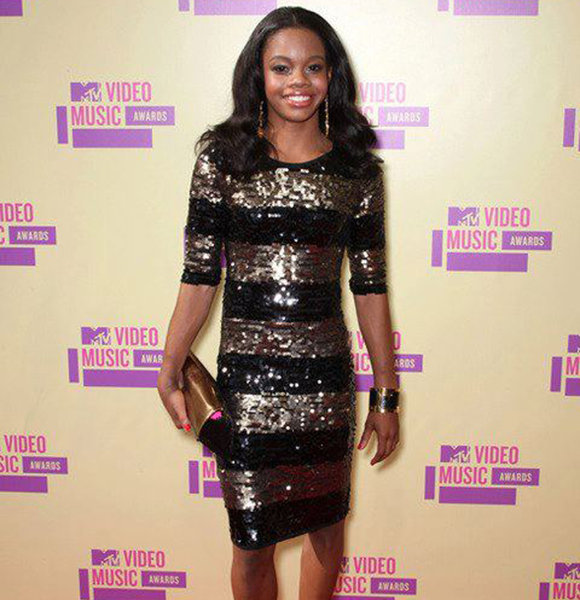 Some girls stand as role models to others, making a name for themselves in their short journey of life. Gymnast Gabby Douglas is one of the few to have succeeded in writing her story of achievements at a very young age.
Dedicating most of her life at the gym and learning to push her limits beyond to earn the gold medal while still a teenager, Gabby has successfully become the first  African-American woman in Olympics history to become the individual all-around champion.
Everybody knows the young athlete for her grand contribution to gymnastics, but only a few know her life facts. Read below to learn her untold story!
Gabby Extends Gratitude To Family And Elder Sister For Sucess
Before waking down the road of Olympics, the gymnast had first sparked interest in sports through her sister, Arielle Douglas. Looking at her sibling, pull out a perfect cartwheel got Gabby more inclined towards gymnastics, which convinced Arielle that the toddler was destined to be a gymnast like herself.
More About The Olympic Winners: Paul Hamm Wife & Married | Did Olympic Medalist Have Secret Wedding?
Gabby still today reminisces the moment when she used to go around flipping in her house and off the furniture to hit the right pose as a gymnast. After nearly four years of opening her love for gymnastics, Arielle told their mother to let her baby sister continue in the same profession.
With time, the young athlete made a career like her older sister in gymnastics, training and hitting the gym to know its basics. She even got crowned as the 2004 Gymnastics State Champion.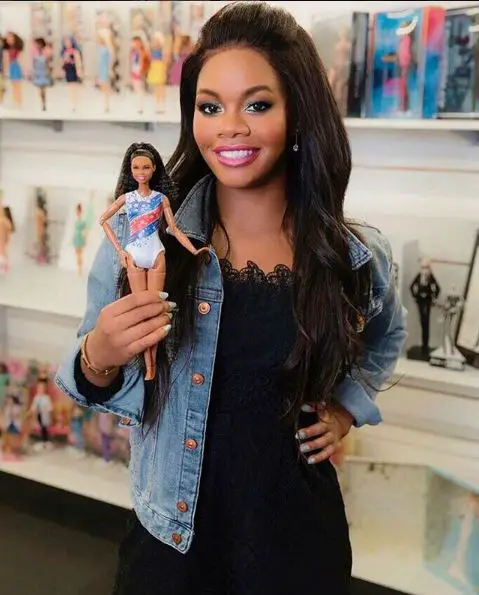 Gabby Douglas poses with the Barbie doll made in her appearance (Photo: Gabby Douglas's Instagram)
The major credit of Gabby's success today goes to her family, who was supportive beyond words and allowed her to walk away from home to train with the elite coach Liang Chow in Los Angeles.
It was also in 2017 when Gabby spoke about the sexual assault which she had faced from the Olympics doctor Larry Nassar as her family showed endless support to her courageous personality.
Gabby's Unknown Sucess Story, Height, Net Worth
For every push she endured at her training and every day spent at the gym, Gabby has been rewarded with multiple titles which she won to date.
As an active member of the US Women's National Gymnastics team, she has come a long way in winning her gold medals in the individual all-around team competition.
It made her the first African-American woman in Olympic history to become the individual all-around champion and the first American gymnast to win gold in both the individual all-around and team competitions in the same Olympics.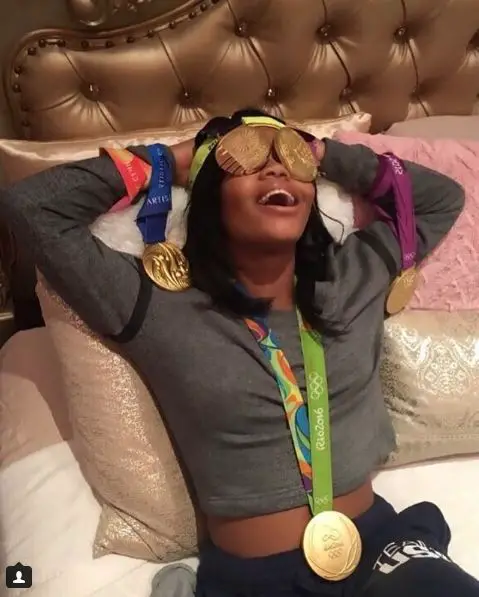 Gabby Douglas flaunting her gold medals in her Instagram (Photo: Gabby Douglas's Instagram)
All her wins and passions inspire Hollywood to introduce her story in the 2014 motion picture titled "The Gabby Douglas Story," along with a television series "Douglas Family Gold."
Don't Miss: Sophia Lucia Wiki: Who Is This Young Dance Fanatic And What Is Her Age?
The gymnast, who stands at the height of 5'2, has made it all possible, earning her a total net worth of $3 million.   
Who Is Gymnast Star Dating?
After creating quite an uproar from her performance, there is no doubt that everybody keeps their ears open when it comes to knowing Gabby Douglas' dating life.
It was her reality series "Douglas Family Gold," which boiled the interest among her fans to identify the sports celeb's boyfriend.
Similar Article: Redmond Gerard Snowboarding Through PyeongChang 2018 Olympic Winter Games
Episode 3 of the series gave a hint to all her fans that the Olympics winner was currently single and had no interest in dating any boys for now. Gabby said in the series,
"No I don't have a boyfriend; I don't have time. All of my attention and focus was spent, you know, in the gym, training, so I was already in a relationship, and his name was Jim. . .Nastics."
Ample hope to find out information about her boyfriend just crashed when she ended the sentence with a pun. It was also her 2013's Valentine's day tweet where she posted:
"So for Valentine's day, I wanted to visit some of the amazing kids at CHKD to hopefully bring a smile to…"
All these small hints just gave everybody a full proof that Gabby Douglas is indeed single and has no time for a relationship.
Where Is Gabby Now?
With her silence from the 2016 Olympics, Gabby never made any comments on coming back for the 2020 Olympics. Neither has she officially retired from gymnastics. It left fans in bewilderment as there is no clue to what she will be doing next.
But, she did mention that she was getting drug tested up until the summer of 2017, which could mean that she might still join the next Olympics. 
Furthermore, she also mentioned that after doing gymnastics for fourteen years, she is taking a break now and growing outside the Olympics and gymnastics.
These days, she is seen as a speaker in different functions. For example, she was a guest speaker in June 2019 at the annual Best Of The Record All-Star Preps Awards Banquet and in March 2019 at the Gregorian Court to the students of Gregorian Court University.
She was also seen as a guest commentator in an episode of the show called Holey Moley in August 2019.