Entertainment
Paul Hamm Wife & Married | Did Olympic Medalist Have Secret Wedding?
Paul Hamm is one of the famous identical twin, to be the first American Male to win a World Championship ALL-Around Title at the Olympics. With the worldwide popularity and handsome clean look, he wouldn't have a hard time finding himself the right wife for his wedding. With his recent social media post, we are left in doubt whether the great gymnast really is married.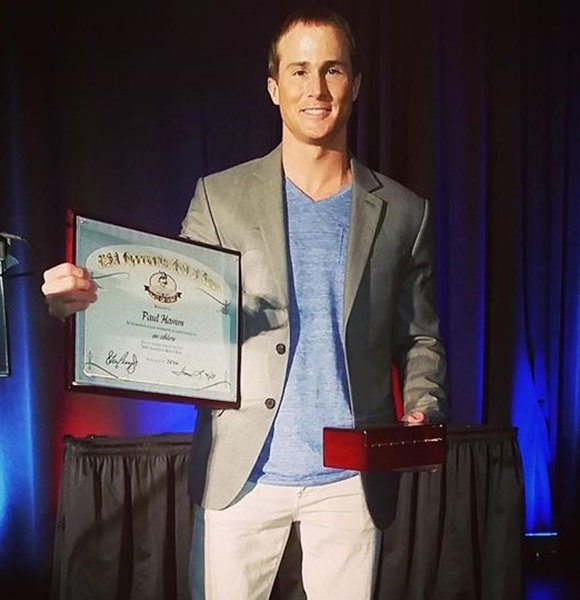 In the world of sports, some famous names like Michael Phelps, Usain Bolt, and Carl Lewis have become synonyms to it, where famous Hamm twins are no exception.
One of the twin brothers, Paul Hamm is the one who has set their Olympic records and earned their fame as the famous gymnast in the field of athletics.
For the twin brother, who broke the records together, wedding is something that the twin brother is yet to conquer, especially for Paul Hamm. While his twin brother was turning his fiance into a wife, Paul remained the best man of the wedding.  
However, a decade later, the athlete might be dropping hints of him getting married with his love-dove posts in social media about his girlfriend!
Best Man In Twin Brother's Wedding; Secretly Married With Wife?
The artistic gymnast, Paul witnessed his elderly twin, Morgan Hamm's wedding with Megan C. Shemanske on 25 May 2009, where Paul himself stood up as the best man for his brother. 
After nearly 10 years down the line, Paul might be looking forward to ring his own wedding bells now.
Read Also: Did Nile Wilson Break Up With His Girlfriend? They Don't Seem To Be Dating Anymore
At the age of 36, the Olympic Medalist has been hanging out with different girls and posting pictures of them in his social media. In 31st December 2015 that Paul had posted a picture of him and his girl along with the caption:
"It was a blast hanging out with my girl Yuliya!"
And, after a year, in 2016 Paul Hamm came with a girlfriend named Victoria on the scene.
The pair were found to be hanging out most of the time in Chicago, getting on the boat and cruising around the harbor. Paul also took his girlfriend to Vegas and later celebrated July the 4th together.
It was then on August 18, 2018, Paul Hamm the famous medalist posts a picture a girl kissing his cheeks on Instagram with the caption:
"Night out with this pretty Lady"
Paul captures the kiss and posts it on August 18, 2018 (Photo: Paul Hamm's Instagram)
The handsome gymnast has been keeping this personal life quite under tight lips, but with once in a blue moon, social media posts of kisses and hugs, all hints that the athlete might be planning out for his for the wedding that may take place soon.
Discover More: Openly Gay Robin Cousins Secretly Married Partner & No One Knows
Paul Hamm Bio: Age, Net Worth, Wife
Paul Hamm is the first American Male to win a World Championship All-Around Title in the Athens Olympics and has been renowned as the world popular gymnast. He was also declared as the first American man to win all the All-Around at the World Gymnastics Championship 2003.
He was also voted as the most eligible bachelors in 2004 by the People magazine. He has also shown us some of his spectacular performances in the movies The Vampire Diaries, and Sasuke.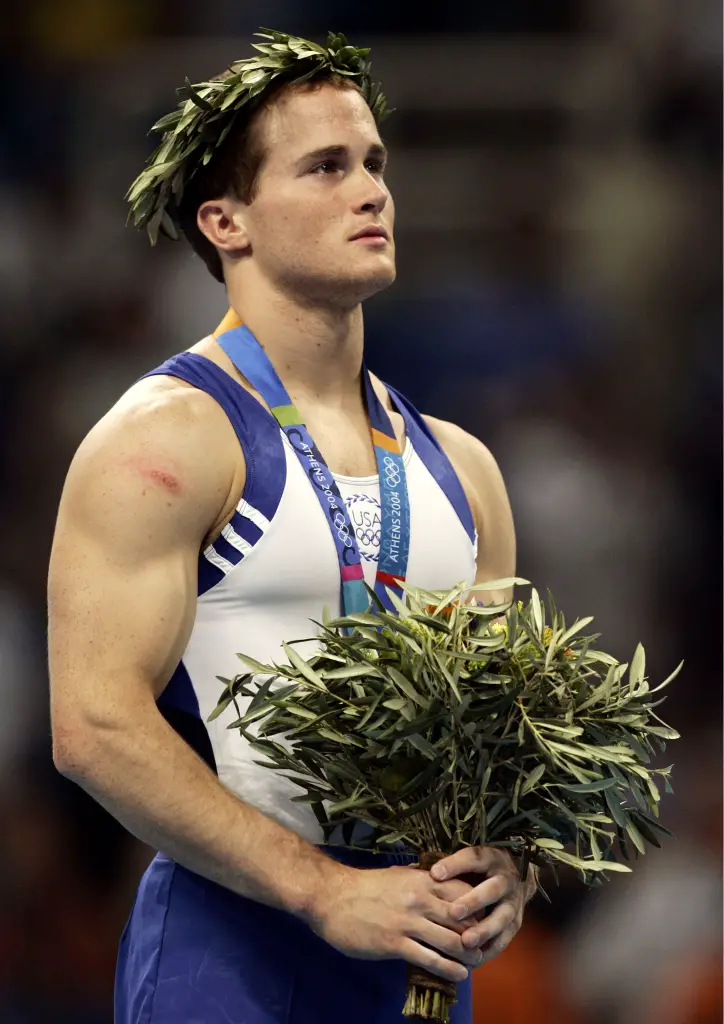 Paul Hamm, the famous Gymnast to ever receive an all-around title in the Olympics. (Photo: Shadeglobal.com)
He was born on September 24, 1882, in Wisconson USA, to parents Sandy and Cecily Hamm. The 36-year-old has an elder sister Betsy and a twin brother Morgan Hamm who also holds similar achievement as his other twin.
He keeps his relationships low profile and no facts have been found about his wife. His net worth is also unknown till this date.