Entertainment
Gabi Dugal Bio: Married To Husband Scotty McCreery At Age 24, Wedding & Family Details
Gabi Dugal, whose name surfaced the media being a girlfriend of the American Idol season 10 winner, Scotty McCreery, has finally taken another step forward in her love life.
Gabi, the Pediatric Cardiac ICU Nurse at Duke University Hospital, has finally said the wedding vows along with her longtime boyfriend Scotty and now has begun a new chapter in her life.
Well, let us take a look at her dream wedding and love life along with some bio-related information.
Everlasting Love For Boyfriend
Gabi Dugal, at the age of 24, just stepped into her married life from being Miss Dugal to being Mrs. McCreery. Gabi tied the nuptial knot with the man she loves, who has been around her in most parts of her life.
Gabi, who was raised in a family of four, exchanged the marriage vows with Scotty McCreery, the country singer who has a net worth of $4 million. She first met Scotty when they were in kindergarten. During that time, Gabi looked forward to tieing the nuptial knot with Scotty.
Read also: Nazanin Mandi Wiki Reveals Age, Ethnicity, Nationality, Parents Root & Unseen Details
She even wrote, "Mrs.Gabi McCreery" surrounded by hearts in her diary back then. After knowing each other and being friends for a long time, the couple finally started dating. Their relationship began when they were in the senior year of their high school back in 2011. Gabi and Scotty both went to Garner High in North Carolina.
Well after dating for about six years Gabi's childhood fantasies were coming true when Scotty presented her with an engagement ring during their hike through their favorite trail to Grandfather Mountain. Scotty finally asked Gabi to marry him and swept her off her feet in September 2017.
Dream Wedding With Boyfriend-Turned-Fiance
After being engaged for few months, the couple was finally set to have the wedding they desired. The wedding was planned in the North Carolina mountains with over 200 invited guests. The event had activities for the guests along with wedding rituals on 16 June.
The wedding had black, white and color schemes and decors. Gabi went with greenery and white flowers for her decorations along with some lanterns and candle votives.
According to her, she fell in love with mountains during the summertime while Scotty proposed to her and she wanted her wedding to be something like her little castle in the woods.
Well, the wedding did felt alive as Gabi showed up in a sleeveless, V-necked bridal gown with accent laces on her big day. She and Scotty had their first dance to "Can't Help Falling In Love" by Elvis Presley.
During the wedding, the couple served an assortment of pies instead of a large traditional cake.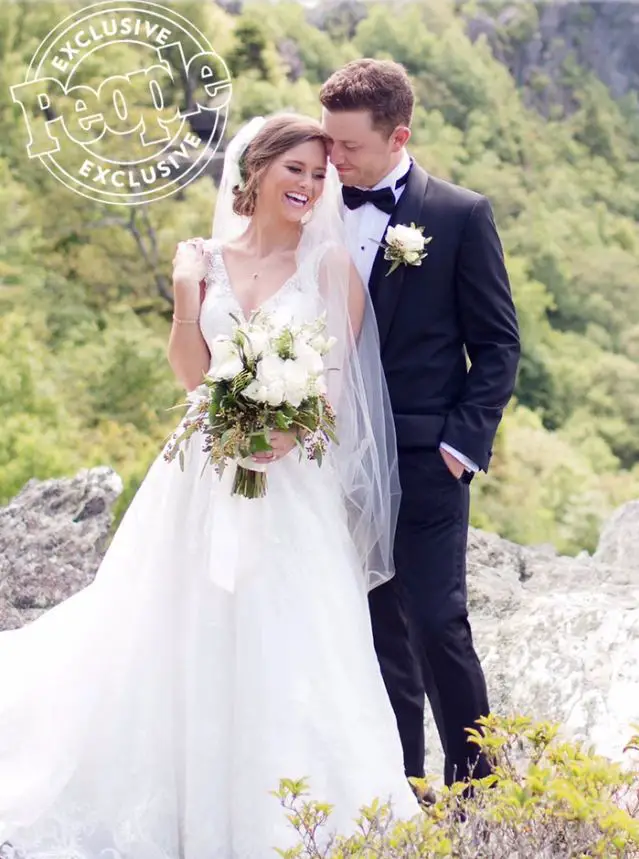 Gabi Dugal with husband Scotty McCreery at their wedding on 16 June 2018 (Photo: people.com)
As of now, the couple is looking forward to their romantic getaway to Tahiti after the wedding. The pair is leaving for the honeymoon on 19 June and when they return they are set to move in together in their new home.
Well, Gabi's childhood dream finally turned into reality as now she is happily married to her long-term boyfriend-turned-husband Scotty.
Husband's First Performance Post Wedding; "This Is It" - Wedding Day​​​​​​​​​​​​​​'s Story
After their dream wedding, Gabi's husband Scotty took on the stage for the first time as a married man on fourth of July. Her husband performed at Trailblazer Stadium which also featured the biggest fireworks show in Southern Utah.
The stadium was filled with people sitting on blankets who were much excited to see Scotty perform. While Scotty took the stage he spoke about his wedding and even shared to the fans that it was not as comfortable as it used to be to play the guitar with a ring on his finger.
You May Also Like: Alex Hopkins, Age 23 ENGAGED To Long-Time Girlfriend Lauren Alaina, Wedding En Route!
Well, Gabi's husband has also recently released the music video, This Is It which features their wedding day. The video focuses on the pair's big day and the lyrics relate to their engagement and wedding which happens to be Scotty's favorite song to date.