Gabriel Macht was among the list of guests invited....wife Jacinda had been supportive of...was also the onscreen love interest ...accumulated an impressive net worth of...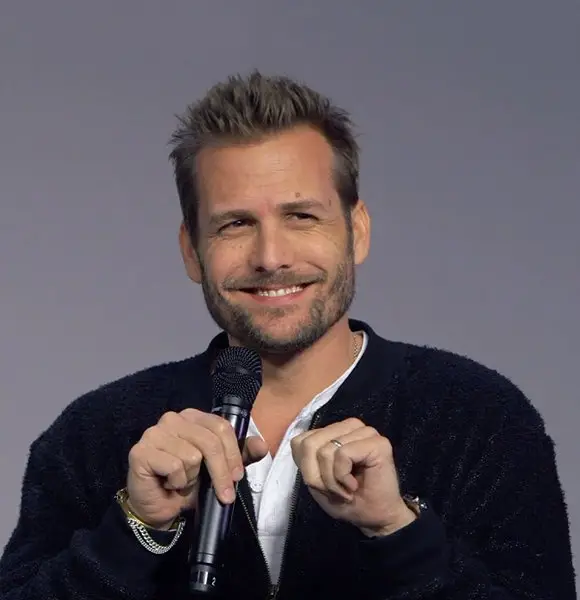 Gabriel Macht is an American actor well known for portraying the character, Harvey Specter in drama series Suits (2011).
He has starred alongside notable actors including Al Pacino, Collin Farrel, and Anne Hathway in the past for significant studio funded films.
In 2018, he was among the list of guests invited to attend the royal wedding of friend Meghan Markle and Prince Harry at Windsor Castle. Since princess Meghan was among the cast member of series Suits, he is a good friend of Megan. Interestingly, he even knew about her budding relationship with Harry in its earlier days.
Bio: Family, Ethnicity
Gabriel, whose birth name is Gabriel Stephen Macht, was born on 22nd January 1972 in The Bronx, New York.
He moved to California with his parents and three siblings at a young age. His father Stephen Macht is also an actor and his mother Suzzane Victoria Pulier worked as a museum curator.
The actor is of Ashkenazi Jewish descent as his fathers family were immigrants from Russia and his mothers family were also originally from Russia.
Education, Career
Gabriel was interested in performing arts ever since his childhood. After moving to California at the age of five, the actor joined Beverly Hills High School. At the age of 8, he acted in the movie Why Would I lie (1980). Through that, he got nominated for the Best Young Motion Picture Actor Award.
However, he took a break from acting until he finished high school to focus on his education. After high school, he enrolled in Carnegie Mellon School of Drama at Pittsburg and started getting involved in numerous plays.
His Co-Star From Suits:- Patrick J. Adams & Wife Welcoming First Child At Age 37!
Eventually, he got his big break in acting from the 2010 romantic film Love & Other Drugs. He worked with Academy Award Nominated Actor Jake Gyllenhaal in the project.
Just then, he got his breakthrough role from series Suits; he was a leading character in the show that ran for more than seven seasons.
Gabriel Macht Wife, Kids
The actor is married to Australia born actress Jacinda Barrett. Interestingly, she was also the onscreen love interest of the actor in the series Suits. With love for one another, the pair married in 2004.
The actor and his wife Jacinda share two children; daughter Satine Anais Geraldine Macht( age 12) and son Luca Macht (age 5).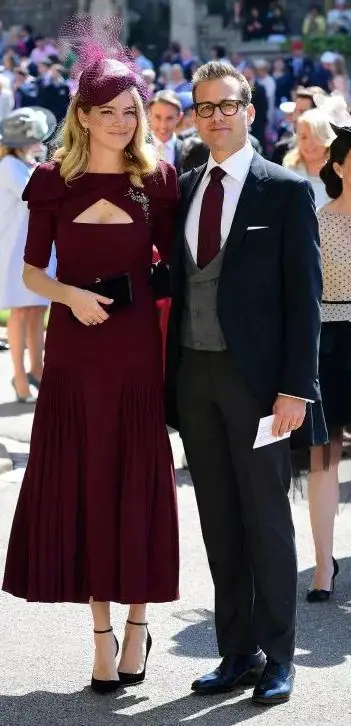 Gabriel Macht attends the royal wedding of Meghan Markle and Prince Harry in 2018 with wife Jacinda Barrett (Photo: metro.co.uk)
Ever since the marriage, Gabriel has been by his wife Jacinda's side even during her controversial moments. In 2018, she defended her ex-fiance, Chris Hardwick, when he got accused of sexual abuse by his ex-girlfriend Chloe Dykstra.
Accused Of Sexual Abuse:- X-Pac 12360 pod-caster Sean Waltman's Sexual Abuse Story, Divorce With Wife Due To Drugs
Jacinda expressed her support by claiming that Chris had as much right to be heard like the accuser before rushing towards judgment. While her claim was a bit controversial during the wake of the #metoo movement, Gabriel respected her opinion without intervening with her comments as a husband.
Net Worth, Weight Plus Height
The American actor has accumulated an impressive net worth of $8 million through his acting career. In 2015, the actor sold his 1931 Spanish-themed house situated in California at an outstanding profit margin. He traded the house for $1.998 million while he had purchased it for three times less at $849,000.
In terms of body features, the actor measures 6 inches tall (1.83 meters) and weighs 84 kilograms.