Entertainment
Gabrielle Dennis Has A Secret Boyfriend Or Just Too Serious With Career To Even Turn Herself Into A Lesbian?
Gabrielle Dennis has been making a name for herself quietly from Fox Medical Drama 'Rosewood.' Gabrielle Dennis stole everyone's hearts as the role of Pippy on Rosewood. Now the series is back, and Pippy's got a new career, so what does she have to speak about her character and lesbian role?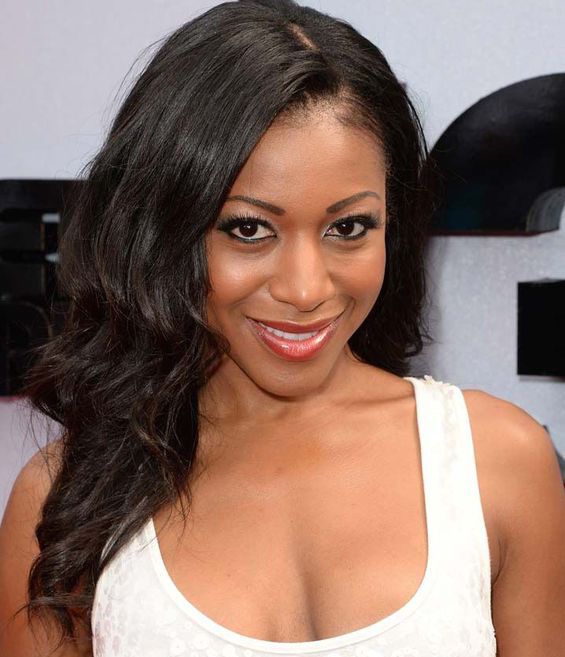 Best known for playing the role of Cadence Pena in HBO hit series Insecure, Gabrielle Dennis made a name for herself quietly from Fox Medical Drama 'Rosewood.' She stole everyone's hearts as the role of Pippy on Rosewood.
Has her on-screen romance manifested itself in real life? Is she married to her on-screen husbands? Is she dating her on-reel boyfriends? Is she gay or lesbian?
We tackle all these questions to best of our ability.
Gabrielle & On-Screen Lesbian Romance Fuels Dating Speculations
Fox's drama series Rosewood follows Morris Chestnut as the role of Dr. Beaumont Rosewood Jr. who is a private pathologist working in Miami, Florida.
See Also:- Dana Perino: 20 Years of Married Life But No Children, Husband and Divorce?
But what's special about Rosewood is that the leading man's team of major players includes Beaumont's lesbian sister, Pippy who is played by Gabrielle Dennis and her fiancee, Tara Milly Izikoff, as she's often called (Anna Konkle). Both have been dating on the sets of Rosewood but not in reality.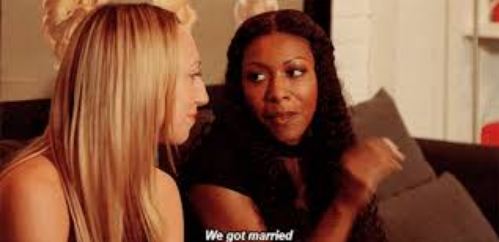 Gabrielle and her on-screen lesbian lover in Rosewood (Photo:- Tumblr.com)
Pippy and TMI (Tara Milly Izikoff) are Rosewood's right-hand women as well as intelligent co-workers who are in love with each other and have the support of their colleague and Pippy's big brother.
Pippy is one of the main cast of the show and will have a part in every episode, including a storyline that details TMI's family and their resistance to her relationship. In a recent interview in 2015, she was asked if her parents were comfortable with her on-screen relationship, she replied:
"They're not portrayed as caricatures. In a relationship, you should feel like that's your best friend. At the end of the day, we hope that's what we portray on camera, that love shines through. That's really what I think the through-line of our whole storyline is going to be about, everything that's involved with being in love with someone. There's ups, there's downs, there's peaks, there's valleys, but at the end of the day, what is the real foundation of that relationship?"
Most importantly she was asked about her sex scene in the series and she replied:
"I'm not a huge fan of sex scenes on television shows, period. Only because a lot of times they feel forced, for me as an audience member—and I'm talking hetero or homosexual. But if it doesn't feel forced, and it's that thing that's organic, as is everything else in our relationship—obviously as actresses we're down to do that if it'll help for the audience to really feel like okay, it's true and or it's organic. Maybe it's because I'm very modest and conservative. I don't like stuff to be too racy. I like the relationship stuff and the dynamics of all of that, and I like humor. So for me, it's nothing I need in the show, but if it happens, I hope it happens in an organic way."
Following the end of the season two of Rosewood, FX canceled the series on 9 May 2017.
Open Relationship With On-Screen Husband
The cancellation of Rosewood did very little to halt Gabrielle's career trajectory. Between 2017-2018, she was cast in a handful of successful TV projects including Luke Cage and Insecure.
Other Insecure Star In Our Vault:- 'Insecure' Actress Natasha Rothwell Bio: Age, Weight Loss, Husband Talks & Facts
Her portrayal of a pregnant wife (Cadence Pena), who practices an open relationship with her husband (played by Sarunas Jackson) in Insecure was a topic of online discussion following its release in 2017.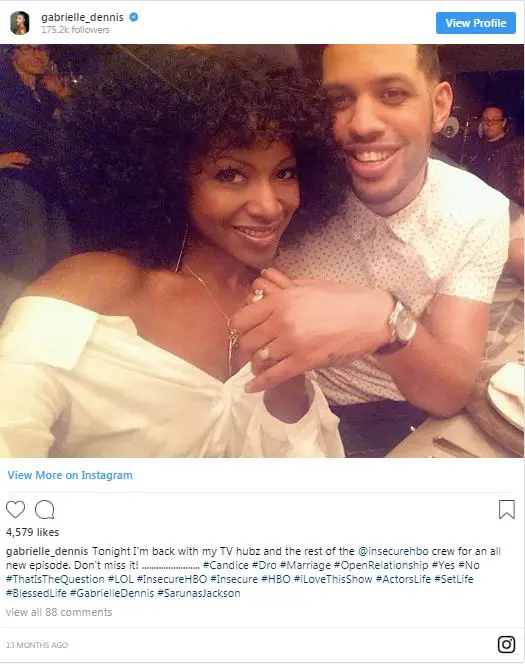 Gabrielle and her on-screen husband Sarunas on the set of Insecure (Photo:- Gabrielle Dennis' Instagram)
Back when Rosewood was still on TV, she kept on tweeting about dialogues of her TV show and tweeted on March 23, 2016, that she is gay, although she isn't gay, in her real life. Her tweet read:
"I'm gay not blind" #Pippy #Rosewood
Gabrielle Dennis - who starred in the BET 2018 Bobby Brown biopic as Whitney Houston - is everything but a lesbian as evidenced by her 2010 when referred Blue Mountain Star Sam Jones as her boyfriend.
Interesting:- Brian Posehn Tour Reflect Career Height | Wife & Baby To Thank For
At the age of 36, she is still not married and doesn't have a boyfriend nor husband. She might be waiting for a perfect time to reveal her boyfriend or might just be busy with her acting career. Moreover, she is not dating anyone till date.