Entertainment
Gaby Hoffmann Boyfriend, Dating, Married, Net Worth
Gaby Hoffmann's boyfriend is an established cinematographer and filmmaker...circumstances under which they started dating...sexuality including her lesbian relationships in...Her current net worth is...already resumed acting in movies as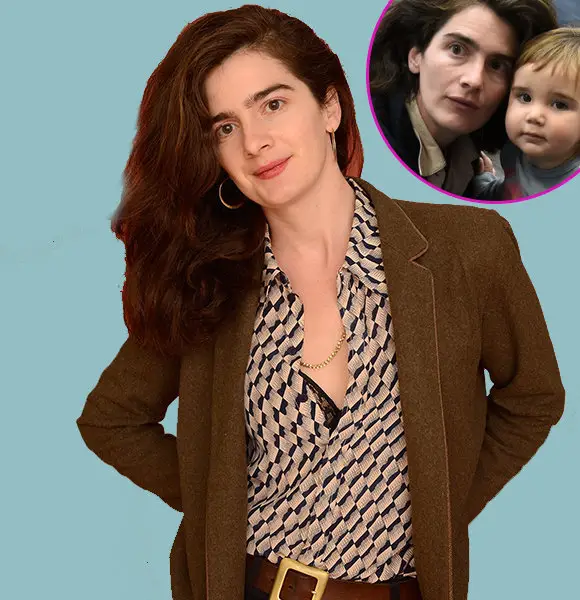 American actress, Gaby Hoffmann's recurring role in Amazon's Emmy winning show Transparent (2014), has highly contributed to her success in recent years. Moreover, she was nominated in the category Outstanding Supporting Actress in a Comedy Series for her performance in the show in 2015. 
However, many might be unaware that she started making her presence onscreen at a very young age. Let's take a look at her life in showbiz and beyond.
Is Gaby Married? 
Gaby, as of now, hasn't yet tied the knot. But, she has managed to start a beautiful family with her longtime boyfriend Chris Dapkins- an established cinematographer and filmmaker known for Pavilion. Together they share a six-year-old daughter named Rosemary and reside in Fort Greene, Brooklyn.
Although the circumstances under which they started dating remains disclosed, there is a probability they met while filming some projects considering the nature of their work.
Info On Daughter
Gaby's daughter's name and the circumstances under which she was born has an interesting origin. So, here's what happened,
In 2014, she made the news of her pregnancy official with a baby bump during the screening of her movie Lyle where she played a lesbian character named Leah. 
Actress Danielle Panabaker Pregnant:- Baby, Husband, Height,Net Worth
Eventually, on 19th November that year, during her daughter's birthday, she named her child RoseMary.The name had a special significance as her movie Leah is loosely based on the classic movie Rosemary's Baby.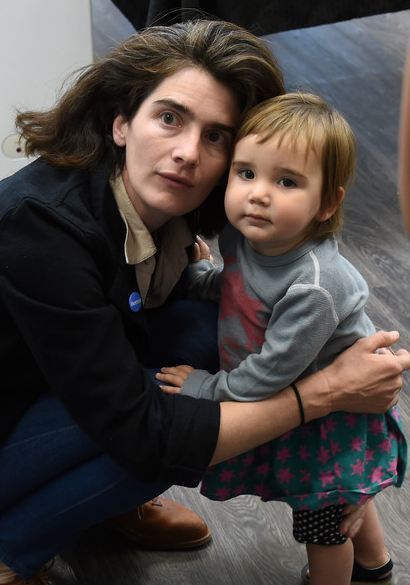 Gaby Hoffmann with daughter Rosemary as seen on 19th February 2016 (Photo: zimbio.com)
But here's the more interesting part, the Transparent star had portrayed the role of a pregnant girl named Caroline in the show Girls that year. So, it indeed became a life imitates art situation for the best.
Movies & Net Worth
Gaby has remained active in several Hollywood projects ever since her debut as a child actress from the 1989 movie, Field Of Dreams. But, her breakout role remains the classic movie Sleepless In Seattle, where she portrayed the role of Jessica appearing alongside A-list star Tom Hanks.
Although the actress mostly has mostly appeared in movies throughout her career, her involvement in TV shows such as Transparent equally contributed to her fame and success.
Transgender Cast Of Transparent:- Trace Lysette Age, Dating, Partner, Gender, Now
Moreover, from 2014 to 2019, she focused solely on doing TV shows for the later projects. However, she has already resumed acting in movies as Showtime, which is slated to release in 2020.
As a result, with more than two decades of experience in Hollywood, the TV icon has managed to procure a net worth of $1.5 million.
Interesting Facts About Gaby Hoffmann Including Age
Gabrielle Mary Hoffmann (born on 8th January 1982) grew up in her birthplace, i.e. New York City.

Gaby was born into a family of accomplished artists. Her father, Anthony Herrera, is an actor and director, whereas her mother Janet Susan Mary Hoffmann worked has also acted in films such as Midnight Cowboy.

In terms of her physical attributes, she possesses blonde hair, and her height is 5 feet & 7 inches (1.7 meters).

Her stepsister is actress Alexandra Auder known for movies such as Hide & Out, Now & Then.

Gaby is very open about her fluid sexuality, including her lesbian relationships. During an interview with the Telegraph in 2016, she even shared about sleeping with girls in the past.