Entertainment
Garcelle Beauvais Shuts Cheating Husband For Children; Family First - Actress Reveals
Haitian-American actress Garcelle Beauvais has been on the high ride of her career ever since she joined The Jamie Foxx Show for the portrayal of Francesca "Fancy" Monroe. 
But, as for relationships, she has tasted both, the bright side and dark side of a relationship. 
From seeing her marriage end with the first husband to giving the marital bond another chance with her second love which eventually ended with a heartbreak, Garcelle Beauvais has seen it all.
Despite the marital troubles, Garcelle stood strong putting her family first, setting a perfect example of parenthood.
Married Twice; Husband's Infidelities Ends Marriage
The former fashion model, Garcelle Beauvais was formerly married, which started after she first crossed path with her producer-husband, Daniel Saunders on her former job, modeling. 
While she was working on one of her modeling projects, the two hit it off with their relationship and later, in 1991 tied the nuptial knot. The very same year, she gave birth to her first son Oliver and raised the family number to three. 
See also: Hale Appleman Dating Someone As Gay Man? Here's His Relationship Status
They went strong with their marriage for almost a decade until the pair filed for divorce citing irreconcilable differences. During the time, Garcelle used to work in the Jamie Foxx Show, which was in its fifth season. The Power star
While having a child to raise by her side, she made a vow to be selective about whom she went on date in the coming days. She became more careful and choose the man she would bring home to her son wisely. 
On such a course, she met Mike Nilon, a talent agent, which she believed she had finally found the perfect guy. Hence, the duo got married in 2001.
After the marriage, they were looking forward to having a family and after six years of marriage, the couple was blessed with a set of twins. Garcelle, who was once rumored to have a twin sister, gave birth to her twin boys in 2007.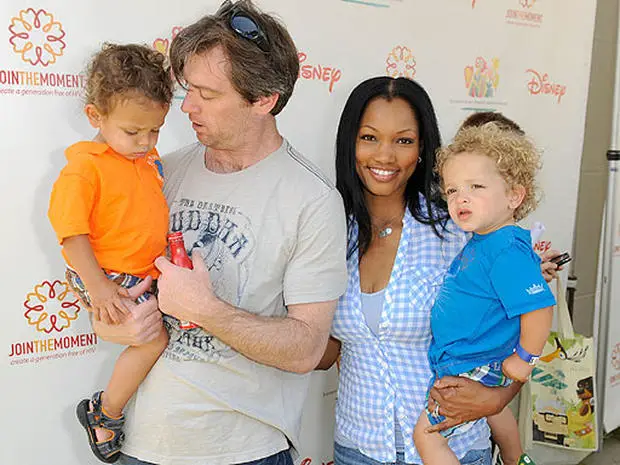 Garcelle Beauvais with ex-husband Mike Nilon and kids, Jax and Jaid. (Photo: cbsnews.com)
While she was leading a good married life with her then-husband, she found out her husband was not as perfect as she believed in the ninth year of their marital bond. 
Little did she knew her husband was cheating on her with another woman, which she never imagined. Garcelle did not digest in the news easily and the same day she fired up emails to their colleagues as well as the ones where her husband worked. 
Family Over Cheating; Dating Someone New?
Well, despite the relationship ended with a break-up Garcelle stayed staring as she had her kids to look after. Even after the end of the marriage the couple remained involved in each other life and were completely sober with each other. 
The pair did not bad mouth around their kids giving them the first priority of their life. Even though Garcelle, who has always been independent, had hurt her ego, but she loved her children way more than she hated the betrayal.
You May Also Like:- Christine Evangelista with Her Low-Key Dating Affair with Boyfriend!
She was serious when it came to her children and at one point, she even invited her husband to move back as one of her sons was having sleeping trouble. Despite having their differences they set their aside for the sake of their children's needs.
After the divorce Garcelle was broken and she even went on therapies. That is when her therapist encouraged her to author her first children's book I am Awesome. The end of marriage did have a good impact on her in the end.
As of recent after the betrayal scandal with ex-husband, Garcelle has been linked with a shoe designer, Ron Donovan. Garcelle and Ron even went on a date as Ron escorted her to the premiere of her movie, Flight.