Entertainment
Garrett Watts Age 29, Proud Gay Man Casually Dating A Hunk Amid Career Height
Internet personality, Garrett Watts became famous for sharing comic content on YouTube and has built a full-time career in the social media site. Also the actor, he has performed in movies including Space Station 76, Girl Will Be Girls and The Pink Balloon.
A proud gay man, Garrett flaunts his sexuality publicly and has maintained a loving relationship with his boyfriend. He has also featured his partner in his YouTube videos too. 
Know about the personal life of Garrett along with the details of his net worth!
Proud Of Gay's Contribution In Human History
Garrett, who is openly gay, takes pride in his sexuality and the contribution made by other gay men. During the "Gay Pride Month" of 2017, he shared an Instagram post on 11 June boasting his respect towards various LGBT men and women who fought and even sacrificed their lives for the betterment of humanity.
You May Like:- Is Coy Stewart Gay At Age 20? Personal Details Reflect 'Agents of S.H.I.E.L.D' Actor's Status
Further, he also talked about the injustice done by British officials to Alan Turing, who cracked Nazis' coded messages and helped save 14 million lives during World War 2; but was later, persecuted and killed for being sexually attracted towards the same gender.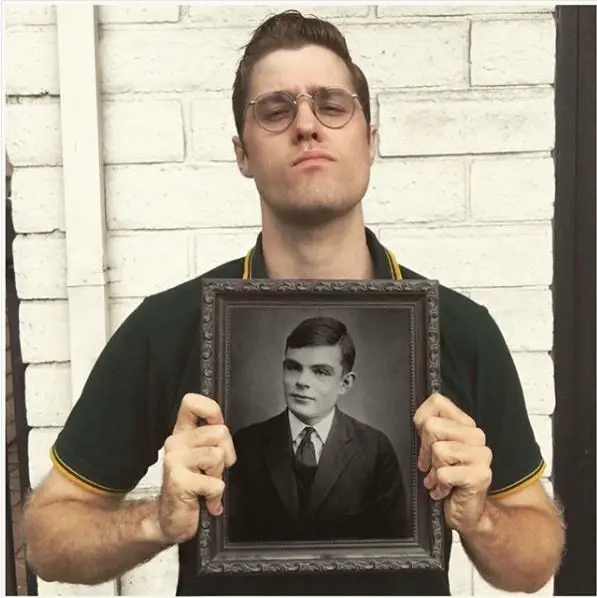 Garrett expresses his respects towards the WW2 hero Alan Turing on 11 June 2017 (Photo: Garrett Watts' Instagram)
Moreover, in the post, Garrett mentioned that his identity was not confined to his sexuality but was crucial to make him the man he is now. He expressed his pride in being openly gay and urged other homosexuals to respect their rights and freedom which came at the dedication and effort of their preceding gay people.
Garrett has further found solace in the arms of his loving boyfriend, who coincidentally also happens to be a YouTuber. 
Dating Life With YouTuber Partner; "Gonna Start A Family"
Garrett, age 29, dated YouTube star Shane Dawson in 2015 during which the pair appeared in several YouTube videos. However, after being in a relationship for nearly a year, rumors spread that the pair had broken up.
The news of the couple's split surfaced after Garrett shared an Instagram post in which he could be seen hugging a large cushion designed in the shape of a slice of pizza. He identified the slice as his fiance and stated that he was about to start a family with it. He wrote on his Instagram,
"Me and my fiancé. We're gonna start a family and have kids soon and they're gonna be lil' blonde-haired mozzarella sticks."
The rumors of Garrett and Shane's separation was further supported when Shane posted a video on his YouTube channel calling Garrett as his ex-boyfriend. The breakup was confirmed when Shane started dating fellow YouTube Star Ryland Adams in late 2016. The pair split up after dating for a while.
Garrett and Shane re-emerged as a couple in August 2017. The two appeared in a video and talked about their dating life which hinted that they had resolved their previous issues.
Similar:- Chloe Bennet Dating Logan Paul! Explicit Relationship Details Of Actress & YouTuber
In the 18-minute-long YouTube video published on August 2017, the pair mentioned that they first met through Tinder and even read aloud their initial conversations. Shane started reading his first dialogue with Garrett,
"Hey man, hope you had a good holiday. I may or may or have just watched a 14 minute vine compilation of yours because I'm a ******* creep, happy Sunday."
Further, Garrett also read his part of the conversation,
"A beautiful man watched me for 14 minutes? I gotta be honest, I'm the opposite of creeped out. Hello, Shane."
The couple shared some other dialogues and looked content with their partners in the video. 
Recently, on 19 July 2018, Garrett shared a picture of the two via his Instagram, in which he congratulated Shane for his birthday and expressed his gratitude for being blessed with such a loving partner.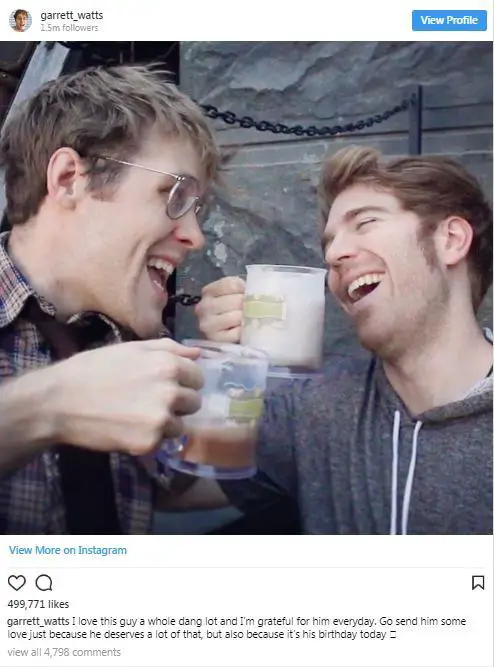 Garrett and boyfriend Shane share a cool drink together (Photo: Garrett Watts' Instagram)
Garrett and Shane are happily enjoying their dating life, but have not revealed their intention to get married. Their glowing chemistry has made fans wonder if an official ceremony is essential for the beautiful couple.
Onws YouTube Channel; Net Worth Details
Garrett, who runs a YouTube channel called "Garrett Watts," has also created his own shows. In his YouTube show "Will It Combo?", he combines different food items and sees if they make a match. Further, he also runs a series titled "Dollar Store Cosplay" where he teaches his viewers to create various costumes with a limited budget. 
Moreover, the YouTube personality, who stands at the height of 6 feet 4 inches (193 cm), earns a yearly income ranging from $19.1K - $305.1K from his career in YouTube. However, the exact value of his net worth has not been disclosed.