Entertainment
George Maharis, A 1960s Hollywood Star: His Life And Career
The actor has a net worth of...As of today, at the age of... The actor's family had to grow...Apart from acting, he also released several LPs and albums during the 60s from which his single...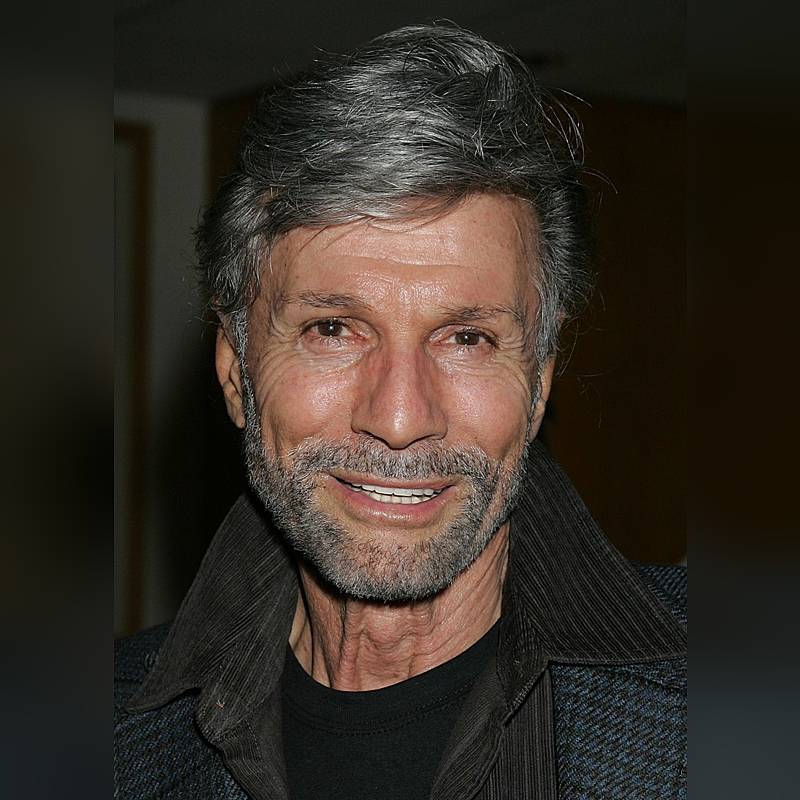 Tall, dusky, and stunning, not to mention a flamboyant renegade of 1960s Hollywood, George Maharis is best remembered for his lead role in the famous series Route 66. In the July 1973 issue of Playgirl magazine, he was the first star to be photographed naked.
At the height of his success, Maharis also recorded several pop music albums and acting. During the 1960s, he also released several LPs and CDs. In 1962, his track Teach Me Tonight reached number 25 on the charts. Later, he appeared in The Most Deadly Game, a brief TV series.
His Formative Years And A Brief Career
Born and raised in a Greek family in Astoria, New York, the actor joined the US Marine Corps. After enlisting and finishing high school, he enrolled at the famous Actors Studio Drama School and pursued acting under the guidance of director Lee Strasberg. He appeared in various well-known television soap operas and films throughout his stay there, including off-Broadway productions.
Earlier in his career, the actor recorded albums and singles with Epic Records. Following the success of his tracks, he had the time to explore nightclubs and perform. In addition, he dabbled in abstract painting as a hobby.
Gay Celebrities Visit Greece:- Sam Tsui Married Surprisingly With Boyfriend Casey Breves: Gay Couple's Honeymoon in Greece
Despite having a passion for singing and attempting to pursue it as a career in childhood, the overuse and faulty vocal coaching ruined his chords, so he gradually switched his attention to acting again.
He went on to do Broadway plays and modest film roles in films such as The Mugger (1958) and Exodus (1969). In addition, George was cast in the role of Buz Murdock in Route 66 in 1960, which became his career-defining event in show business. For his part in the series, he was also nominated for an Emmy Award.
However, his triumph was momentary, as the actor unexpectedly left Route 66 in the midst of the third season's climax. He related the account of contracting contagious hepatitis in 1962 and becoming a health danger. He urged the producers for a less stressful schedule because the shootings were exhausting, but they denied it, and he quit the show.
Love Affairs In Question: Gay Controversy And More
After announcing his departure from the show due to health issues and being replaced by some other actor, there was considerable suspicion, as some found it difficult to grasp.
Rather, it was reported that Maharis' sexuality was known to the producers of Route 66. As a result, they had a problematic relationship with him even when he decided to leave the program.
The actor's partner preferences were verified in 1974 when he was detained in the restroom of a gas station in Los Angeles for engaging in physical acts with a guy called Perfecto Telles. Because having a same-sex relationship was considered a crime in the 1970s, the incident severely harmed his career. In 1990, he announced his retirement from acting.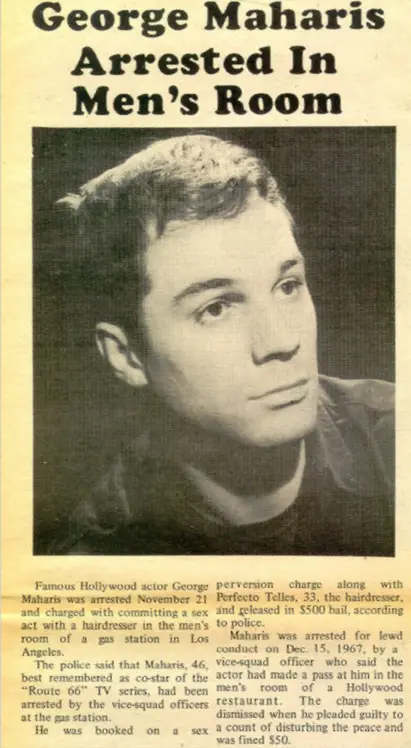 A local newspaper highlights George Maharis' arrest in 1974 (Photo: mancrushes.com)
The reason for why Maharis departed Route 66, as per Karen Blocher, who embarked on a book about the actor, mentions it there. As detailed in the book, she explains that the producers felt deceived and tricked when they heard of Maharis' sexuality, and they never accepted him afterward.
"So when he got sick, and came back, and started griping about the working conditions, the producers assumed it was all a ploy to either get more money or else get out of his contract and go make movies. In a less homophobic era, they might have communicated better, and worked things out instead of letting each other down."
Fans are concerned about how he is doing now that he has opted to keep things under wraps after his retirement. Yet, even at the age of 92, Maharis is healthy and active.
Gay Actor:- Chad Allen Net Worth, Partner, Affair
The American actor presently lives in Beverly Hills, California, with a net worth of $2 million.