George Harris is an American actor well known for his appearance as the lead in the hit 60s series, Route 66. He was also the first celebrity to pose naked for the Playgirl magazine issue of July 1973.
Apart from acting, he also released several LPs and albums during the 60s. His single, Teach me Tonight peaked at the 25th position of the charts in 1962.
Bio: Family, Age
George was born on 1st September 1928 in Astoria, New York in a Greek family. His father, Vasidos Maharis had moved from Greece and owned three restaurants in Long Island.
Likewise, George's mother Demetra Stranis - who was also an immigrant - had married Vasidos at the age of 18, while her husband aged 32 at the time.
Gay Celebrities Visit Greece:- Sam Tsui Married Surprisingly With Boyfriend Casey Breves: Gay Couple's Honeymoon in Greece
The couple altogether had seven children along with two daughters, but one of their sons eventually died. Moreover, the actor, along with his family, grew up in poverty as his father suffered losses in business while his mother had to work through extreme length to take care of the family.
He was among the 3rd of the remaining six children and interestingly, one of his older brothers went onto work along with him on Route 66 as a production assistant.
Short-Lived Career
In the middle of his schooling years at the Flushing High School in Queens, George went on to serve in the US Marine Corps. After serving for 18 months, he returned to graduate from high school.
After graduating, he enrolled in the prestigious Actors Studio Drama School and studied acting under the mentorship of director, Lee Strasberg.
He later started doing Broadway shows and small movie roles in films like The Mugger (1958) and Exodus (1960). Furthermore, in 1960, George was cast for the character of Buz Murdock in Route 66, which became his career-defining moment in the world of showbiz. He also got nominated for an Emmy Award for his role in the series.
But unfortunately, his success was short-lived as the show lasted for only four seasons due to controversial issues.
Gay Controversy
During the middle of filming the show, George officially left and was replaced by another actor instead. He cited his health issues with Hepatitis and schedule conflicts with producers as the main reason behind his departure from the show.
However, if the rumors are to believed, the producers of Route 66 found out about George's gay sexuality and were in bad terms with the actor due to it, long before he left the show.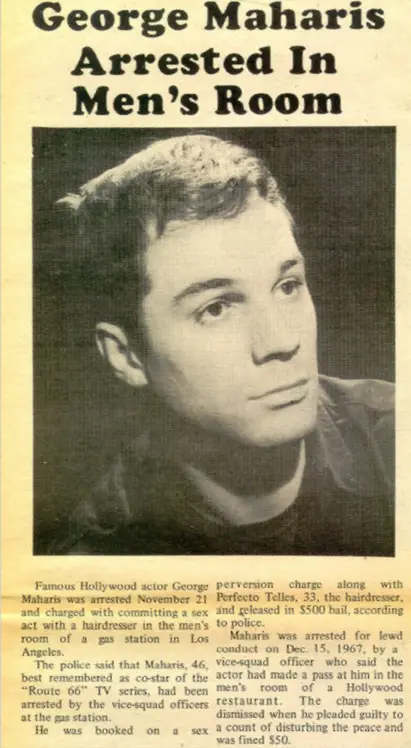 A local newspaper highlights George Maharis' arrest in 1974 (Photo: mancrushes.com)
George's gay nature was confirmed in 1974 when he got arrested for indulging in sexual activities with a man named Perfecto Telles in the bathroom of a gas station in LA. Since homosexuality was considered a criminal act in the 70s, the event led to extensive damage in his career. He officially retired from acting in 1990.
Still Alive Or Death? Height
Since the actor has kept a low profile in media after his retirement, fans are curious if the actor has expired by now. However, he is fit and alive today, even at the age of 91. With a net worth of $2 million, he resides in Beverly Hills, California.
Gay Actor:- Chad Allen Net Worth, Partner, Affair
Also, in terms of height, the actor stands 5 feet and 11 inches (1.82 m) tall.