Entertainment
Sam Tsui Married Surprisingly With Boyfriend Casey Breves: Gay Couple's Honeymoon in Greece
In our society sexuality is such a private thing. It is as wide as sea which is natural and spontaneous. One needs the courage to speak about his sexuality. To come out as a gay is not shameful at all even if you are one of the popular personalities. There are many stars who has come out as a gay but here we are talking about American singer/ songwriter and video producer Sam Tsui.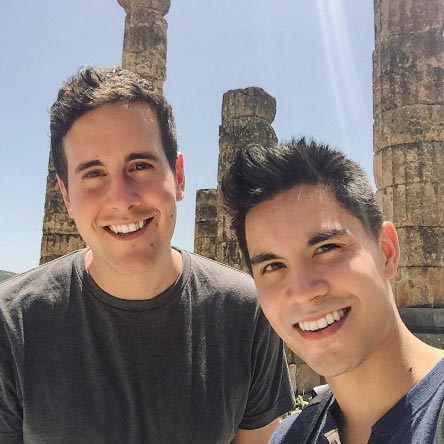 In the scenario of society, sexuality has been limited as "a taboo". Showing some impressive guts to come out of the closet, numbers of famous personalities including sportsmen have managed to compile them and come forth with their gay identity.
Among these figures who demonstrated such courage, American singer/songwriter/video producer Sam Tsui is also in the mix as he showed some great daring coming forth with his relationship and gay sexuality. 
Sam is a renowned internet celebrity who has covered songs of popular artists like Justin Timberlake, Taylor Swift, Bruno Mars, Britney Spears, and Adele. Further, he also enjoys a successful married life with his then-boyfriend as the couple is certainly made for each other.
Married To Boyfriend, Honeymoon And More
Sam, who initially kept his personal life low-key, later to the surprise of those interrogating about his girlfriend, Sam said that he was gay and had been dating someone the fans hadn't expected. Meanwhile, the singer also mentioned that he as a proud gay man, wasn't ashamed of his sexuality.
In the video, Sam revealed that he was dating fellow YouTube musician Casey Breves. He also wanted the viewers to know that the couple had already been engaged.
Other Gay Couple:- Fredrik Eklund & Husband, Perfect Gay Couple! First Vacation For Twins
Sam talks about his boyfriend and engagement on 15 April 2016 (Video: Sam Tsui's YouTube Channel)
The very next day of the video, Sam and his boyfriend Casey got married in Los Angeles, California on 16 April 2016. Sam's then-boyfriend and now-husband, shared an Instagram post where the two lovebirds appeared together along with the wedding news.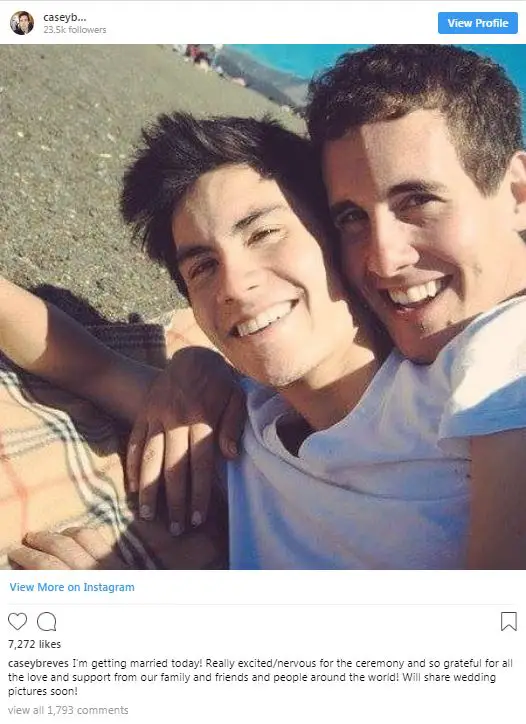 Sam Tsui and husband Casey on their wedding day on 16 April 2016 (Photo: Casey Breves' Instagram)
Casey also revealed about his wedding through a tweet in which he wrote,
"Getting married today! Ahhhhhhhhhhhh"
On 18 April 2016, Sam shared a picture immediately prior to his wedding with his boyfriend Casey via Instagram.
See Also:- Robbie Rogers Cutest Wedding To Writer Husband, Major Gay Couple Goals!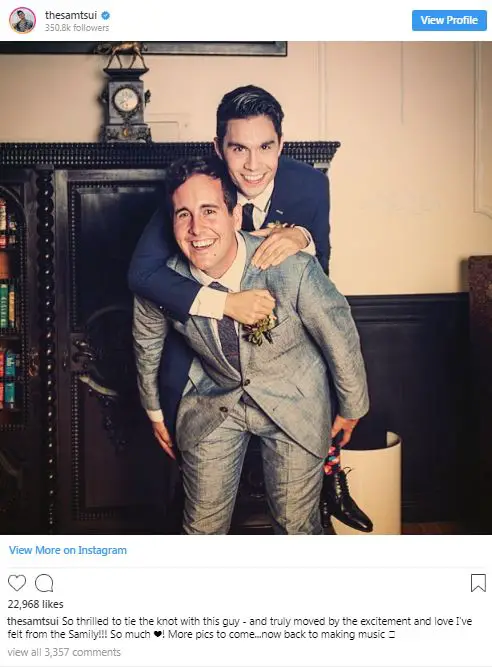 This wedding was surprising to most of the couple's fans. Anyways, congratulations Sam and Casey. Love always triumphs.
Right after Sam and Casey got married, they both flew to Greece in order to take a break and reflect on the importance of love. Such a romantic step, isn't it?
Sam and husband Casey during their honeymoon to Greece (Photo: Sam Tsui's Instagram)
A fan named Kostis Maslow also photographed the couple during their visit to Greece and shared it via Twitter on 15 June 2016.
Don't Miss:- 'Design Inc.' Sarah Richarson: Honeymoon With Husband As Best Vacation, Past Divorce History?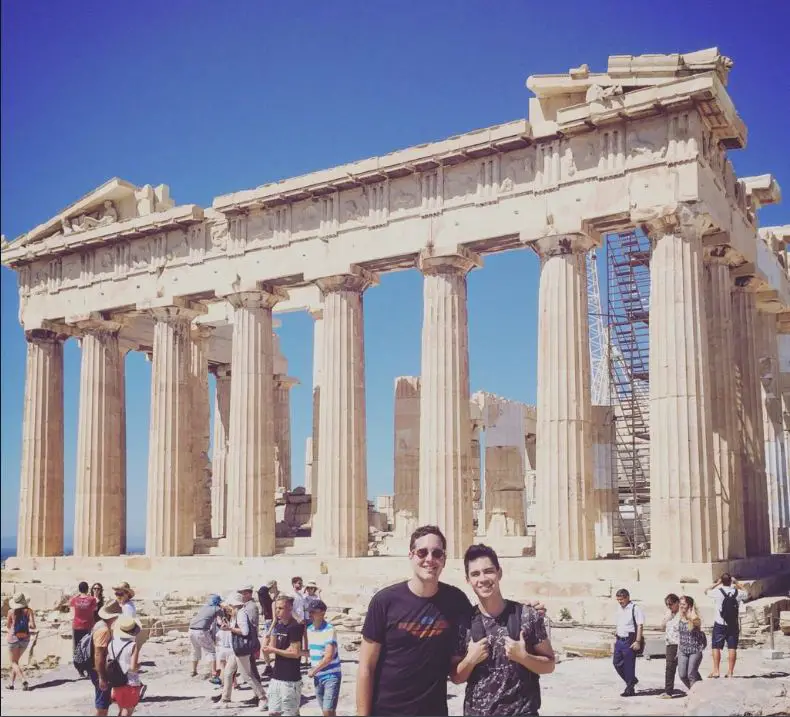 Sam and partner Casey during their honeymoon in Greece (Photo: Kostis Maslow's Twitter)
Apart from a successful married life, Sam and Casey are also involved in gay rights activities. The pair even took part in 2017 NYC Pride Parade holding placards that said, "I Show Up Because It's All About Love."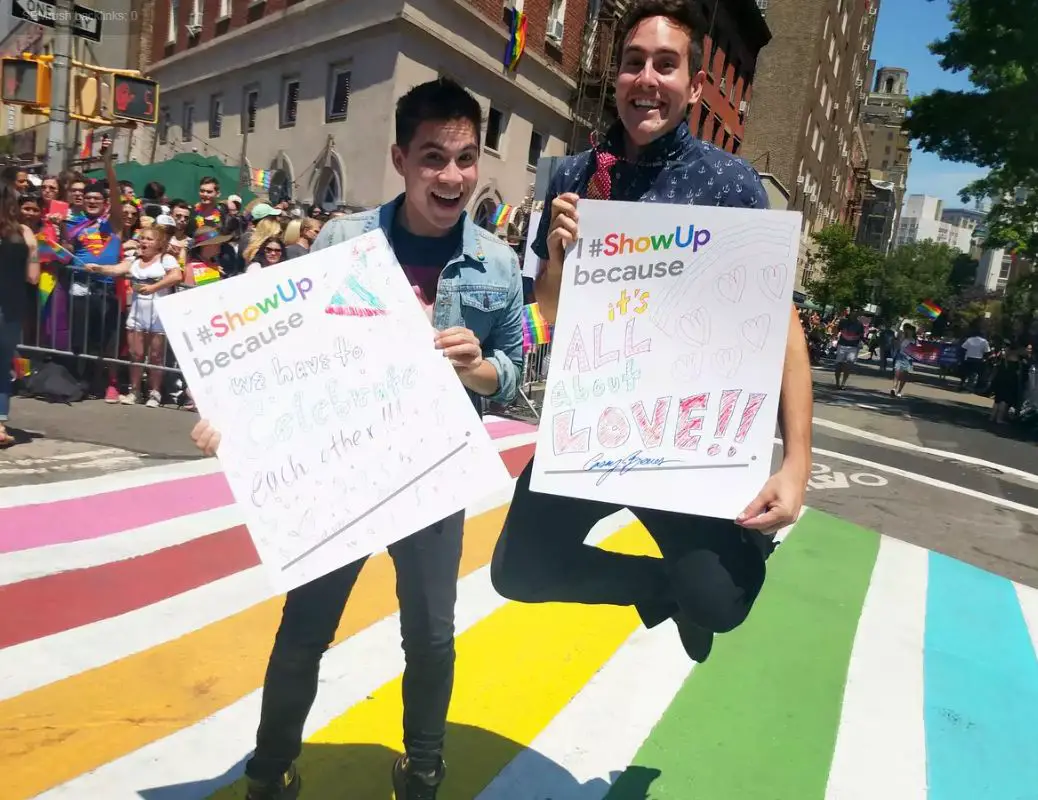 Sam Tsui and Casey Breves attend the 2017 NYC Pride Parade (Photo: RollingStones.com)
Similarly, the couple also celebrated their 2nd wedding anniversary recently in April 2018. Prior to their anniversary, Sam shared a tweet on 7 April thanking all the fans for the love and support they provided the couple. 
"So so touched at how many of you are rewatching #ThisPromise in anticipation of @CaseyBreves and my anniversary - you guys are the BEST"
Sam and his husband Casey have not disclosed their plans for a future but looking at the couple it seems like the pair has enough love between them to have some spare for a third member in their family.
More About Sam Tsui
Born on 2 May 1989, Sam grew up in Blue Bell, Pennsylvania. He was born with a mixed ethnicity as he was the by-product of the union between a Chinese father and a European mother. He is the graduate of Yale University where he majored in classical Greek. 
He was also The Duke's Men of Yale. In the year 2009, Tsui made his television debut with ABC World News whereas he debuted with his own YouTube channel in 2011. As of June 22, 2016, Tsui had reached 2.5 million subscribers on YouTube.
As one of the popular YouTube celebrities, his net worth is estimated to be $1 million dollars. Further, he also released his latest album "Trust" in 2018, which has further increased the value of his net worth.