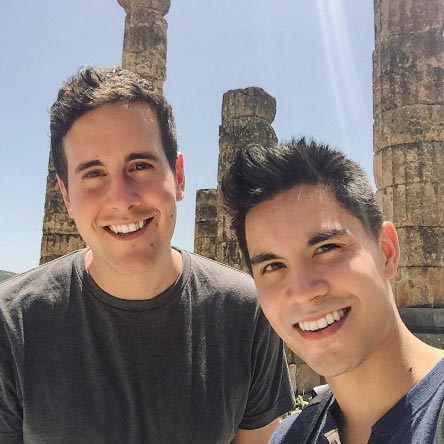 In the scenario of society, sexuality has been limited as "a taboo." However, showing some impressive guts to come out of the closet, a number of famous personalities, including sportsmen, have managed to compile them and come forth with their gay identity.
Among these figures who demonstrated such courage, American singer/songwriter/video producer Sam Tsui is also in the mix as he showed some great daring in coming forth with his husband and gay sexuality. 
Sam is a renowned internet celebrity who has covered songs of popular artists like Justin Timberlake, Taylor Swift, Bruno Mars, Britney Spears, and Adele. Further, he also enjoys a successful married life with his then-boyfriend as the couple is certainly made for each other.
Sam Tsui's Husband
Sam, who initially kept his personal life low-key, later, to the surprise of those interrogating about his girlfriend, Sam said that he was gay and had been dating someone the fans hadn't expected. Meanwhile, the singer also mentioned that he, as a proud gay man, wasn't ashamed of his sexuality.
Don't Miss:- 'Design Inc.' Sarah Richarson: Honeymoon With Husband As Best Vacation, Past Divorce History?
In one of his videos, Sam revealed that he was dating fellow YouTube musician Casey Breves. However, he also wanted the viewers to know that the couple had already been engaged.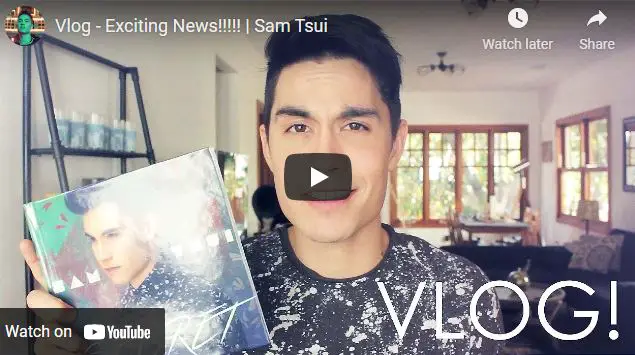 Sam talks about his boyfriend and engagement on 15 April 2016 (Video: YouTube)
The very next day of the video, Sam and his boyfriend Casey got married in Los Angeles, California, on 16 April 2016. Sam's then-boyfriend and now-husband shared an Instagram post where the two lovebirds appeared together, along with the wedding news.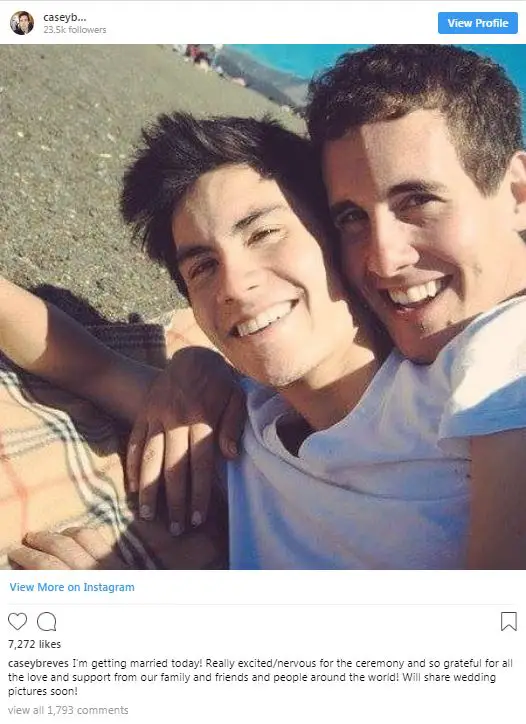 Sam Tsui and husband Casey on their wedding day on 16 April 2016 (Photo: Casey Breves' Instagram)
Casey also revealed about his wedding through a tweet in which he wrote,
"Getting married today! Ahhhhhhhhhhhh"
On 18 April 2016, Sam shared his wedding picture with his boyfriend, Casey, via Instagram.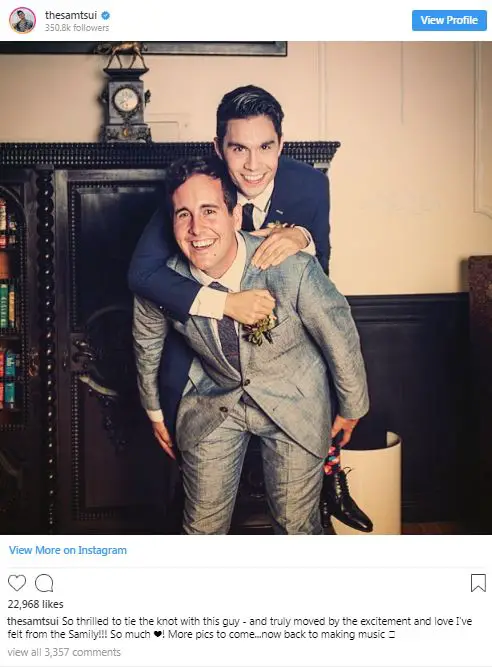 Sam posted a picture with Casey after their marriage. (Photo: Instagram)
This wedding was surprising to most of the couple's fans.
See Also:- Robbie Rogers Cutest Wedding To Writer Husband, Major Gay Couple Goals!
Right after Sam and Casey married, they both flew to Greece to take a break and reflect on the importance of love. Such a romantic step, isn't it?
Sam and husband Casey during their honeymoon to Greece (Photo: Instagram)
A fan named Kostis Maslow also photographed the d the couple during their visit to Greece and shared it via Twitter on 15 June 2016.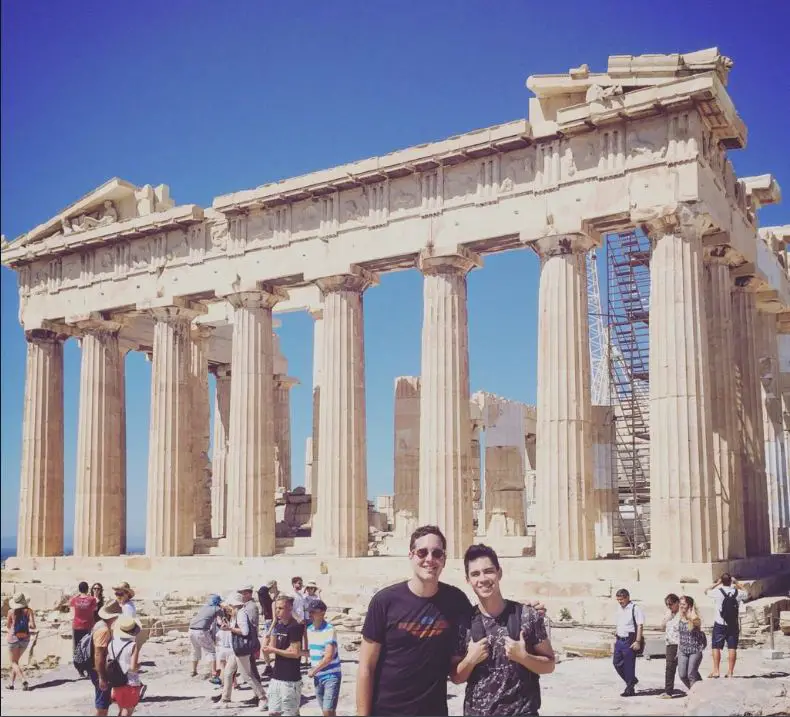 Sam and partner Casey during their honeymoon in Greece (Photo: Instagram)
Besides a successful married life, Sam and Casey are involved in gay rights activities. The pair even took part in the 2017 NYC Pride Parade, holding placards that said, "I Show Up Because It's All About Love."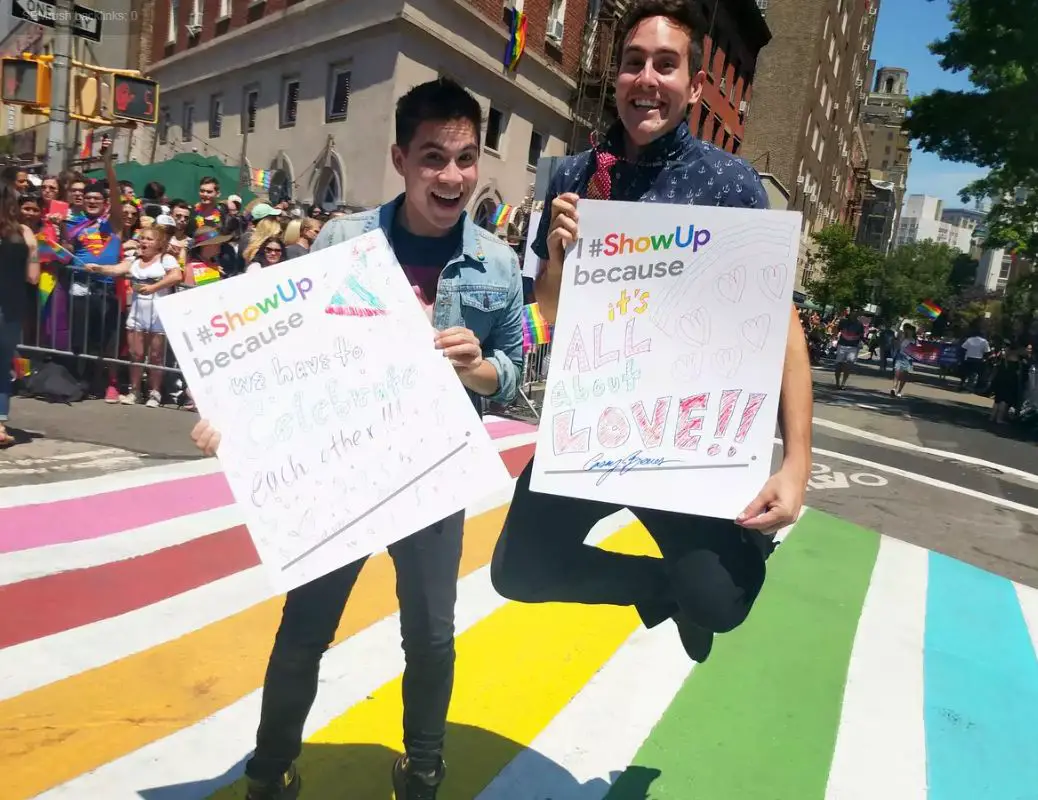 Sam Tsui and Casey Breves attend the 2017 NYC Pride Parade (Photo: RollingStones)
Before their second anniversary, Sam shared a tweet on 7 April that thanked all the fans for the love and support they provided the couple. 
"So so touched at how many of you are rewatching #ThisPromise in anticipation of @CaseyBreves and my anniversary - you guys are the BEST"
Sam and his husband Casey recently celebrated their six years of marriage anniversary. Following that, the couple also celebrated their first father's day together.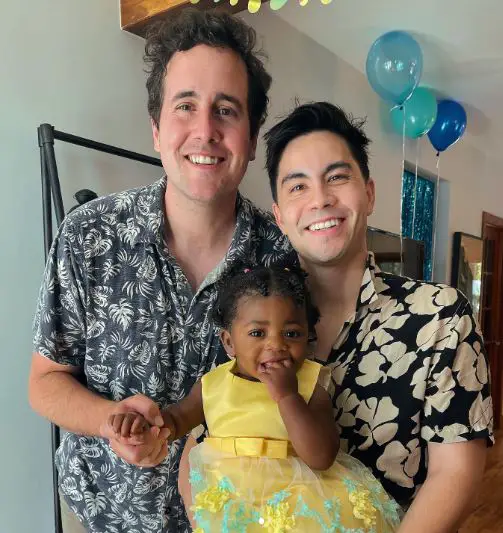 Sam and his husband celebrate their first father's day with their daughter. (Photo: Instagram)
After being together for a long time, the couple finally took a step forward and adopted an adorable baby girl. Looking at their pictures, they sure are the best dads and have a loving family. 
Congratulations, Sam and Casey. Love always triumphs.
More About Sam Tsui
Born on 2 May 1989, Sam grew up in Blue Bell, Pennsylvania. He was born with mixed ethnicity as he was the by-product of the union between a Chinese father and a European mother. He graduated from Yale University, where he majored in classical Greek. 
He was also The Duke's Men of Yale. In 2009, Tsui made his television debut with ABC World News, debuting his own YouTube channel in 2011. As of June 22, 2016, Tsui had reached 2.5 million subscribers on YouTube.
Other Gay Couple:- Fredrik Eklund & Husband, Perfect Gay Couple! First Vacation For Twins
According to Celebrity Net Worth, his net worth is estimated to be $1 million as one of the popular YouTube celebrities. Further, he released his album "Trust" in 2018, increasing his net worth value.
Stay tuned to get more updates on Sam Tsui.