Two-times super featherweight world champion, Gervonta Davis is an American boxer. Known as Floyd Mayweather's protege, the fighter won the IBF title and in 2018 went on to bag the WBA (Super) title.
Gervonta made his debut on the 22 February 2013 against Desi Williams and won the match in the first round with a knockout. By August 2014, the boxer had recorded eight wins with no losses. 
Ever since his debut, Gervonta has always brought his A-game to the ring. On the 20th February 2015, he became the first person to knockout stop Puerto Rico's Israel Suarez. Following suit, on the 22nd of May 2015, the boxer dimmed the lights off of Mexican fighter Alberto Mora, 1 minute & 14 seconds into the fight.
With the famous Floyd Money Mayweather as his mentor and promoter, Gervonta has stepped into the ring for 22 fights and won 21 of them with knocks and one by decision. His latest match was on the 27th of July 2019 against Ricardo Núñez at the Royal Farms Arena, Baltimore, Maryland, U.S.
Gervonta Davis' Wiki-Like-Bio
Like diamonds start as coals, Gervonta grew up in the violent streets of Baltimore before achieving a celebrity lifestyle. Losing his parents at a young age to drugs, the boxer and his brothers spent their childhood from one foster home to another. 
Heavy Weight Champion:- Deontay Wilder Girlfriend, Wife, Children, Family
As for the details on Gervonta's measurements, the boxer stands with a height of 5 feet 6 inches (1.67 m). In 2018, the 24-year-old super featherweight world champ got inked with a tattoo of zombie Michael Jackson from the music video of Thriller.
Girlfriend, Baby Mama & Children
The boxer is in a relationship with a young entrepreneur and model named Ariana Fletcher. Gervonta and Ariana began their relationship in February of 2019; however, the two knew each other for years before dating.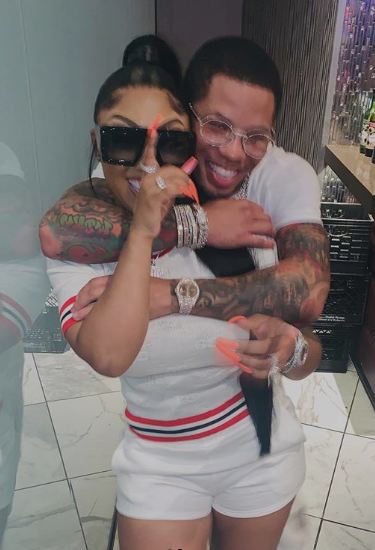 Gervonta Davis with his girlfriend, Ariana Fletcher on the 29th of July 2019 (Photo: Ariana Fletcher's Instagram)
Grown as a couple in a short period, Ariana has gone far enough to defend her man. On the 24th of February 2019, she tweeted;
"***** I've known him for 4 years, don't speak on me you clown *** *****. You wanna get yo ass knocked out? Go find somebody to love yo broke ***** ***."
Nevertheless, the affair with Ariana is not Gervonta's first time on the rodeo. He was previously in a relationship with Dretta Starr, who is also his baby mother. Many details on their romance are not known to the public. 
However, Gervonta did come out as a father. He is a father to a one-year-old daughter named Gervanni, who was born on 20 June 2018. Gervanni is under the custody of her mother, with visit provisions for Gervonta.
More On His Mentor:- Floyd Mayweather Could Be Divorced with Wife! More Than Once If He Was Married! 
Similarly, Ariana was also in a relationship before. She was linked with rapper G Herbo. And, also like Gervonta, Ariana has a child from her past relationship, a son named Yosohn.