Entertainment
Is Gibi ASMR Married? Her Husband, Real Name, School
The term "Autonomous Sensory Meridian Response" was coined in 2010. A relaxing, often sedative sensation throughout the whole body, ASMR videos gained popularity on YouTube since 2015.
Many of the videos were used to relax and put people to sleep, as well. Originally dependent on those videos, Gibi ASMR is a renowned member of the ASMRtist community since June of 2016.
Gibi now provides other the ease and relaxation she once received from ASMR videos. Through roleplays and softspoken videos, Gibi has garnered a fanbase of more than 2.3 million subscribers on YouTube and 268K on Instagram.
Is Gibi Married?
Gibi got married to her high school sweetheart Ben in August 2019.
Also Read About:- Is Mark Simone, The Savage Radio Host Married? Family, Salary & Facts
Photos of the duo's happy day were posted on their Instagram handles. Seen in the traditional black suit and beautiful white dress, Ben and Gibi shared the moment with fans and followers all around.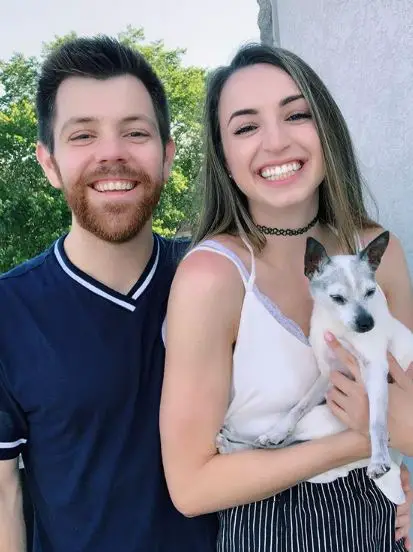 Gibi ASMR with husband Ben in 2019 (Photo: Gibi ASMR's Instagram)
Gibi didn't let any chance slip to express how happy and married she was. On Instagram, Twitter, YouTube, she let everyone know that she was taken by the nicest doodle.
How It All Happened?
The pair first met each other in 2013. Both students at Northwestern University in Evanston, Illinois, United States, Gibi was a late freshman while Ben was still a junior.
Gibi instantly fell for Ben due to his innocent face and athletic appearance but was nervous about approaching him initially.
At their first meet and greet at the Naf Naf restaurant, Gibi suffered from an allergic reaction to sesame. Showing concern for her, they began talking and quickly bonded. With a mutual passion for gaming, the duo became good friends but could not become anything more at that time.
Don't Miss:- KathleenLights Husband, Boyfriend, Net Worth
At the time, Gibi was in a relationship with a high school boyfriend who went off to college. Due to the boyfriend, she could not date Ben back then.
Eventually, Gibi seperated from her high school boyfriend, but Ben had already begun seeing other people. After having a heart to heart, the duo started dating each other in 2015.
A few years into the dating scene, in August 2018, Ben went down on one knee to ask her to marry her.
Turning the relationship from the status of boyfriend-girlfriend to a husband and wife, Ben and Gibi's exact wedding date, however, remains unknown.
Some Interesting Facts:
Gibi was born on 19 December 1994.
Her height is 5 feet 10 inches (1.78 m) and weight 60 kgs.
She also has a secondary YouTube channel dedicated to gaming and non-ASMR stuff.
Gibi didn't cut her hair for more than two years.
She attended a catholic school.
Her real name is Gibi Klein.