American actor Gil Birmingham is mostly renowned as Billy Black in the hit film series, The Twilight Saga. Till date, he has appeared in over eighty films and has worked alongside A-listers including Johnny Depp and Jeremy Renner. He also lent his voice for the critically well-received animated film, Rango (2011).
Apart from acting, Gil is also a highly trained guitarist/singer and has performed rock songs in several venues.
Is Gil Married?
Since the actor is mostly transparent about his personal life via his social media, he revealed in 2009 that he was unmarried at the time and had no children. He did have an actress girlfriend back in the '80s, who is also the reason behind Gil's successful career as she was the one to encourage him to take acting lessons.
However, as of today, its unknown if Gil managed to turn the girlfriend into his wife or whether the couple has separated. Fans will have to keep tight until the actor speaks on the matter.
Career Summary
In the '80s, Gil was offered a role in the music video of Diana Ross' song, Muscles. And, as the title suggests, viewers could see Gil flaunting his attractive physique and height of 6 feet and 1 inch (1.85 m) in the video. Afterward, he appeared in several TV shows and movies.
Importantly, due to his Native-American ancestry, the 65-year-old actor played many native American characters in movies such as Twilight (2008) and The Lone Ranger (2013). Similarly, in the 2017 drama Wind River, he played the role of a native American grieving the loss of his murdered daughter.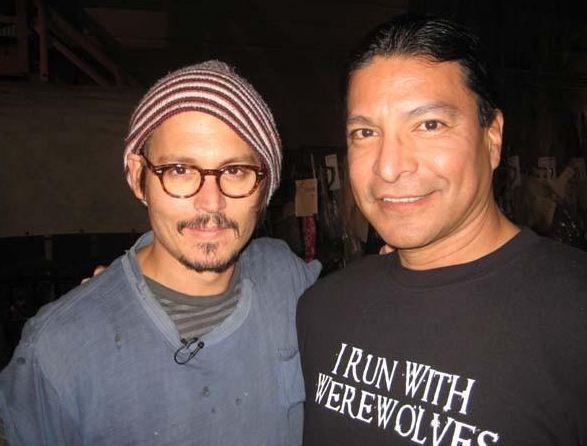 Gil Birmingham poses with actor Johnny Depp while filming film The Lone Ranger in 2013 (Photo: twilightpack.blogspot.com)
The actor also collaborated with Academy Award-winner Jeff Bridges in the movie, Hell or High Water (2016).
More on Gil's Co-Actor:-  Jeff Bridges Family: Wife Love Brings Back Faith In Love
As of now, he is slated to appear in the 2019 movie, Scalped. From his acting career, Gil has also amassed a net worth, which is estimated to be a few million. His income of more than $50,000 thousand has further helped him boost his net worth.
Bio: Family, Ethnicity, Age
Gil was born on 13th July 1953 in Texas, the USA in a military base. His father, a native American by ethnicity, comes from the Comanche ancestry; whereas, his mother is a non-native. Due to his father's work in the military, the actor was often left alone during his childhood years. Most of his lonely days were spent in the isolated Army bases and military schools.
About Native American Culture:- Things To Know About American Culture: Values, Culture & Examples | Details
Whenever he came close to mingling with the culture of a specific place, Gil had to move all of a sudden with his family to another town like a nomad due to his father's work.
Gil Birmingham Education
Although the Texas-born actor felt tremendous anger towards his father due to his abandonment, he never let his loneliness harm his upbringing and education.
He successfully obtained a Bachelors in Science from the University of Southern California and even worked as a petrochemical engineer. However, Gil also kept his passion for art alive by performing gigs with his band in several towns. Even though he didn't have plans to make a mark in Hollywood, luck and hard work led him to land a career in acting.