Entertainment
NBA's Gordon Hayward And Beautiful Wife Make Other Relationship Trivial; Romance Timeline
American basketball player Gordon Hayward, who is famously known for being the player for Boston Celtics, has an eye-pleasuring beautiful bond with his wife.
The pair together is parents to their two angel-like daughters, and the family of four are setting goals altogether.
From Where It All Started!
Gordon's relationship with his wife, Robyn Hayward is not much featured by media, but their social media has created transparency to their relationship. Both the pair have frequently been flaunting their relationship in their respective social media accounts.
The first ever together-clicked picture of the two was Instagrammed by Robyn back on 27 July 2013. She quoted Gordon as her best friend in the caption and hinted that the time was when they started falling for each other.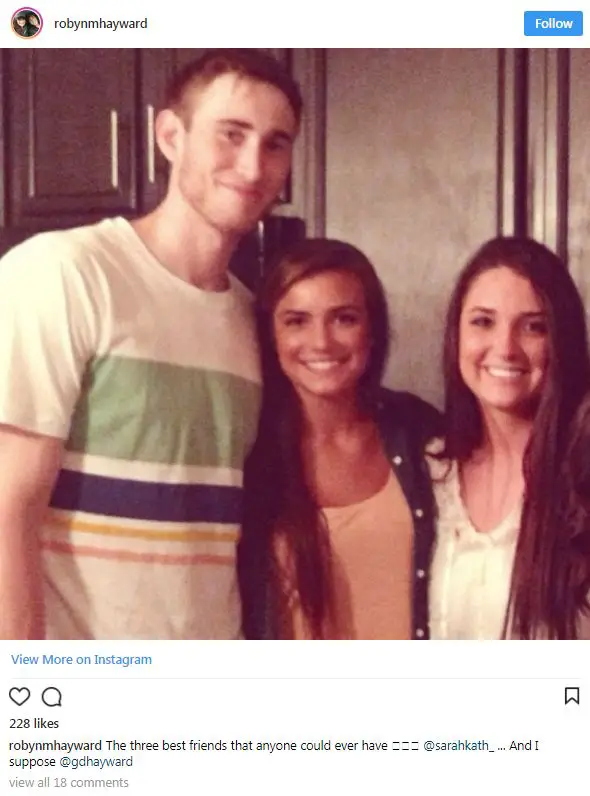 First ever publicized picture of Robyn and Gordon, Instagrammed in 2013 (Photo: Robyn Hayward's Instagram)
After a month, Robyn again shared a picture where she sat on Gordon's lap and via the caption quoted Gordon "Babe." The fog on their relationship cleared out when Gordon too started uploading pictures with Robyn and called her his girl.
The couple dated for at least five months of 2013 before getting engaged in 2013's Christmas Day. Robyn through her Instagram announced her engagement with Gordon on 25 December 2013. She posted a picture with her fiance and flaunted her shiny ring while captioning the photo as,
Soo happy I get to marry this babe .. Finally engaged to the love of my life @gdhayward
Gordon also shared the same image on his Instagram and confirmed the engagement writing,
Christmas to everyone out there! Hope it's a good one! Mine was especially good bc SHE SAID YES!!!! So thrilled I get to marry my best friend and such an amazing person @robynvanvliet! I love you!!!
After, five months of engagement, the duo tied the wedding knots on 24 May 2014, at St. Simon the Apostle Church in Indianapolis. Both the pair Instagrammed the wedding glimpses in their accounts and shared it with their followers.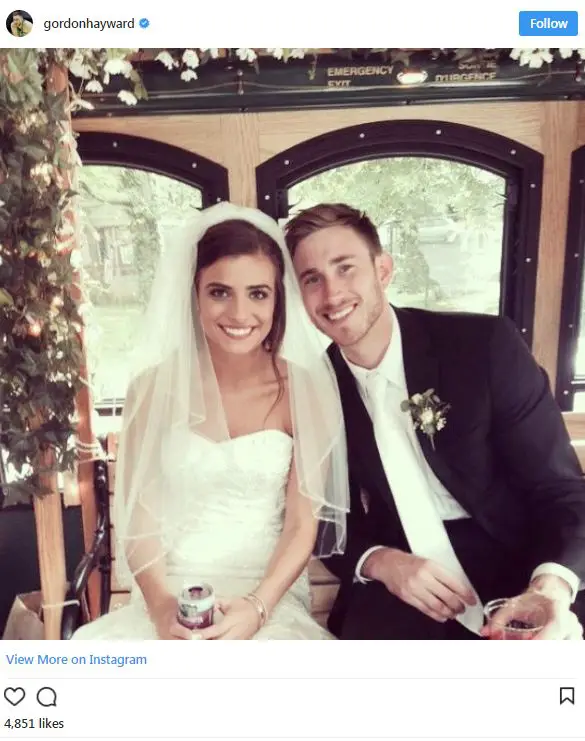 Gordon Hayward weds fiancee Robyn Van Vliet on 24 May 2014 (Photo: Gordon Hayward's Instagram)
And since then the marriage of the two appears to be indeed happily!
Two Changes To Four
The happy couple got into cloud nine when they found out that Robyn was pregnant with their first child in February 2015. Gordon announced the happy news via his blog that he shared on his Twitter on 3 February 2015.
In the blog, he exclaimed that his family team was having its significant addition and disclosed that they are expecting a baby girl. Robyn also shared the news by showcasing an ultrasound picture of her daughter and revealed that she wouldn't have to ask strangers their babies to play with anymore.
The lovebirds welcomed their first baby on 6 June 2015, and Robyn revealed their daughter's name via Instagram: They named her Bernadette "Bernie" Marie Hayward.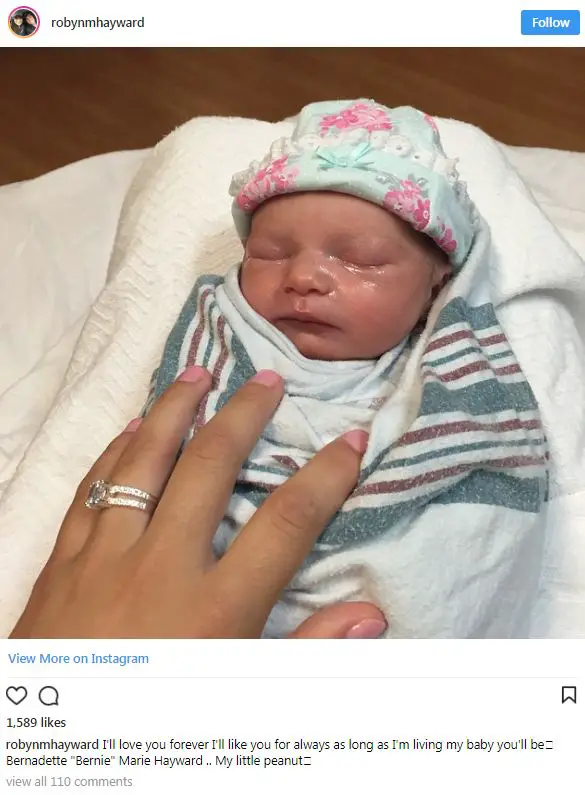 Gordon Hayward and wife Robyn Hayward welcomes first child, Bernie on 6 June 2015 (Photo: Robyn Hayward's Instagram)
When Bernie was around eight months old, Robyn surprised her followers by announcing her second, 20-weeks-old, pregnancy on 27 February 2016.
Gordon and Roby welcomed their second daughter, Charlotte "Charlie" Margaret on 11 July 2016. They even captured Bernie's reaction to her sister and Instagrammed it on 12 July 2016.
With the birth of their second child, Gordon, and Robyn's family has expanded to four, and they all look perfect together.
Family Too Adorable
Though Gordon is mostly out of his home for his games, he timely shares the pictures of his wife and his children in his accounts and writes how important they are for her.
The same goes for Robyn as well, as she is too shares her affection for her husband and daughters.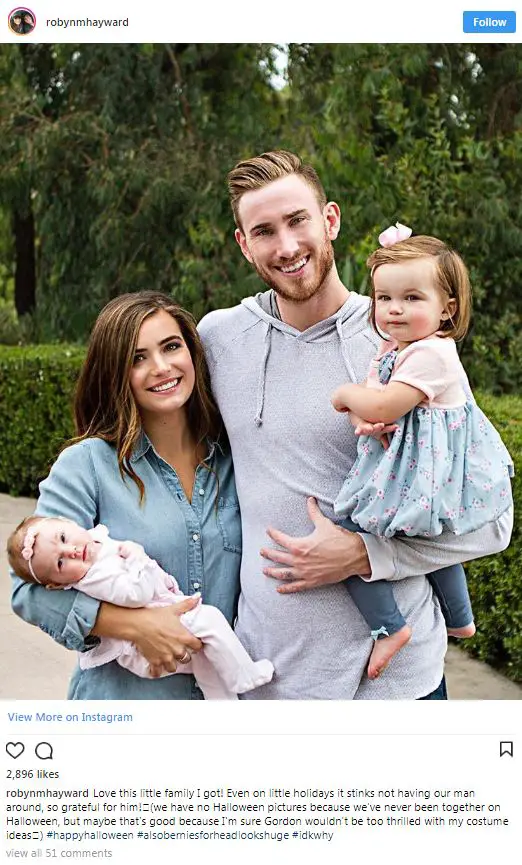 Gordon Hayward and wife Robyn Hayward in smiles while holding their daughters in November 2016 (Photo: Robyn Hayward's Instagram)
On November 2016. Robyn Instagrammed a family photo and via the caption stated that she loves her family. She even disclosed that it stinks when Gordon is not around them in holidays.
But when he is around, the family makes sure to spend quality times together. The family of four goes for a trip in woods and enjoys time around the beach. And when they share the pictures on their Instagram, it's impossible to compliment them cute.
As for the latest, Gordon posted a picture of his wife and daughter on 8 April 2018 and wished Robyn happy birthday through the caption.
Happy birthday to this amazing and one of a kind woman! She is such a good mom, wife, daughter, and friend! I am so blessed to have her in my life! Love you @robynmhayward!
With love and support for each other, Gordon and Robyn with their daughters are setting relationship goal, and its pleasuring to watch their family grow with love and affection for each other.