Entertainment
Grace Miguel Splits With Usher! Two Years Marriage Ends – What Went Wrong?
Another celebrity couple calls it a quit!
Grace Miguel, 48, splits with her R&B singer husband of two years, Usher Raymond,36, as per reports on 6 March 2018, Tuesday. The former couple announced their split in a joint statement to US Weekly.
"After much thought and consideration we have mutually decided to separate as a couple. We remain deeply connected, loving friends who will continue supporting each other through the next phases of our lives. The enormous amount of love and respect that we have for each other will only increase as we move forward."
The news of the separation surfaces amidst the multiple allegation and lawsuits which claim that several people have acquired herpes due to Usher. One of the accusers, Georgian woman, Laura Helm contended that while having unprotected sex with Usher, she transmitted the disease.
Meanwhile, a phone call came to light where Laura admitted to having safe sex with Usher only two days before she filed the case.
The lawsuit where Laura demanded $20 million was withdrawn, and Laura's new attorney filed the documents to dismiss the case without prejudice 'with intent to refile.' 
However, Usher has denied of having sex with any of the accusers via his legal team. Moreover, Grace slammed the reports of herpes claim back in November where she stated that they are "living their lives."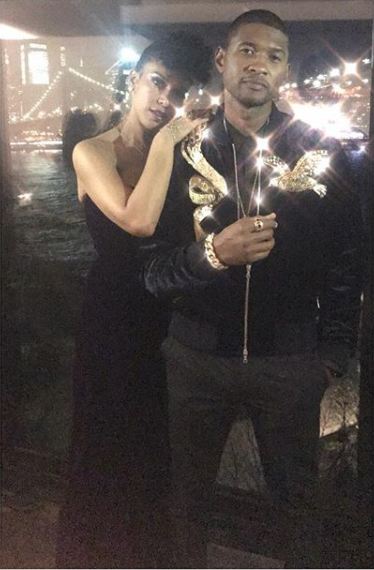 Over two years of married life comes to an end for Usher, Grace (Photo: Grace Miguel's Instagram)
Sources to US Weekly also claims that the pair has been separated for a couple of months now. Both Grace and Usher hinted towards their forthcoming split through social media.
R&B singer Usher hinted towards a change in his life through the caption of an Instagram post with a tattoo artist on February 28 as,
"new era // new ink ft. @_dr_woo_,"
Similarly, Usher shared a video getting a tattoo while listening to the song called God's Plan. On the other hand, Grace talked about the role of destiny in one's life through an Inspirational message via an Instagram story.
"Destiny is waiting for you, all you have to do is go get it." 
Although the pair has decided to part ways, they haven't mentioned about their divorce yet. TMZ claims that the twosome hasn't filed divorce papers yet, but it's only a matter of time. 
The pair heads for separation, but they have not cited the reason for their split; however, their followers are hopeful that they would open up on the matter in the days to come!
Grace and Usher started to date after Usher split from his first wife Tameka Foster in 2009. After six years of dating, Usher proposed Grace in January 2015 and the couple secretly exchanged vows in September 2015. The eloped duo went to Cuba for their honeymoon.
Usher fondly talked about Grace in an interview back in 2015 where he highlighted their mutual love for traveling. He expressed,
"One thing that has come from having a great partner like Grace is being able to cherish the places that I've gone. We see the monumental sites, go to the museums, eat in the best restaurants. I'm that guy now! In the past I'd do what I have to do and get on the bus to the next city. Life has become a vacation."
Similarly, he revealed that Grace has been his pillar of support and understood him well.
"She's someone who has been able to support and understand all of who I am. Not just as a dancer or as a performer or as a singer, but as a humanitarian and a businessman and as a person."
Although the duo was together for almost a decade, they do not share children together. However, Grace is a mother of two grown-up children a son Raiden and a daughter Leaf from her previous relationship. Not only Grace but Usher also shares two sons Usher Raymond V (10) and Naviyd Ely (9) with his former wife, Tameka.
After a day Grace and her singer husband split, Grace's husband was flinging the romantic air with the beautiful Afro-Latina singer, Amara La Negra. The item was spotted together and also was pictured together in Usher's car.
Similarly, after months of a split, Grace's 40-year-old Yeah! singer husband officially filed for the divorce in Georgia on 28 December 2018. The court document seems to be the declaration for many Usher's followers, who were waiting for him to reunite with his wife, that they can't be together again!
Stay with us for the emerging updates on the developing story!