Entertainment
Grace Miguel Wiki: Her Bio, Age, Husband, and Facts About the Wife of Famous Singer
Grace Miguel Wiki: Her Bio, Age, Husband, and Facts About the Wife of Famous Singer When a celebrity is linked with someone, then celeb's partner willingly or unwillingly get into the headlines and all. Same is the case of Grace Miguel, who is more popularly known as the wife of singer Usher. We have been very much familiar of the two, but do you know who Grace Miguel is? Today, we come to you with some facts about Grace in a wiki-like bio!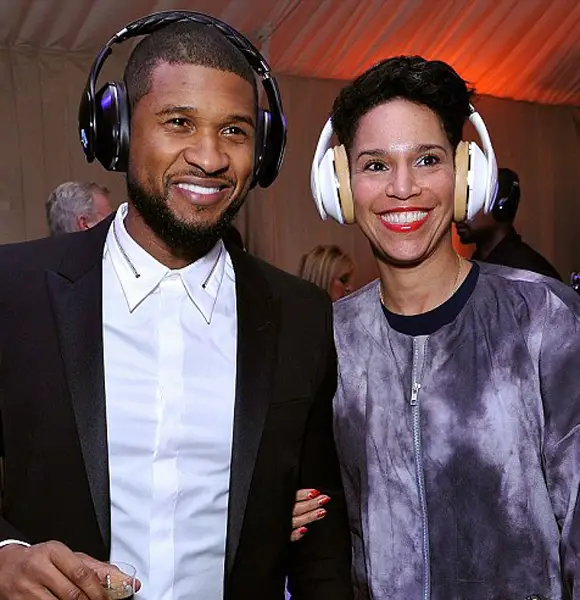 When a celebrity is linked with someone, then celeb's partner willingly or unwillingly get into the headlines and all. Same is the case of Grace Miguel, who is more popularly known as the ex-wife of singer Usher.
We have been very much familiar with the latter, but do you know who Grace Miguel is?
Let's delve into Grace's wikis to learn about the music executive's age, daughter, birthday and relationship with ex-husband!
Grace Miguel's Wiki-Like Bio Including Age, Daughter & Birthday
Grace Miguel is one hell of a woman, who has been of great support to her ex-husband, R&B singer Usher. The OMG singer, who was previously married to Tameka Foster time and again, doesn't hold back when praising about his second ex-wife, Grace.
Usher shares two sons with Tameka; Usher "Cinco" Raymond V (born in November 2007) and Naviyd Ely Raymond (born in December 2008)
Read Also:- Miranda May and Her Lowkey Weight Loss is Inspiration! Has Dating Affair Or A Boyfriend in 2017?
Usher and Grace haven't been so vocal about their relationship about making it officially official, but the speculations have been made from 2009, after the Brooklyn native joined her ex-husband while traveling to the Republic Dominic in September 2009.
The former couple does know how to keep their personal life behind the curtains. Both of them didn't think it necessary to share their relationship back in the past, but media is very sharp when it comes to scrutinizing.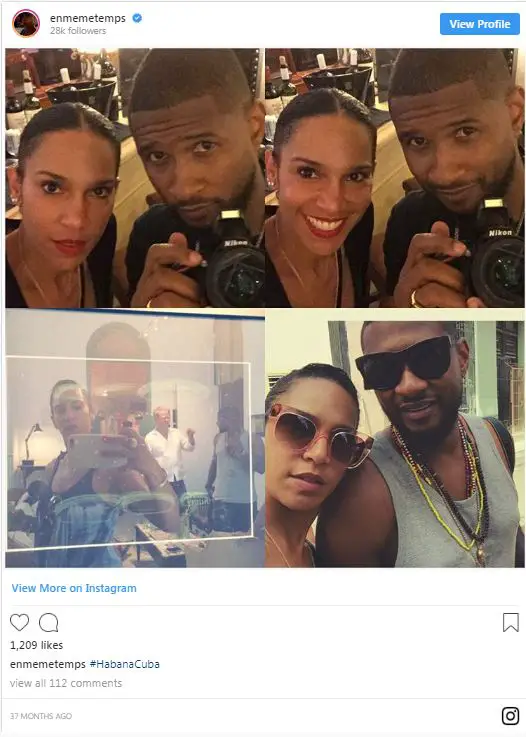 Grace and her then-husband vacationing in Havana, Cuba (Grace Miguel's Instagram)
Sources revealed that the former duo got married; The Fulton County Courts confirmed the news of their marriage that took place in early 2015.
Usher later openly talked about his marriage that happened in Cuba, while making his appearance on The Ellen Show in December 2015.
Before Grace's marriage with Usher, she was previously married, and from the particular relationship, the businesswoman, who celebrates her birthday on April 3, has two teenage children, son Raiden, and daughter Leaf Miguel, who is also involved in the industry. Grace is a proud mother of both her children.
Discover:- What Dating Lilly Singh Looks Like; Be Her Boyfriend Or Run The Other Way
The former caterer, who was also an executive chef of "The Cosby Show," is a board member of the Usher's Philanthropy "Usher's New Look." More than that, she also managed Usher, regarding which the singer said,
"I have an incredible partner and manager. She has helped me through some of the hardest times in my life and my career. She's someone who's been able to support and understand all of who I am. Not just as a dancer or as a performer or as a singer, but as a humanitarian and a business man and as a person."
Just as much Grace inspires her ex-husband, Usher used to do the same, and as evidence to that she shared a picture on the occasion of Father's day and wrote,
"When we honestly ask ourselves which person in our lives means the most to us we often find it is those who, instead of giving advice, solutions or cures, have chosen rather to share our pain and touch our wounds with a warm and tender hand."
The Philanthropist, who was born as Michelle Grace Harry, is in her mid-40s and has embraced the two kids of the singer; same goes to Usher, as he is also pictured with children of Grace's ex-husband.
Grace Files For Divorce Amidst Accusation Of Spreading Herpes Against Ex-husband
Following two years of blissful marriage, the former pair called it quits in March of 2018 after multiple women and a man came forward with lawsuits accusing Grace's then-husband, Usher of transmitting herpes -- a claim which Usher's camp has denied vehemently.
The news of the former husband and wife's divorce came almost a year after TMZ leaked the documents that showed that Usher had settled a civil suit of more than a million dollars with his alleged victim.
You May Also Like:- Pam Oliver Bio Unravels: Family Issue, Supportive Husband | Explicit Details
Despite the revelation, Grace stuck by her husband and even celebrated the 2018 New Year's Eve together playing indoor golfs.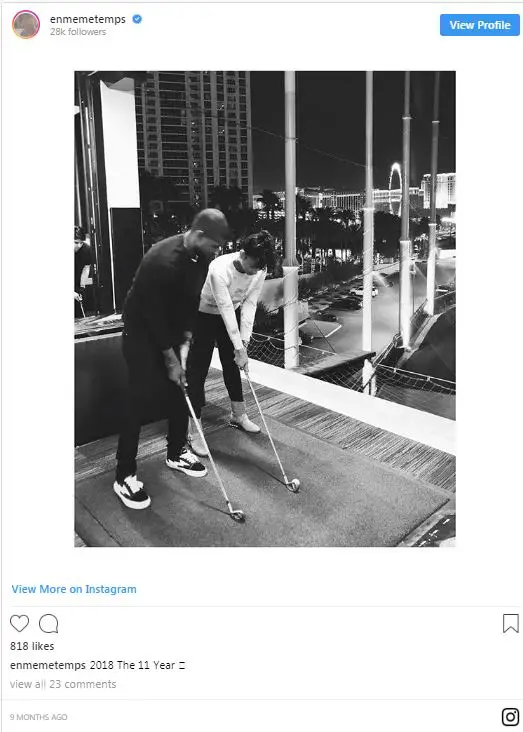 Grace and her ex-husband Usher mark the New Year's Eve by playing indoor golf (Photo:- Grace Miguel's Instagram)
In the end, the stress of lawsuit and public on-slaught against her ex-husband's notoriety proved too much to handle. Grace and her ex-husband broke the news of their separation in March 2018 via a joint statement which read:
"After much thought and consideration, we have mutually decided to separate as a couple."       
Further, in the statement, the former item asserted that they would remain good friends. But just a day had passed since the split news had aired on the media, Grace's husband was flinging the romantic air with the beautiful Afro-Latina singer, Amara La Negra. The item was spotted together and also was pictured together in Usher's car.
Similarly, after months of a split, Grace's 40-year-old singer husband officially filed for the divorce in Georgia on 28 December 2018. The court document is the declaration for many Usher's followers, who were waiting for him to reunite with his wife, that they can't be together again!