Entertainment
Greyson Chance Dating Status Now; Proud Gay Singer Boyfriend At Age 21
Greyson, who gained a lot of attention through covering Lady Gaga's Paparazzi, has now come out as openly gay even though he discovered his sexuality long before...Leaves fans with minimal boyfriend hints...Dating life, family, net worth, and more...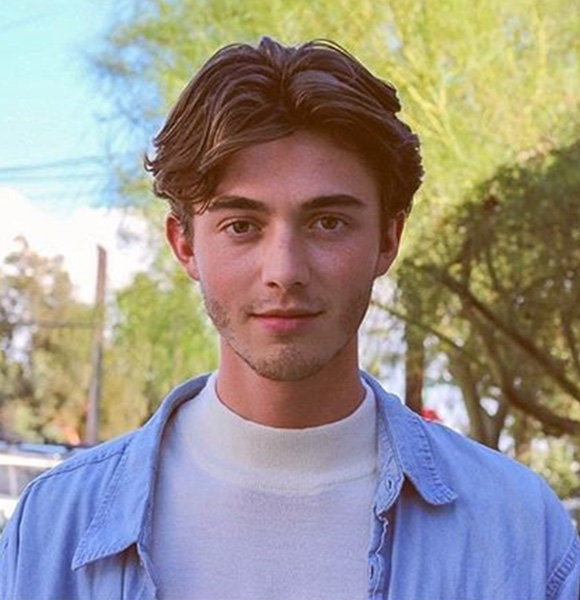 Gaining a huge landmark as the youngest singer to rock the social media at the age of 12, Greyson Chance has become a sensation in the music industry.
The kid, who gained a lot of attention through covering Lady Gaga's Paparazzi, has now gotten a bigger spotlight for coming out as gay at the age of 20. Proud and happy, he stands as an openly gay man with a hope to introduce more of his grippy melodies to the world.
From family to singing career, he has a lot more to tell! 
"Gay When I Was Sixteen"; Leaves With Minimal Boyfriend Hints!
A young twelve-year-old Greyson, who had gotten his elementary music fest performance, uploaded a video online on 28 April 2010. 
With his smooth piano skills and a captivating voice covering Lady Gaga's Paparazzi, he garnered around 63M views on Youtube, making him a young celeb overnight!
Being the first artist to be signed with Ellen Degeneres' new "Eleveneleven" record label after being discovered on the video uploading site, the young singer has been living life as a hit musician ever since he surpassed the turning phase in his life.
Greyson Chance with Ellen DeGeneres then and now (Photo: Celebrity.nine.com)
Eight years down the line, with several new hit singles and albums introduced to the world, the artist revealed bigger news about himself recently.
Don't Miss Ellen DeGeneres's Story: A Throw Back! Ellen DeGeneres Came Out As Gay Long in the Past; Know Her View On Turning Girlfriend Into Wife
After realizing his sexuality as a gay man at the age of 16, he finally came out of the closet at the age 20 in July 2017. Through his emotional Instagram post he wrote to the public:
"The decision to write this came after I received a message from a brave individual. Such message inspired me to shed light on an aspect of my private life which I have kept distant from my career in music."
Alongside an image of a rainbow flag he further explained his sexuality writing:
"I came to fully recognize that I was gay when I was sixteen. I decided not to publicize my sexuality largely due to a matter of privacy, as I was still trying to find comfort and confidence within my own skin. Further, I always found conversations regarding music, politics, art, books – and the greatness of Nas' catalog – to be far more interesting than what type of guy I was into. This is still true today."
Being one of the youngest musical stars, the "Waiting Outside The Lines" singer through his post encouraged everyone to discover who they really are and feel proud about it. He further added to the post writing:
"While this message is most definitely overdue, I encourage anyone who is navigating their sexuality to devote as much time as they need to the process of finding self-confidence, self-acceptance, and self-love,"
Nevertheless, the 21-year-old has been wearing his true sexual identity under his sleeves and takes pride in who he is ever since he came out.
With a huge fan base all over the world, the "Unfriend You" hitmaker has been leaving his fans with untamable curiosity about guessing who he might be dating currently. With no meager hints left aside about his potential boyfriend, the artist has been reported to be single for now.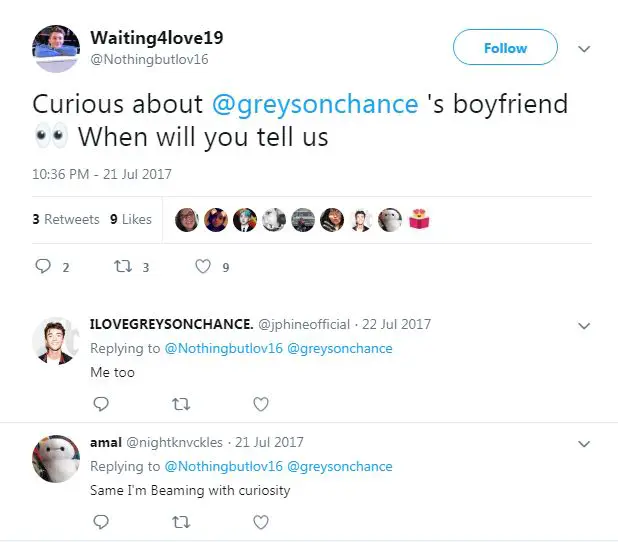 Greyson Chance's fans questioning who his boyfriend is? (Photo: Waiting4love19's Twitter)
Walking down the gay road, Greyson might just break the news sooner about his boyfriend after finding the one for himself.
Similar Story: Proud Gay Kevin Abstract Dating Bliss - Boyfriend With Sharpest Jawline
Short Bio: Family, Age, Net Worth!
Greyson Chance is a 21-year old singer who had started his musical endeavor at the age of 8. Playing piano and singing songs of fellow artists, he became a Youtube sensation at the age of twelve.
Further Read: Prison Break Actor Wentworth Miller, Gay Man Secretly Married Partner?
Born to a family in Oklahoma, Greyson developed a successful career in music along with the support of his parents: Scott and Lisa Chance, along with his older sister Alexa and brother Tanner.
Winning stardom with the help of Ellen Degeneres, the "Back on the wall" singer has till date earned himself a total net worth of 2.4 Million. He has a huge fan base in the west as well as in Asia. His success has been seen to reach a great height.
The Texas-born stands 6 feet tall and proudly identifies himself as gay after coming out in July 2017. He has been keeping his private life low key and hasn't reported about his boyfriend or his relationship status publicly.