Hailee Steinfeld is a...talented and rising... just the age of...career has only just begun...with boyfriend...they dated for a...the reason for their...only rumors have been spread...was born on...lady attended the...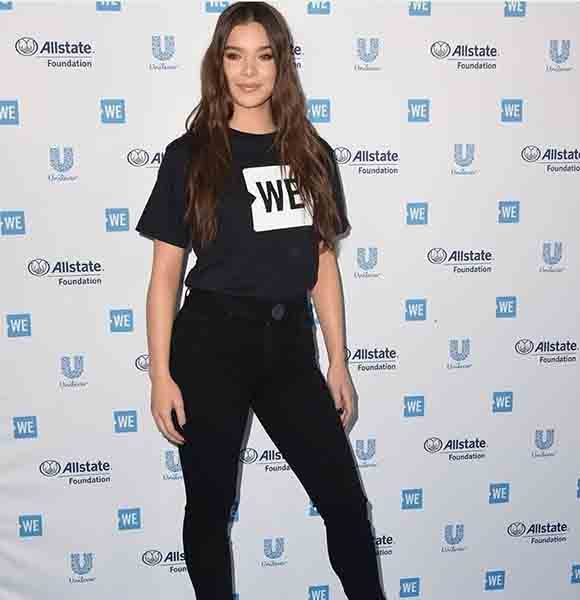 Acting and singing her way into the entertainment industry, Hailee Steinfeld is a name that only a few would not recognize.
A talented and rising artist, she made headlines when she portrayed the character of Mattie Ross in the movie, True Grit. Aged 13 at the time, she received adoration from audiences and critics alike.
Her performance received many awards, nominations, and showed her true potential. With hit movies like Bumblebee, Pitch Perfect 2 &3, Spiderman: Into the Spider-verse into the mix, she is a significant figure in Hollywood.
Not backing down even for a single instant, she is now a top-level artist and actress in Hollywood. At the mere age of 22, Hailee's career has prospered as she has acted alongside famous stars like Anna Kendrick, John Cena, Dylan O'Brien, Rebel Wilson, and many others already. 
She released her debut album Haiz in November 2015. After which she has charmed the entire world with her hit songs like Most Girls, Back to Life, Love Myself, Let Me Go, Staving, among others. Hailee has also grabbed double-platinum hits in Australia, and Triple Platinum hits in Canada through her singing career.
Relationship History, Boyfriends
Hailee started dating Instagram personality Cameron Smoller back in 2016. The couple dated for more than a year but eventually separated in November 2017.
After her split with boyfriend Cameron, she was seen with none other than Niall Horan from the boy band, One Direction. Before there were only speculations regarding their relationship, but it was soon confirmed they were dating.
Hailee's Rumored Boyfriend:- Who is Charlie Puth's Current Girlfriend? Is He Dating With Hailee Steinfeld?
The pair reportedly commenced their relationship in January 2018 and were frequently seen roaming around the streets holding hands and kissing each other. However, their romance soon crumbled down. Hailee's busy career in 2018 was the reason for their split.
As for now, it looks like she is back with one of her previous love interest, Cameron Smoller. With pictures of Hailee and Cameron circulating all over the internet, rumors have spread that the two are back together.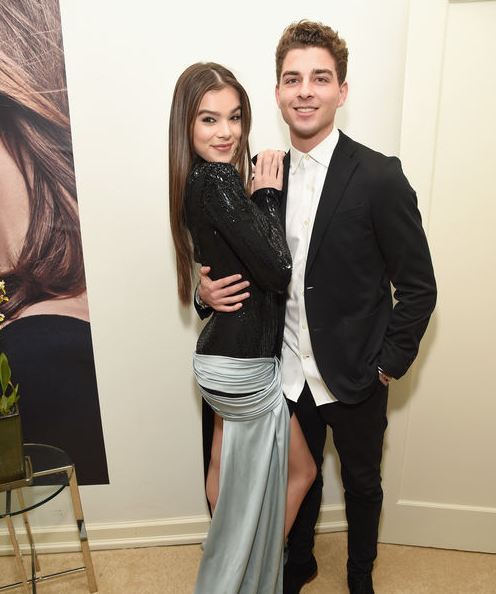 Hailee Steinfeld with boyfriend Cameron Smoller back in 2016 (Photo: extratv.com)
Till date there are no confirmed news, only the fact that they visited one of Billie Eilish Concerts together has surfaced. It's uncertain if Hailee is back with Cameron. So, until Hailee comes forward to address the topic, fans are only left to speculate.
Early Childhood, Parents
Hailee was born on 11 December 1996 in Los Angeles, California. She was raised by parents: Peter Steinfeld and Cheri Steinfeld, alongside her brother Griffin. Her dad is a Jewish personal fitness trainer, while her mom is an interior designer - who comes from a Filipino background. Her brother Griffin is also quite famous as he is a NASCAR driver.
Also A NASCAR Driver:- Ryan Blaney Net Worth Revealed, Who Is Girlfriend - Dating?
She spent her early years in Agoura Hills and then in Thousand Oaks, California. The beautiful lady attended the Conejo Elementary, Ascension Lutheran School, and Colina Middle School. However, since 2008, she was homeschooled due to some bullying incidents and her rising interest in acting.