Entertainment
Harry Enten Age 30 Wiki: CNN Journalist Personal Life That's On Twitter
Considering how much the world has transformed into a data-centric eco chamber in just matter of a decade, it shouldn't come as a surprise that CNN's very own Harry Enten is just as popular as the network's biggest names.
A specialist in data-driven journalism, Harry initially gained traction working for FiveThirtyEight -- a feat that's heavily reflected on his massive Twitter following. For the New York native, Twitter not only acts as an outlet to promote his works at his new job but also a medium to shed light on his personal life.
Here's a compilation of wikis on Harry including his age, parents, education, and height!
Harry Enten's Wiki Reveals Age, Parents, Education & Height
Just like Harry's approach to journalism, there is nothing traditional about his meteoric rise as one of the most sought-after journalists in America.
Read Also:- Noelle Watters Age 42 Wiki: Nasty Divorce With Jesse, Net Worth & Facts
After completing his college education Phi Beta Kappa, Summa Cum Laude from Dartmouth College in Government in 2011, the CNN analyst - who stands 6 foot 2 inches tall - crashed at his Jewish parents' couch in the Bronx, covering the then-Republican primary race.
It's interesting to know that despite 60 years age gap between him and his father, they remained best of friends until the latter passed away in 2015.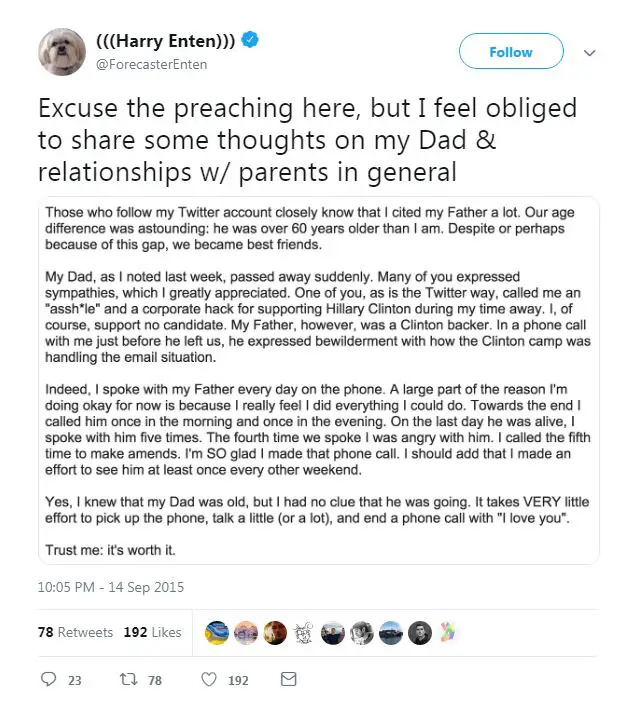 Harry pens a homage to his father (Photo:- Harry Enten's Twitter)
Recognizing Harry's talents, The Guardian eventually hired him following a brief stint as a freelance for the same. His groundbreaking work - often contrarian - led execs at FiveThirtyEight to seek his services.
Discover:- Slim Jesus Dead Or Alive Dilemma; Rapper's Real Name & Actual Net Worth
At the said publication, Harry, age 30, became an instant hit among his workers, which earned him the nickname FiveThirtyEight's "Wiz Kid." Neil Paine, his former co-worker, once said:-
"I'd never in my life met a real person who is like this, talked like this, behaved like this, sounded like this. I did not know that this type of person existed in real life."
Following his successful stint at FiveThirtyEight, he left for CNN in pursuit of new challenges.
Twitter Shabby Harry Enten Lands New Job In CNN
With more than 130k following to his name, it seems fitting that Harry would take to Twitter to break the news of his new job at CNN.
From Same News Network:- Abby Phillip Bio: From Mystery Age To Intimate Wedding With Husband
The 30-year-old took over the helm of the CNN Politics wing as its newest senior writer and analyst. The timing of Harry's hiring meant that CNN had the upper hand over their competitions on the then-upcoming 2018 General Elections.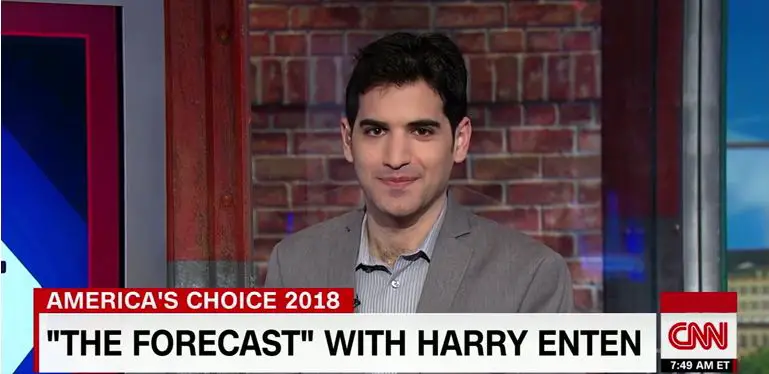 CNN announces The Forecast with Harry Enten (Photo:- edition.cnn.com)
The manner at which the Dartmouth College Alum shared his move to CNN is no less astounding. Replying to his earlier tweet about a snap of a dog that his girlfriend had sent him, The Forecast with Harry Etten host nonchalantly tweeted:-
"Oh and I'm moving to CNN to do some writing and appear on some tv as an analyst/writer. So that also happened this morning."
When Harry isn't too busy crunching poll numbers and following electoral trends for his newest employee, he'll provide fans an insight into his personal life via Twitter.