Entertainment
Meet Harry Treadaway's Girlfriend Cum Partner! She's Answering Gay Rumors
English actor, Harry Treadaway has the look-alike similarity with his brother Luke Treadaway, often mistaken between two but, his acting talents have the unique chart running.
But thanks to his well-known role of Victor Frankenstein on the horror-drama series Penny Dreadful, he derived both fame and gay rumors along. The gay rumors were only silenced after the news of his romance with a fellow British actress surfaced the media.
Well, it has been reported that the pair has been sharing the love for a long time now despite their efforts to keep their relationship a secret.
On-screen Gay Role; Rise To Gay Rumors
The Truckers star, Harry Treadaway has made a mark for himself in the world of entertainment. While doing so, he has been featured in various characters doing several roles.
In the process, he also has been linked with gay rumors as he portrayed as a gay character in one of his acts. Back in 2011, while his career was taking turns, Harry appeared a Duncan Pearce which happened to be a gay character in the television movie The Night Watch.
The movie swirled around a beautiful story about the pains that come when people deal with what they actually are and what they actually feel. Harry made an excellent appearance in the movie as the gay character which gave rise to his gay rumors.
Read Also: Reeve Carney Stylishly Dating His Actress Girlfriend; Has Any Thoughts On Getting Married?
His fans and followers speculated him of being gay even in the real life but those speculations were cleared off right after the news of his romance with his girlfriend swirled around in the media.
His partner was sure able to answer the gay rumors as her existence dodge off all the tittle-tattles.
Girlfriend Answers Gay Rumors,
Night Out With Someone Else
Well, Harry's partner-in-crime slammed the door on the gay rumors with the romance they shared. But it seems that the pair prefers keeping their romance off the radar for their followers as well as the media.
It has been reported that Harry has been romantically involved with a fellow British actress Holliday Grainger. The couple started starting back in January 2015.
Even though their relationship is confirmed the pair has not made any official statement of the love that they shared. They even remain utterly silent in their social media.
Turns out Holliday prefer keeping everything relating her personal life to minimal knowledge for her fans. She would rather remain silent on the topic than flaunt her beau like some celebrities.
But once back in 2015, she couldn't help but reveal the quality time she spends with her boyfriend back in an interview with Evening Standard. Holliday, when asked about her "biggest extravagance", replied saying,
"Spa weekends with my boyfriend Harry Treadaway."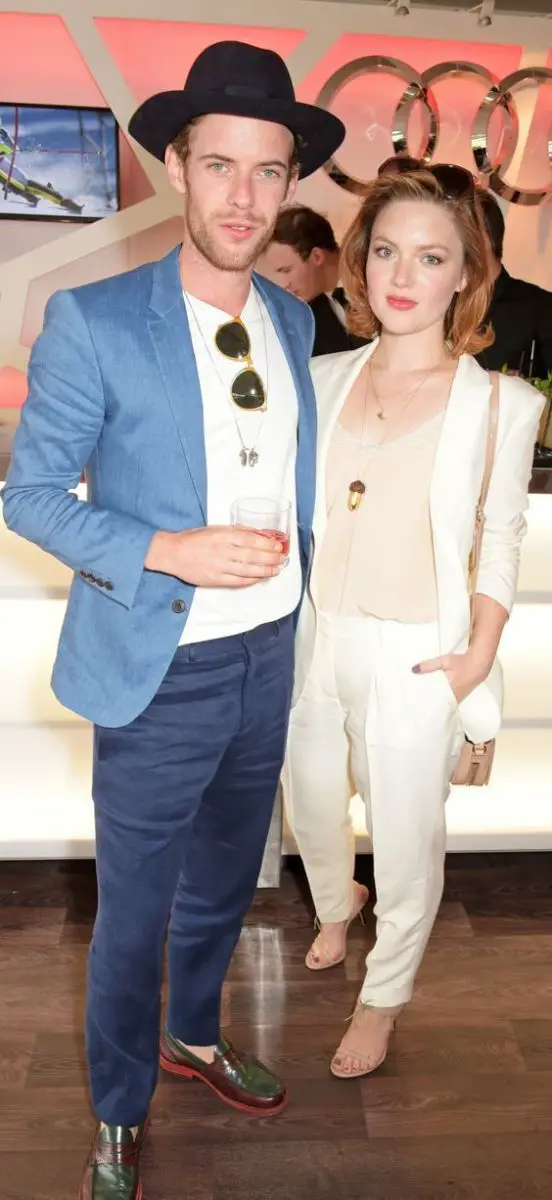 Harry Treadaway with girlfriend Holliday Grainger at the Polo Challenge at Coworth Park, Ascot. (Photo: pinterest.com)
Well, Harry's girlfriend is one of kind as she doesn't like the spotlight and the social media but she loves acting and prefers keeping things she loves close to her heart.
You May Also Like:- Gay Singer Calum Scott Long Battle With Sexuality Is Over As He's Looking For Boyfriend
However, despite their low-keyness, Harry and Holliday previously attended the SS16 Burberry show back in 2016 which one the only time their appearance was covered by the media.
Prior to being involved with Holliday, Harry was said to be in a relationship with Polly Stenham back in June 2014 but there have not been any details relating to their relationship.
While Harry and Holliday hardly make an appearance together, Harry was recently spotted sharing giggles with Helena Bonham Carter recognized for her role as Bellatrix Lestrange in the Harry Potter and the Escape from Gringotts.
Recently in September 2018, Harry and Helena were spotted sharing some quality time at Holly Bush pub in Hampstead, North London. The pair had all smiles as they headed towards the trendy club.
Discover: Why Rupert Grint Is Struggling With Dating, Girlfriend & Career; Where Now?
Turns out Harry and Helena previously shared a screen together. They appeared together in the Lone Ranger back in 2013 where they crossed path for the first time. Since then, the duo has remained great pals.