Entertainment
Founder Of TMZ, Harvey Levin Married? All About His Partners And Career
Many male journalists have come out as gay men from the past years, like Don Lemon and Anderson Cooper, who is one of the big names in the journalism field. So like that, we have someone here today who, as many people say, is a gay man and that somebody is none other than Harvey Levin.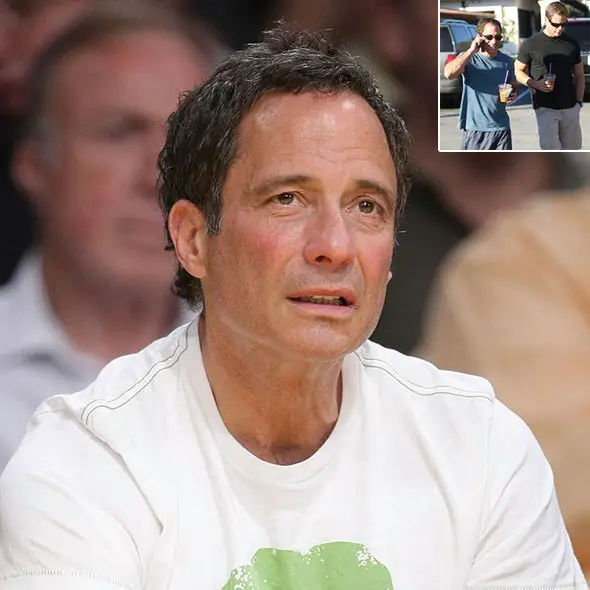 Quick Information
Dating/Affair

Andy Mauer

Eye Color

Brown

Hair Color

Black

Hair

Short

Weight

N/A

Height/ How Tall? 5' 7" (1.7 m)
College

University of California, University of Chicago

High School

Cleveland High School

Career

1975-present

Nominees

Outstanding Entertainment News Program, Daytime Emmy (2016)

Awards

Outstanding Legal/Courtroom Program, Daytime Emmy (2015)

Net Worth

$15 Million (Estimated)

Date of Birth Sep 02, 1950
Gay

Yes

Boyfriend

Andy Mauer

Divorce/Split

Not Yet

Relationship Status

Dating

Children/Kids

Not Yet

Ethnicity/Race

Ashkenazi Jewish

Zodiac Sign

Virgo

Birth Name

Harvey Robert Levin

Profession

Television Producer, Lawyer

Nationality

American
Harvey Robert Levin, the founder of one of the top celebrity news website- TMZ, gained significant press attention back in 2010 when he came out as gay. After his revelation, fans are more curious about who the mogul is dating.
Is Harvey Levin Married? 
It is quite ironic to see how a trend started by Levin has grown up to be something so big that he himself cannot control it. 
Starting a company such as TMZ that covers every little detail about celebrity life has only made people look into Levin's life more closely and uncover even the littlest details of his life. 
The 70-year-old is in a two-decade-long relationship with Andrew Mauer, a former chiropractor but now works along with his beau, Levin.
The concept that he created once only made him more vulnerable to the public, and it went on to recoil to the founder himself as his personal details with Mauer were released in 2008. 
It was revealed that Levin was in a relationship with his doctor boyfriend, Andy, who ran Mauer Chiropractic Clinic in Beverly Hills at the time. 
While this revelation shocked many, it was equally thrilling for everyone. Finally, someone who started a gossip business for celebs had his own personal life revealed amongst everyone.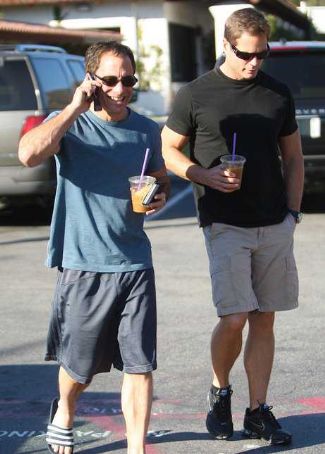 Henry Levin (Left) With His Boyfriend, Andrew Mauer (Right) Walking Down The Road (Source- LiveRampUp)
The whole news was a media frenzy, and it was only more interesting for the people to want to see what the founder of TMZ had to say about his own personal life. 
However, Levin never gave an official response to the 'rumors.' The gay rumors followed Levin everywhere he went, and he was questioned about his sexuality all the time. 
Finally, all fog was cleared when he openly came out in 2010 while talking at an event for National Lesbian and Gay Journalists Association. During the event, he revealed how he was terrified to openly accept his sexuality because he was scared of the judgments he had to face. 
Well, for someone who used to break the news about the world, Levin sure knew how fast news spread and what shift it can make to one's life. 
Adding onto his speech, he said, 
I compartmentalized my life. Obviously, friends knew I was gay but professionally I had to shut it out. And I believe, at the time, there was good cause for thinking I'd get fired. It got to a point where I was agoraphobic. My biggest joy was just never having to leave my house.
Thankfully, things didn't turn out as ugly as Levin thought they would be. Although with some trolls and judgments, he quickly proved to be influential for many.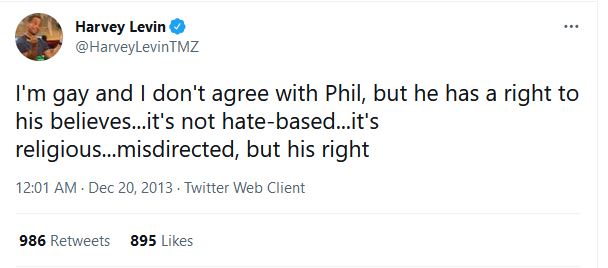 Harvey Levin's tweet advocating for gay rights (Source- Twitter)
The 70-year-old has not stopped since. He, alongside his longtime boyfriend, supports the Los Angeles LGBT Center. 
Despite uncovering all the celebrity gossip, the thought of his personal life being uncovered traumatized Harvey, but aside from all the shortcomings, he harnessed all the positivity and began being an active voice for the community's people. 
He now, alongside his husband, enjoys a lavish life with good fortune. He and his partner work together in TMZ, where Mauer is the director of talent acquisition for the last 5 years.
However, Levin has not been married to Mauer, and neither do the two have any children of their own.
The two have kept their private matters to themselves all too well, and considering the background of Levin, he sure does know how to hide information.
How It All Started; Net Worth And Career
The 70-year-old is famously known as the founder of TMZ, but it is less known that he has been in the media business for a long time now, precisely for almost four decades. 
He initially started as an attorney in 1975 and transitioned to being a teacher at the University of Miami School of Law. Being a Political science student, Levin had a sharp eye for matters surrounding gossips and affairs. 
His talent to obtain information and expound arguments made him famous amongst the public around 1978. With the newborn fame, he got a job as a columnist for the Los Angeles Times and worked there for seven years. 
However, his transition to the gossip industry happened when he created Celebrity Justice from 2002 to 2005 and launched TMZ with Telepictures productions. 
And to say the least, the former lawyer didn't have to go back to his previous life.
Despite having quite a few ventures that he manages, being a pioneer gossip mogul has led him to amass a net worth of around 20 million dollars.