Entertainment
Hayley McQueen Might Just Get Married To Her Boyfriend; Their Relationship Is That Perfect!
Sky Sports star, Hayley McQueen, who is also the daughter of former Leeds United, Manchester United and Scotland footballer, Gordon McQueen is lucky in love! Her dating affair with her boyfriend-turned-fiance seems so perfect and downright that their wedding announcement might come sooner than expected.
As so often it happens with whirlwind love affairs, the fans can't help but get hype about the romance they share and are willing to know if there reside any chances of them escalating their relationship shortly.
Dating Affair With Boyfriend-Turned-Fiance
Hayley McQueen is a blessed woman with a perfect boyfriend-turned-fiance Kirk Newmann. Before the engagement, she had been dating Kirk for two and a half years. The engaged duo first met in November of 2015.
Since their union in 2015, the lovebirds are continuously grabbing colossal media attention, as their romance is capable of making anyone awestruck!
Daughter Of A Footballer:- Inside Thylane Blondeau Modeling Career Now & Detailed Info Of Parents
In 2016, Hayley's husband hopeful Kirk took over his Instagram to wish her on the occasion of their first anniversary of getting together. He even called her his best friend and family!
While still dating, they even make several public appearances together, and their smile spoke of their relationship a lot.
Pregnant A Year After Getting Engaged
In May 2018, while on a trip to Scotland, her then-boyfriend Kirk popped the big question. Hayley couldn't help but reply with a resounding yes.
Following their engagement, the engaged-to-be married duo took to their respective Instagram to share the exuberant news. Talking about the proposal, the beautiful sportscaster wrote:-
"A proposal on the secluded beach having spent the day roaming the countryside and exploring castles feeling like a princess."
More good news followed. Barely a year after getting engaged, Hayley and her husband-to-be Kirk got blessed with a baby. No one was as surprised with the development than her.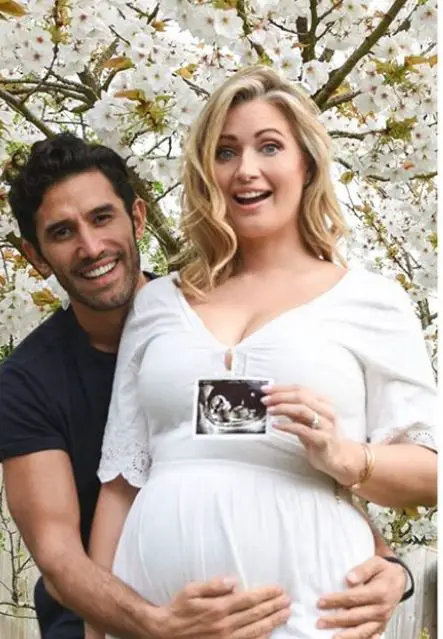 Pregnant Hayley McQueen holds a sonogram as her fiance Kirk hugs her from behind circa April 2019 (Photo:- Hayley McQueen's Instagram)
Per her April 2019 Instagram post, she battled with infertility amid issues with endometriosis. Before being pregnant, the Sky Sports News personality and her fiance Kirk even contemplated IVF to conceive.
Celeb Who Fought Infertility:- Vienna Girardi Reveals Miscarriage of Twins With Husband-To-Be! Tragedy Fall at 18 Weeks
With the baby in the mix now, Hayley and Kirk are probably readying themselves to get married.
Being Pregnant Led To Weight Gain?
Before her pregnancy announcement in 2019, she dealt with false rumors about her expecting a baby on multiple occasions. Rightfully, Hayley never came forth and officially affirmed those rumors, which is why the suggestions remained baseless!
The stories implying she might be pregnant largely stemmed from the fact that she had put on a few pounds.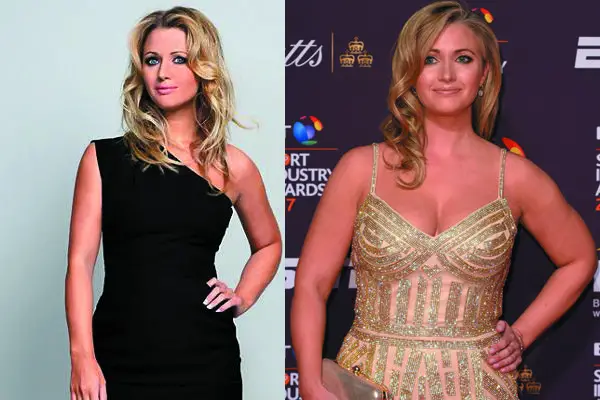 Hayley McQueen glowing after weight gain in 2018 (Photo Credit: liverampup.com)
Moreover, there were some speculations that the beloved sportscaster had gained some weight as fans couldn't help but notice her bulky shape. Regardless of what people say, the weight has added extra charm to already beautiful Hayley!