Entertainment
Hazel Renee Engaged, Married, Daughter, Height & Exclusive Facts
Reality icon Hazel Renee garnered prominent fame following her appearance in the third season of FOX's hit show Empire. In the show, she played the role of character Kennedy.
Moreover, the actress was a recurring cast member in the reality show, The Real Housewives of Atlanta (2008), during its ninth season. Likewise, she appeared in two episodes of the show, The Marriage Tour (2013).
Hazel Renee Engaged, Boyfriend
Hazel is engaged to Draymond Green, player of NBA's Golden State Warriors team. Her fiancé proposed to her in January 2018 on his yacht after a helicopter ride together. Her partner's family and friends made their presence during the surprise engagement as well.
Zion Williamson's NBA Debut:- Contract Details, Net Worth & Facts
However, news of their engagement didn't make it to the public until Draymond's coach, Steve Kerr, accidentally let the news slip during an interview on 22nd January 2019.
Hazel Renee and fiancé Draymond Green at Breslin Student Events Center on December 2019 (Photo: Hazel Renee's Instagram)
Also, a few months later, on 13th June that year, she disclosed the engagement pictures through her Instagram account.
Past Relationship, Children
Hazel has a five-year-old daughter named Olive Jay from her previous relationship.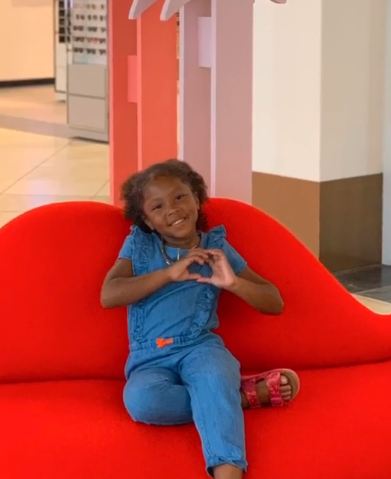 Hazel Renee's daughter Olive Jay from her previous relationship (Photo: Hazel Renee's Instagram)
Likewise, her fiance, Draymond, was married to model Jelissa Hardy. Draymond and Jelissa started dating back during their college years at Michigan State University, and their relationship resulted in the birth of their son, Draymond Jamal Green Jr.
More About Hazel Renee's Fiance
Hazel fiancé, Draymond Green (also known as Draymond Jamal Green Sr.), is a well-known figure in the realm of NBA. He is one of the prized possession of Golden State Warriors and plays for the power forward position.
He signed a three-year, $2.6 million contract with Golden State Warriors in 2012, during his first entry there. Also, in March 2016, Draymond became the first player in NBA history to record 500 assists, 100 steals and 100 blocks in a season.
Dak Prescott Stats & Latest Contracts:- Girlfriend Info, Salary & Facts
Likewise, in 2017, he was awarded the title of NBA Defensive Player of the Year.
Facts About Hazel Renee Including Age, Height:
Hazel was born on 31st March 1986 in Kansas, USA.
She stands 5 feet 5 inches (1.65 meters) tall.
The actress is active in the music streaming platform, SoundCloud, under the username, lovehazelrenee.
She was the part of the girl group named Glamour Burruss from Real Housewives.