Sports
Dak Prescott Stats & Latest Contracts | Girlfriend Info, Salary & Facts
Dubbed the future of Dallas Cowboys, young American football quarterback Dak Prescott while under his rookie contract has shattered all the expectations laid on him by registering impressive stats so far.
Active since 2016, the NFL athlete credits - not his dad - but his mom for curating the love for the sports in him. That's why even after his mother's death due to Colon Cancer, he continues to send her text messages.
Given how Dak, age 25, is one of the most eligible bachelors in all of NFL, it fits that he enjoys the company of gorgeous girlfriends. That said, his sole focus seems to be on his career and career only.
Career Stats To Season Stats; Contract & Salary
A top prospect since his high school playing days, Dak - who got bullied because of his mixed-race ethnicity while growing up - enrolled at the Mississippi State University's football programme in 2011.
Team mate In Our Vault:- Dallas Cowboys Tavon Austin Contract Detail, Stats & Trade News All Here
During his four-year college career, the Louisana native put an impressive tally of stats, which promoted the NFL heavyweight Dallas Cowboys to select his as their fourth-round pick in the 2016 NFL Draft.
At the time of the signing his rookie contract, the NFL outfit promised to Dak, who stands at the height of six foot and 1 inch (188 cm), a sum of $383 thousand in signing bonus throughout the four-year-long contract.
Initially hired to develop behind Tony Romo, Dak came of age when injuries to his competitor in the team made him a starting quarterback. His rookie season stats say it all.
Playing 16 games, he scored 29 touchdowns at the average of eight yards per pass attempt and boasting 3,667 passing yards & 282 rushing yards, while doing so. The following season saw Dak in his starting position as he completed the season with 22 passing touchdowns, 3324 passing yards, 13 interceptions, 357 rushing yards, and six rushing touchdowns.
In the 2018 NFL season, Dak - who is of American nationality - bested his previous passing yards records by bagging 3,885 yards while maintaining a respectable 67.7 pass completion percentage. At the same time, he notched 28 touchdowns and 13 interceptions.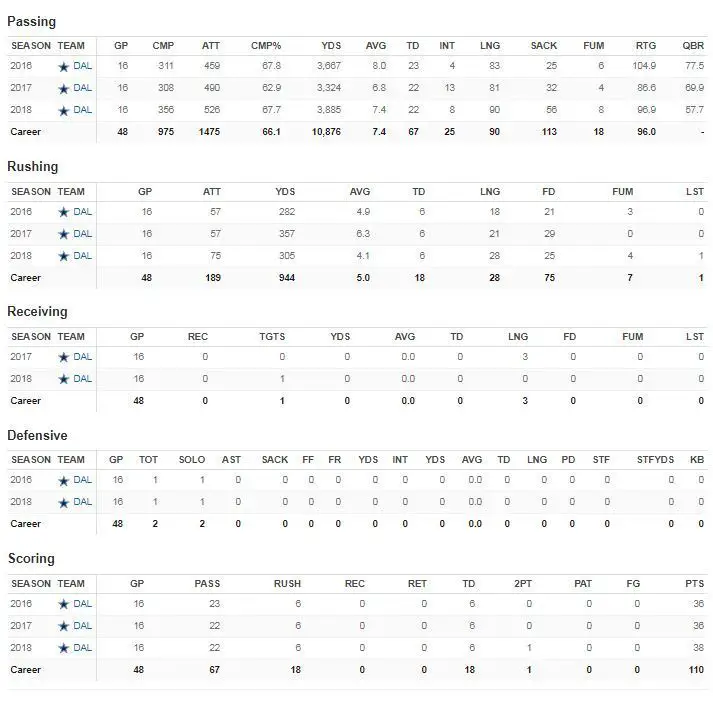 Dak Prescott's stats during his three seasons with Dallas Cowboys (Photo:- espn.com)
Currently, on the last year of his rookie contract which guarantees him an average salary of $680 thousand, the Mississippi State University Alum's impressive stats tally will likely help him negotiate a lucrative deal with a high salary cap.
You Might Enjoy:- Ryan Nassib, NFL Quarterback Stats, Salary & New Contract
Not only has Dak, who boasts an estimated net worth of $2 million, is a fan favorite among the Dallas Cowboys fandom but is also a hit among the ladies.
Personal Life - Girlfriends To Parents
As excellent as Dak's achievements on the field is, it pales in comparison to the sheer number of beautiful women he has been able to woo so far.
Actress Estelle Nouri is the latest girlfriend to fall for Dak's charms. Back in November 2018, Estelle - a lifelong Dallas Cowboys fan - got photographed cheering him at the AT&T Stadium.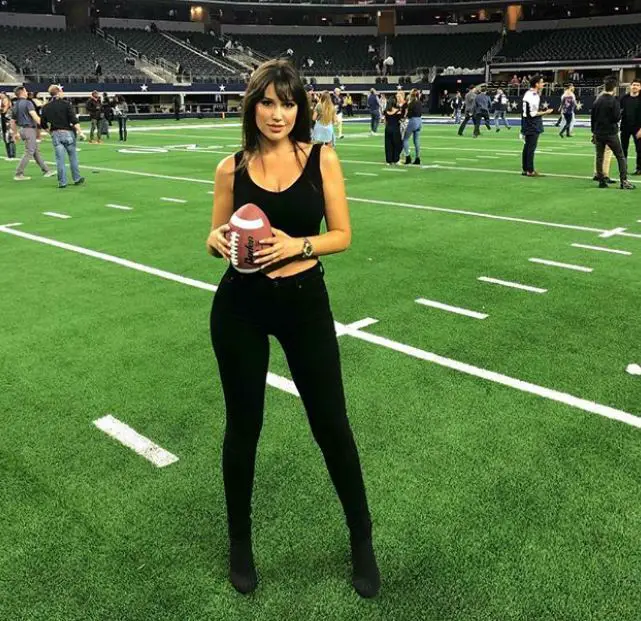 Dak Prescott's girlfriend, Estelle Nouri holds poses for a camera at the T&T Stadium (Photo:- Estelle Nouri's Instagram)
His long list of gorgeous girlfriends includes the likes of fitness coach Lindsay Davis, Yasmine Nicole, and former University of Arizona cheerleader Rosette Abud.
Fascinating Read:- Dallas Cowboys Randy Gregory; Wife-Like Girlfriend, Good Rep - Still In Trouble
No matter who eventually ends up becoming Dak's wife, she will have to compete with his deceased mom Peggy Prescott for his affection. Raised alongside four other siblings in a single parent household following his parents' separation, the Dallas Cowboys quarterback is a mama's boy through and through as a result.
Despite his parents' parting ways, his dad, Nathanial Prescott - who got arrested in August 2018 on possession of marijuana charge - remained an integral part of his life growing up.