Entertainment
Hennessy Carolina, At Age 22, Treasures Love With Girlfriend, Plans Family
American social media star Hennessy Carolina's life is as unique as her name. Her personality reflects the quote "Hennessy in a teacup."
With her sharp wit, Hennessy, 22, has been one of the fan favorites young-age social media stars. The Love & Hip Hop: New York star shares fantastic chemistry with her girlfriend.
Also attached to the article her bio-related info.
First Met Girlfriend on Instagram, Family Plans
Hennessy Carolina, an Instagram star with over 2.5 million followers, enjoys an admirable love life with her girlfriend, Michelle Melo, who goes by Instagram name Melomiiich.
You May Also Like: Malcolm-Jamal Warner Support Former Wife Even After Ending Married Life; Is He Dating Another Girlfriend Or Single?
Born in 1995, Hennessy first met Michelle through Instagram. When she first saw her, she fell for her right away and decided to make the first move.
She DMed her partner somewhere around three in the morning. At first, Hennessy's now-girlfriend did not pay much attention as the timing wasn't just right to approach someone in the morning.
It turns out Hennesy delete the message and sent a sweet message later. They had a little chat for a while, and since then for weeks she uploaded a few pictures of her that grabbed her partner's attention.
After plotting for weeks, Hennesy again messaged her, and this time, she was able to make her mark on her girlfriend.
In September 2017, Hennesy talked with BET about her relationship with her girlfriend. During the interview, she stated that Melomiiich genuineness convinced her to make the first move. She said,
I saw her because it's a her. I saw her, and I would never do that, and I was like, you know what? I want this person. I actually like that I did the first move, because nowadays I don't trust nobody. It's hard because I don't know people's real intentions nowadays, but as of right now I'm OK, I guess, because I feel like I found someone."
In the same interview, she even revealed her plan to start a family with her girlfriend.
Don't Miss: Stephanie Weber Age 29, & Fiancé Parker Young Welcomes Baby Girl 'Jaxon', Bundle Of Joy!
If Hennessy hasn't changed her mind since the interview, she is looking forward to having kids with her partner-in-crime. She previously wanted to have two kids, but now that she found a perfect girlfriend, she is looking forward to having four babies; two who look like her and two who look like her partner.
Hennessy Carolina and Her Girlfriend Celebrate One-Year-Anniversary In 2018
The younger sister of American rapper Cardi B, Hennessy celebrated one-year-anniversary with her loving girlfriend in January 2018. She wished her girlfriend "happy anniversary" via Instagram.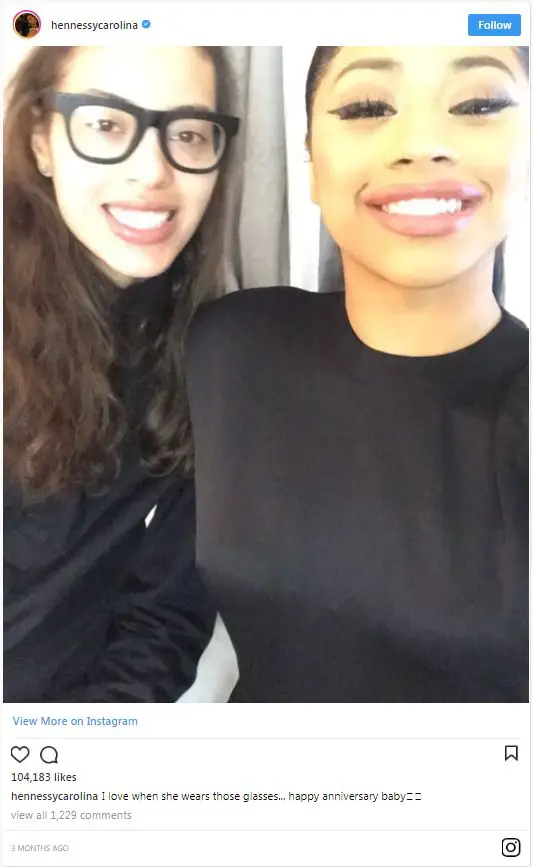 Hennessy Carolina wishes her girlfriend on their one-year-anniversary (Photo: Hennessy Carolina's Instagram)
As per their social media feeds, the lovebirds enjoy great chemistry. In March 2018, the pair even went together on a romantic trip to the city of love, Paris and kissed each other on the lips in front of the Eiffel tower.
Well, even though Hennessy has dated men in the past, she seems happy in the relationship with her girlfriend.
Awesome Family; Father Names Her After Drink
Hennessy Carolina Almanzar, who is aspiring to be a fashion designer, has been gaining a name for herself, since an early age. Besides Instagram, she is best known for frequently appearing on Love & Hip Hop: New York with her rapper sister Cardi B.
Hennesy and Cardi share a strong bond together, and Hennesy always stands up for her sister no matter the circumstances. She also responded to Azealia Banks while defending Cardi.
Adding to it, Hennesy also shifted the release of her clothing line to 2019 to prevent the overlapping with the release of her sister's clothing line. Previously the clothing line was set to release in Fall 2018.
With her standout name, she has been able to raise queries among the fans regarding the mystery behind her real name. The truth was revealed through a video posted by her sister Cardi B, who has a net worth of $4 million.
Read Also: Cody Alan, Age 32 & Boyfriend Engaged To Get Married | Gay Transition​​​​​​​
In a video, Cardi B reveals that her sister got the name after their father favorite liquor, Hennessy.
"My mom giving birth to my sister around 12'o clock in the morning and my dad came through from a party and he was like yo I was just drinking Hennessy. On my way to the hospital, i was thinking about the name over and over again. That's my favorite liquor, and i love the name. We gonna name her Hennessy[.....]"
Well, it turns out he named her after his drink of choice. Way to go, dad.