News
Stephanie Weber Age 29, & Fiancé Parker Young Welcomes Baby Girl 'Jaxon', Bundle Of Joy!
Actress Stephanie Weber and fiancé Parker Young are blessed with a baby girl!
Stephanie's longtime partner, Parker broke the news of their child's birth via an Instagram post in which he shared the picture of the father-daughter duo on 31 July 2018.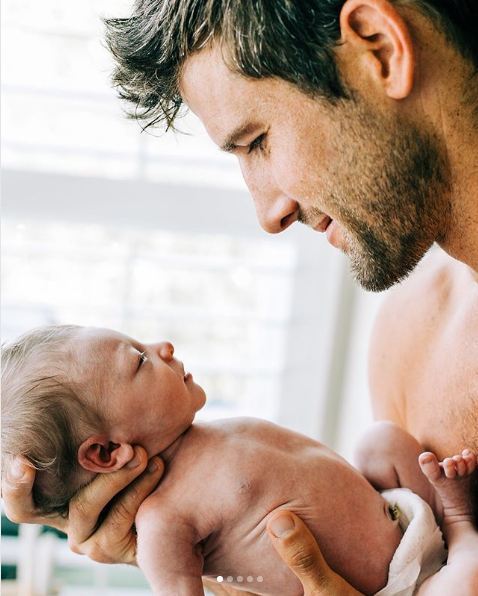 Stephanie and Parker are blessed with a girl child (Photo: Parker Young's Instagram)
The baby named Jaxon Orion Young was delivered on 19 July 2018, but no photographs had been shared earlier due to privacy issues. 
Similar:- Luisana Lopilato & Husband Michael Bublé Welcomes Baby No. 3 'Daughter Vida', Shares Sweetest Moment!
The couple's representative mentioned that Jaxon was healthy and no complications occurred during the birth of the child. The insider further said that the family of three was doing great in their times of joy. He told PEOPLE,
"Mom, Dad and baby are all doing great!"
The news of Stephanie's pregnancy was first confirmed in March 2018, when Parker revealed that the couple was expecting their first child. Parker said in an interview with the US Weekly,
"I'm thrilled to start a family. As a man who has been raised by an incredible mother, I have so much love and respect for women. It's amazing knowing I'm about to have a daughter. We are so grateful #thefutureisfemale."
Stephanie and Parker had previously gotten engaged on 24 February 2018 during the gender reveal party of their child, where the Imposters actor proposed his now-fiancee for marriage. The couple got engaged in front of friends and family, who had joined them to celebrate the sex reveal event of Jaxon. Explaining his inspiration to pop the question, Parker said,
"Two weeks before I'm scrambling and I found a ring. We're on the beach with the friends and family and we had smoke bombs and we didn't know if it was going to be blue or pink. It shot pink smoke and I took a knee, and it was a pretty special moment for us."
Stephanie, who suffered a miscarriage earlier, has been long excited about the arrival of her first daughter. The couple has even made a nursery for Jaxon, which contains a crib, a rocking chair, and other toys for the baby.
Stephanie and Parker decorate the nursery for Jaxon (Photo: Eonline.com)
Stephanie, age 29, first met Parker in high school when she was 15, and the soon commenced their on-again-off-again relationship before finally committing themselves in 2012. The pair regularly features each other on their social media and are even known to show public display of affection (PDA).
On 2 September 2017, Parker shared an Instagram post for the occasion of Stephanie's birthday and even posted a picture of the two in which the pair can be seen getting intimate with one another.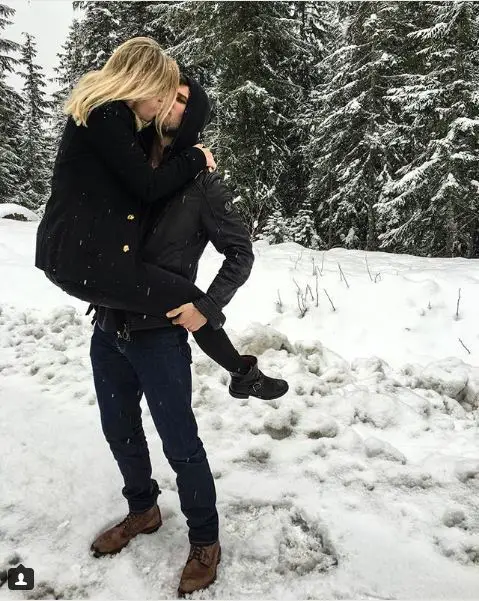 Stephanie Weber and fiance Parker share a passionate kiss while enjoying the snowing season (Photo: Parker Young's Instagram)
Read Also:- Hilaria Baldwin Pregnancy Changed Her! Baby Plans, Been There Done That
Further, the couple has also been spotted at several red carpet events and Hollywood functions. The pair has not revealed any plans on getting married, but fans speculate that a wedding is soon to take place.
Stephanie is an American actress famous for her roles in movies like Trubadeaux: A Restaurant Movie, Touch 'n Dix, and Vera am Mittag. Her fiance, Parker is also a professional actor, who has performed in shows including Suburgatory, Days of Our Lives and Mad Men.