Entertainment
Yesterday's Actor Himesh Patel Married Status, Movies, Net Worth
English actor Himesh Patel is best known for playing the role of Tamwar Masood in BBC's famous show Eastenders (2007). Since then, he has acted in major movies such as London Calling: Brit Shorts (2018), Yesterday (2019), and The Aeronauts (2019).
Over the course of his acting career, the TV icon has worked alongside prolific directors such as Danny Boyle and Christopher Nolan. Moreover, he will be portraying a major role the latter one's highly awaited movie Tenet scheduled to be released in 2020.
Himesh Patel's Married Status
Despite having touched the height of the spotlight by landing the lead role in Yesterday, tabloids have failed to dig enough details on his personal life. As of today, his dating whereabouts is very much surrounded in secrecy. But one thing is for sure, Himesh isn't a married man with a wife.
Cast Of Movie Yesterday :- Ellise Chappell Husband, Family, Height
But unfortunately, the actor is off the market as he is in a committed relationship with his girlfriend. Still, there is not much information out on the public about his lover since he chooses to keep a lowkey profile on her. However, as per standard.co.uk, the two reside together in London, England.
Also, the couple is rarely seen together out in public. He was once spotted spending time with his mysterious brunette partner in Wimbledon tournament in 8th July 2019.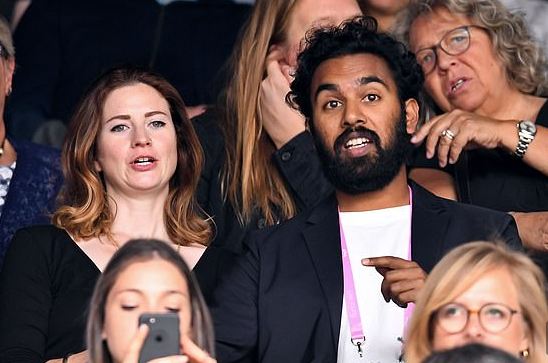 Himesh Patel as seen with his girlfriend( name undisclosed) on 8th July 2019 at Wimbledon tournament (Photo: dailymail.co.uk)
The Yesterday actor was even pictured nuzzling up to his girlfriend while enjoying the sight of the game from the center court.
Net Worth, Movies
While Himesh's net worth is still not disclosed yet, it's only a matter of time that the value of his assets will show up in millions. Ever since he made his acting debut at the age of 16 with the show EastEnders, he has done considerably well in the entertainment business.
After all, he managed to secure major roles in high rated movies including The Aeronauts (2019) and Yesterday (2019). The latter movie was a major breakthrough in his career and even managed to cross the $100 million milestones in the box office.
In the movie, he plays the lead role of struggling musician Jack Malik who, after an accident(that leaves his teeth knocked out) finds himself in a parallel universe where iconic band The Beatles never existed.
Yoko Ono, The Beatle's John Lennon's Wife Bio :- Where Is She Now?
But the success of Yesterday didn't come easy for the actor as he trained rigorously under the supervision of musician Adem Ilhan. After all, he didn't have a musical background besides a few basic training on piano prior to getting the part.