Entertainment
Howard Hewett: Roaming Around Wife and Divorce Issues, What Might be the Reasons?
No doubt, a successful marriage needs a commitment. Most often a marriage ends when either of the partners is not faithful enough to the other.
But this might not be the only reason behind every unsuccessful marriage. Sometimes it is caused due to lack of trust, understanding, and love. Different person has a different story behind their unsuccessful marriage.
Today we will be finding out the reasons behind Howard Hewett's unsuccessful marriage. Hewett has been married four times.
Thrice Divorced With Three Kids; Prostitute Wife
Former lead vocalist of the R&B soul vocal group Shalamar, Howard Hewett was first married to Rainey Riley-Cunningham. He got separated from her.
The date of their marriage and divorce is not revealed. According to Wikipedia, Hewett has children with his first wife. He has two daughters with her.
Read Also:- David Mendenhall Married & Wife | Family Status Now - Bio Reveals All
After separating with his first wife, Hewett was encountered with Mari Molina. He was engaged to her.
More information about their relationship is not revealed. In the year 1985, by federal officers, Howard, and his fiancé Mari was arrested for possession with intent to distribute a kilo of cocaine in a shopping mall parking lot.
Howard Hewett then got married to actress Nia Peeples. Prior to marrying Howard, Nia was engaged to Fame co-star Carlo Imperato. After her break-up with Carlo, she moved into the R&B singer's place with his children Rainey and Lakiva, then aged 9 and 11 respectively.
The stress of going from living single to a house full of children and wife proved all too much for Howard. His then-wife, Nia told People:
"Then his children [daughters Rainey and Lakiva, now 9 and 11] came to live with him. And he didn't know what to do with them."
However, Nia was ashamed about her being Howard Hewett's wife. Every time she explained her relationship with Howard as "good friends."
Interesting:- Did Ryan Upchurch Split From Girlfriend Cum Wife To-Be Or Married Her?
They have a son named Christopher born in the year 1989. They were bound in marital relation in 1989 and had a divorce in 1993.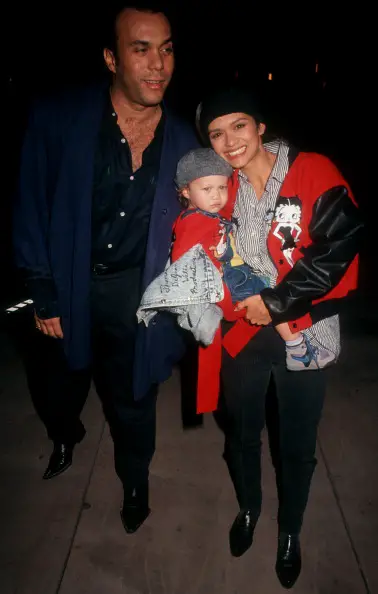 Howard Hewett with his ex-wife Nia Peeples and son Christopher Hewett at the premiere of "Teenage" Mutant Ninja Turtles' on November 21, 199 (Source: gettyimages.com)
After separating with Nia Peeples, Howard married Angela in the year 1998. Angela is rumored to be a prostitute.
They have a daughter named Anissa. No more information about their relationship is provided.
Howard Hewett's Short-Bio Including Net Worth
American singer and songwriter Howard Hewett, who was born on October 1, 1955, in Akron, Ohio, the U.S.
In the year 1979, he danced on Soul Train and became one-third of "Shalamar" with Jody Watley and Jeffrey Daniel. In the year 1985, Hewett began his solo career.
More R&B Legends: Rest in Peace! Al Jarreau, Legendary Jazz and R&B Singer, Dies at 76
Prior beginning his solo career, he gave many hits with "Shalamar," including Friends, The Second Time Around, Make That Move, This is for the Lover in You, A Night to Remember and I can make You feel good to name a few.
Ever since Howard left the group to pursue his solo career, the ownership of the group's name has been a constant source of dispute among the members of the said group.
He is believed to receive a wonderful salary from his profession. However, his net worth is not revealed yet.
Most recently, the 63-year-old R&B crooner performed at the Bethesda Blues and Jazz Supper Club. Howard is also set to attend the 11th Annual Friends of Fuller Gordy Strikefest alongside his Motown friends & family, which will be held on 7th November 2018.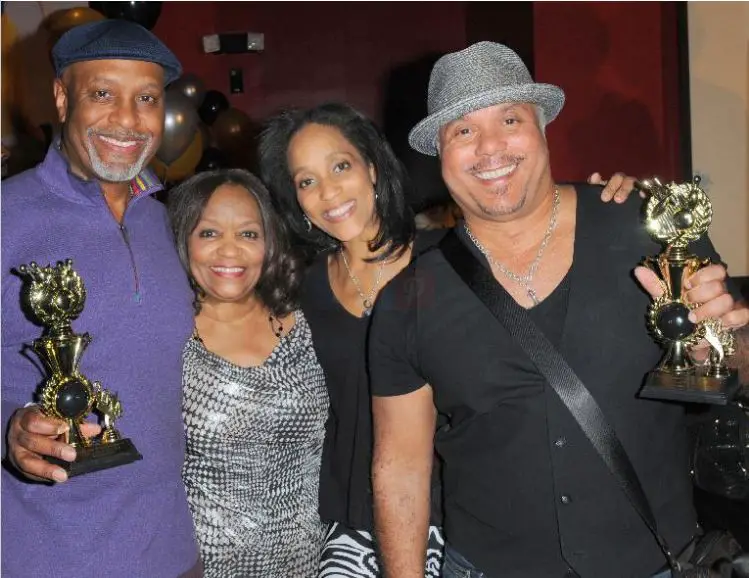 Howard(right) alongside actor James Pickens and Fuller Gordy's daughters (Photo:- eurweb.com)
Whether he's touring on his own or with the re-vamped Shalamar alongside Carolyn Griffey and Jeffery Daniel, he makes sure to put on a great show for the fans in attendance.
Don't Miss:- Queen Latifah Former Girlfriend Pregnant; Has Anything To Do With It?
The trio recent single The Real Thing is available for download across all the digital streaming platforms.